Worthington Industries (WOR) Jumps: Stock Adds 5% in Session
Worthington Industries, Inc. WOR was a big mover last session, as the company saw its shares rise over 5% on the day. The move came after the company reported better-than-expected fourth-quarter fiscal 2017 results. This also led to far more shares changing hands than in a normal session. This breaks the recent trend of the company, as the stock is now trading above the volatile price range of $41.81 to $47.76 in the past one-month time frame.
The company has seen one positive estimate revision in the last 30 days and the Zacks Consensus Estimate also moved higher suggesting more solid trading ahead. So make sure to keep an eye on this stock going forward to see if Friday's jump can turn into more strength down the road.
Currently, Worthington Industries carries a Zacks Rank #2 (Buy).
Worthington Industries, Inc. Price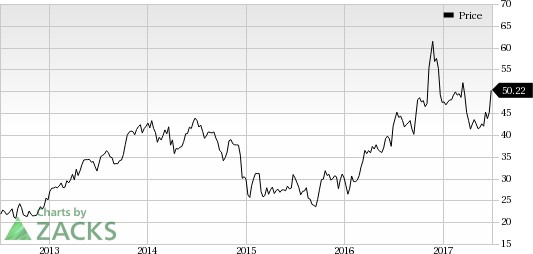 Worthington Industries, Inc. Price | Worthington Industries, Inc. Quote
Another top-ranked stock in the same industry is NN, Inc. NNBR, sporting a Zacks Rank #1 (Strong Buy). You can see the complete list of today's Zacks #1 Rank stocks here.
Is WOR going up? Or down? Predict to see what others think: Up or Down
5 Trades Could Profit "Big-League" from Trump Policies
If the stocks above spark your interest, wait until you look into companies primed to make substantial gains from Washington's changing course. Today Zacks reveals 5 tickers that could benefit from new trends like streamlined drug approvals, tariffs, lower taxes, higher interest rates, and spending surges in defense and infrastructure. See these buy recommendations now >>
Want the latest recommendations from Zacks Investment Research? Today, you can download 7 Best Stocks for the Next 30 Days.
Click to get this free report
Worthington Industries, Inc. (WOR): Free Stock Analysis Report
NN, Inc. (NNBR): Free Stock Analysis Report
To read this article on Zacks.com click here.
Zacks Investment Research