Molina Healthcare (MOH) Up 14.4% in 6 Months: Growth Ahead?
Molina Healthcare, Inc.'s MOH shares have jumped 14.4% in the past six months, outperforming the 11.6% increase of the industry, thanks to increasing membership and higher premium revenues. The company has been gaining from the ongoing economic recovery, which is triggering a rise in enrolment.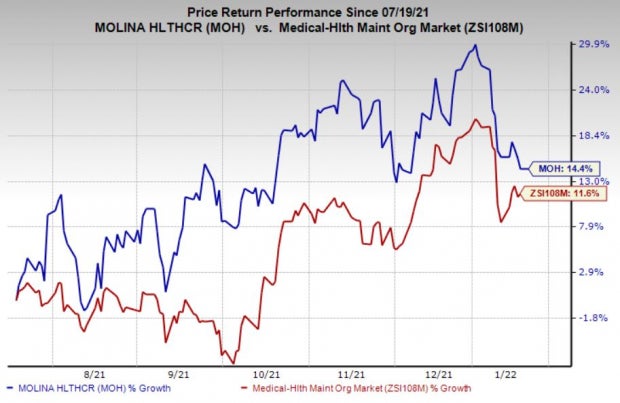 Image Source: Zacks Investment Research
Headquartered in Long Beach, CA, Molina Healthcare is a multi-state managed care provider participating exclusively in government-sponsored healthcare programs such as the Medicaid program and the State Children's Health Insurance Program catering to low-income persons. It has a market cap of $16.7 billion.
Can It Retain Momentum?
The answer is yes and before we get into the details, let us show you how its estimates for full-year 2021 stand. The Zacks Consensus Estimate for Molina Healthcare's 2021 earnings is pegged at $13.37 per share, indicating a 25.3% rise from $10.67 a year ago. The company beat earnings estimates twice in the last four quarters and missed on the other two occasions, with an average of 4%. The consensus estimate for 2021 revenuesstands at $27.5 billion, signaling a 41.7% year-over-year rise.
Now let's delve into what's driving the Zacks Rank #2 (Buy) stock.
The overall health insurance industry is gaining from rising enrolment, product modifications, improved services and cost management, better claims handling, technological upgrades, and others. The industry is expected to retain the momentum in 2022. Support from the government is expected to play a crucial role going forward. As such, MOH is expected to ride on the growing trends.
Molina Healthcare has been gaining from the restructuring and profitability improvement plan that started back in 2017. The plan included streamlining the organizational structure to improve efficiency and the speed and quality of decision making. This initiative led to a total expense decline of 13.2% and 11% in 2018 and 2019, respectively. Prudent cost-management efforts and sound scalability of the business led to a decline in the adjusted G&A ratio in 2020. Although the same increased for the first nine months of 2021, we expect the company's measures to help it cut down on costs going forward and boost profits.
Premium revenues for the company for the third quarter increased 43% year over year on the back of the positive effect of acquisitions and organic membership.
Molina Healthcare's focus on strategic acquisitions to boost its business bodes well. The company completed the buyout of the Magellan Complete Care line of business, which brought in more than 3.6 million members under government-sponsored healthcare programs across 18 states. It acquired Affinity Health Plan last October, which brought onboard 310,000 members. Early this year, Molina Healthcare completed the acquisition of Texas Medicaid and Medicare-Medicaid Plan contracts as well as specific operating assets of Cigna Corporation CI. It expects to gain $1 billion of new annual revenues with the assets acquired from Cigna.
Molina Healthcare also closed other buyouts such as YourCare and Passport, which led to membership increase. Molina Healthcare also bought AgeWell's managed long-term care business in New York. It also expects the same to deliver an accretion of 15-20 cents within the first year of ownership.
The company's ability to generate cash from operations is also impressive. In fact, in the trailing 12-month period, its free cash flow increased 51.7% to $2,755 million from the corresponding year-ago period. This reflects MOH's operating strength.
Risks
Despite the upside potential, there are a few factors that are holding back the stock's growth. Its weak balance sheet and solvency position are major headwinds. Nevertheless, we believe that a systematic and strategic plan of action will drive long-term growth.
Other Key Picks
Some other top-ranked stocks in the medical space include Globus Medical, Inc. GMED and Apyx Medical Corporation APYX, each carrying a Zacks Rank #2. You can see the complete list of today's Zacks #1 Rank (Strong Buy) stocks here.
Globus Medical develops healthcare solutions for patients with musculoskeletal disorders. GMED also provides products for orthopedic trauma treatments. The medical device company's bottom line for 2021 is expected to jump 40.3% from the year-ago figure. Audubon, PA-based Globus Medical has witnessed one upward estimate revision in the past 60 days and no movement in the opposite direction. Globus Medical beat earnings estimates in each of the last four quarters, with the average being 21.4%.
Apyx Medical is a manufacturer of medical devices for cosmetic and surgical markets around the world. Based in Clearwater, FL, APYX's bottom line for 2021 is expected to rise 17.5% year over year. It has witnessed one upward estimate revision in the past 60 days and no movement in the opposite direction. Apyx Medical beat earnings estimates thrice in the last four quarters and met once, with the average surprise being 25.9%.
Just Released: Zacks Top 10 Stocks for 2022
In addition to the investment ideas discussed above, would you like to know about our 10 top picks for the entirety of 2022?
From inception in 2012 through 2021, the Zacks Top 10 Stocks portfolios gained an impressive +1,001.2% versus the S&P 500's +348.7%. Now our Director of Research has combed through 4,000 companies covered by the Zacks Rank and has handpicked the best 10 tickers to buy and hold. Don't miss your chance to get in…because the sooner you do, the more upside you stand to grab.
See Stocks Now >>
Want the latest recommendations from Zacks Investment Research? Today, you can download 7 Best Stocks for the Next 30 Days.
Click to get this free report
Molina Healthcare, Inc (MOH): Free Stock Analysis Report
Cigna Corporation (CI): Free Stock Analysis Report
Globus Medical, Inc. (GMED): Free Stock Analysis Report
Apyx Medical Corporation (APYX): Free Stock Analysis Report
To read this article on Zacks.com click here.
Zacks Investment Research