KeyCorp (KEY) Continues Fintech Buyouts, Acquires XUP Payments
Continuing with its efforts to offer the best payment and banking services to clients, KeyCorp KEY has acquired a business-to-business (B2B) focused digital platform, XUP Payments. The XUP platform provides a seamless connection between merchants, financial service providers and acquirers across all types of channels.

The team of engineers at XUP has built integrations with processors, third-party risk tools, customer relationship management systems and other fintech services, which allow banking institutions to provide a more integrated and seamless payments experience to customers.

Ken Gavrity, the head of Enterprise Payments & Analytics at KeyBank, stated, "We've long embraced the software innovation that's sweeping through the financial services industry, and the acquisition of XUP allows us to continue to be a leader in this space. XUP's highly experienced team has accelerated us on the journey to build connectivity across our systems, our partners, and our customers, to make it easy to do business with Key."

Notably, KeyCorp has been an early investor in XUP. Now, with this acquisition, the partnership between the firms, which transformed KeyCorp's Merchant Payments capabilities and accelerated its top quartile volume growth, will become stronger.

In relation to this, XUP's president, Chris May, said, "We are thrilled to be partnering with an innovator like Key. Our end-to-end software solutions, combined with Key's scale and deep financial services expertise, will perfectly blend to provide clients a best-in-class payment experience. This partnership is unique in the industry and, together, we are ready to embark on this next phase of growth to pioneer remarkable digital experiences across a series of products and services."
Our Take
Supported by a robust balance sheet position, KeyCorp has been undertaking several restructuring initiatives, which have been driving growth. The company has been partnering with various fintech firms to offer best-in-class service to clients.

This March, it acquired data analytics-driven consultancy firm, AQN Strategies LLC. In 2019, it took over Laurel Road Bank's digital lending operation and expanded operations with the launch of Laurel Road for Doctors.

The above-mentioned buyouts along with the past acquisitions are expected to keep enhancing KeyCorp's profitability and market share and enable it to diversify revenues.

Moreover, as demand for digital banking services is rising, KeyCorp has consolidated more than 70 branches since the beginning of 2021, with management continuing to look for opportunities to right-size its footprint.

Over the past year, shares of KeyCorp have gained 41.1% compared with 40% growth recorded by the industry.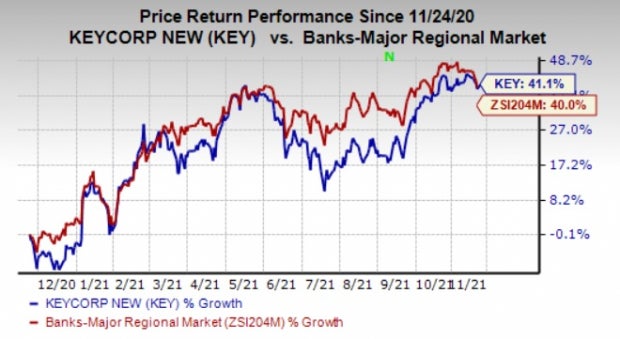 Image Source: Zacks Investment Research
Currently, KeyCorp carries a Zacks Rank #3 (Hold). You can see the complete list of today's Zacks #1 Rank (Strong Buy) stocks here.
Other Firms Boosting Inorganic Growth
Several companies from the finance sector are undertaking consolidation efforts to counter the low-interest rate environment along with the heightened costs of investments in technology.

Recently, Citizens Financial Group, Inc. CFG completed its previously announced merger with JMP Group LLC. Citizens Financial announced the all-cash deal in September in a bid to augment its capital market capabilities.

The buyout is expected to foster growth, diversify Citizens Financial's capital market platform and provide greater scale in key verticals like healthcare, technology, financials and real estate.

Likewise, in an effort to broaden its capabilities for institutional investors and investment management clients, SEI Investments Company SEIC acquired a global portfolio intelligence platform company, Novus Partners.

SEI Investments' chairman and CEO, Alfred P. West, Jr., stated, "The financial services landscape is ever-evolving. Our markets continue to face an unprecedented pace of change, and we continuously seek opportunities to stay ahead of and manage this change. By making strategic investments in our solutions and workforce, we drive growth and help our clients make confident decisions for their futures."

A couple of days ago, U.S. Bancorp USB, the parent company of U.S. Bank, agreed to acquire San Francisco-based fintech firm, TravelBank, which offers technology-driven cost and travel management solutions. The agreement is expected to close in the fourth quarter of this year.

The acquisition will help U.S. Bank, which is already an industry leader in delivering innovative corporate payment solutions like virtual corporate credit cards and tools to improve working capital, accelerate the integration of digital payments within its commercial segment.
Zacks' Top Picks to Cash in on Artificial Intelligence
In 2021, this world-changing technology is projected to generate $327.5 billion in revenue. Now Shark Tank star and billionaire investor Mark Cuban says AI will create "the world's first trillionaires." Zacks' urgent special report reveals 3 AI picks investors need to know about today.
See 3 Artificial Intelligence Stocks With Extreme Upside Potential>>
Want the latest recommendations from Zacks Investment Research? Today, you can download 7 Best Stocks for the Next 30 Days.
Click to get this free report
U.S. Bancorp (USB): Free Stock Analysis Report
KeyCorp (KEY): Free Stock Analysis Report
SEI Investments Company (SEIC): Free Stock Analysis Report
Citizens Financial Group, Inc. (CFG): Free Stock Analysis Report
To read this article on Zacks.com click here.
Zacks Investment Research