3 Small-Cap Bank Stocks to Buy for a Continued Rally in 2022
The year 2021 has been good for banks in general. Despite the lingering concerns related to the impact of the coronavirus pandemic, bank stocks performed quite well this year. The performance of banks was mainly supported by solid fee income growth and reserve releases. While near-zero interest rates (the Federal Reserve had reduced benchmark rates to near zero in March 2020) put some pressure on banks' margin growth, the decent rise in loan demand along with a steeper yield curve positively impacted interest income to some extent.

We know that banks thrive in a rising rate environment. But, small-cap banks tend to benefit from accommodative monetary policies like lower interest rates, as it makes it easier for such firms to borrow for expansion and keeping their businesses afloat during tough times. Also, small-cap banks benefit from fiscal stimulus packages since these are more sensitive to consumer spending and market sentiments. A recovering economy means that unemployment rates are falling, which helps banks record strong earnings growth. Thus, small-cap bank stocks, which have the potential to provide greater returns than the traditional large banks because of their low prices, are in an advantageous position when the U.S. economy is expanding faster.

The above-mentioned factors have aided the performance of small-cap banks in 2021. In fact, banks like ConnectOne Bancorp, Inc. CNOB, Amerant Bancorp Inc. AMTB and Metropolitan Bank Holding Corp. MCB, which have a market cap of less than $2 billion, are expected to continue to perform well next year. Although the Federal Reserve has signaled three rate hikes in 2022, interest rates remain relatively low, which will support the performance of such banks.
Our Picks for 2022
The three short-listed banks have seen their share prices surging more than 50% so far this year. Also, these banks have witnessed positive earnings estimate revision of 2% or more over the past 30 days for 2022.

Amerant Bancorp currently sports a Zacks Rank #1 (Strong Buy), whereas ConnectOne Bancorp and Metropolitan Bank carry a Zacks Rank #2 (Buy). You can see the complete list of today's Zacks #1 Rank stocks here.

The chart below shows the year-to-date price performance of the three banks.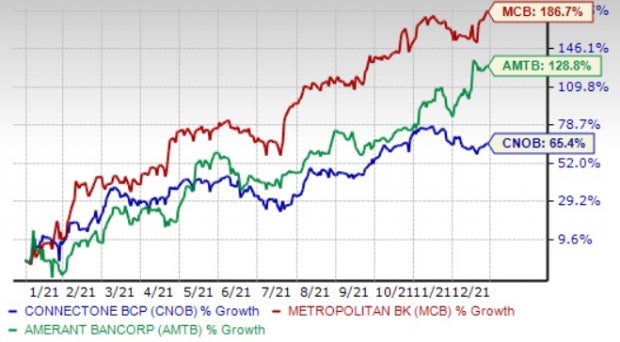 Image Source: Zacks Investment Research
Amerant Bancorp: Founded in 1979 and formerly known as Mercantil Bank Holding Corporation, Amerant Bancorp is headquartered in Coral Gables, FL. The bank has a market cap of $1.30 billion. It is the second-largest community bank in Florida, and as of Sep 30, 2021, it operated 25 banking centers.

Amerant Bancorp continues to better align its operating structure and resources with its business activities. In view of this, it decided to cease the origination of loans in New York and has closed its New York City loan production office. Over the past five years (2016-2020), total loans have witnessed a CAGR of 0.3%. As of Sep 30, 2021, the company had cash and cash equivalents worth $166.2 million, total assets worth $7.49 billion, deposits of $5.36 billion and shareholders' equity of $812.7 million.

Notably, AMTB is expected to enhance shareholder value through efficient capital deployment activities. This March, the company approved a stock repurchase program to buy back up to $40 million of shares of its Class B common stock. However, in September, the Class B common stock repurchase program was terminated and the company authorized another stock repurchase program to buy back up to $50 million of shares of its Class A common stock.

AMTB announced "its intention to effect a clean-up merger, subject to shareholder approval, pursuant to which a wholly-owned newly formed subsidiary, incorporated with the only purpose of effecting the clean-up merger, will merge with and into the Company." Following the merger, none of the Class B common shares will be outstanding. The total outstanding shares will also decline.

Notably, the Zacks Consensus Estimate for AMTB's 2022 earnings has been revised 3.1% upward over the past 30 days, reflecting analysts' bullish stance regarding its earnings growth potential.

Metropolitan Bank: Metropolitan Bank is the bank holding company for Metropolitan Commercial Bank that provides commercial, and retail banking products and services to small businesses, middle-market enterprises, public entities, and individuals in the New York metropolitan area. Metropolitan Bank has a market cap of $1.13 billion.

The bank is also an active issuer of debit cards for third-party debit card programs and provides critical global payments infrastructure to its fintech partners. Metropolitan Bank's strategic priorities are to fortify its position as a leader in global and digital payments settlement. Also, it aims to become a domineering financial infrastructure for select fintechs to access its global payments settlement platform.

As of Sep 30, 2021, Metropolitan Bank had net loans worth $3.57 billion and total deposits of $5.46 billion. As of the same date, non-interest-bearing demand deposits were 45.7% of total assets. Over the past four years (2017-2020), net loans have witnessed a CAGR of 30.2%, while deposits have seen a CAGR of 39.6%.

Total cash and cash equivalents aggregated to $1.86 billion as of Sep 30, 2021, while secured borrowings stood at $35.6 million. MCB's endeavors to efficiently deploy the capital generated from its deposits and anticipation of a gradual rise in loan demand will likely bolster revenue growth despite lower rates. The company's 2022 earnings estimates have been revised upward by 7.1% over the past 30 days.

ConnectOne Bancorp: Headquartered in Englewood Cliffs, NJ, ConnectOne Bancorp has a market cap of $1.30 billion. ConnectOne Bancorp is a modern financial services company that operates through its primary subsidiary along with its fintech subsidiary, BoeFly (a fintech marketplace that connects borrowers in the franchise space with funding solutions through a network of partner banks). Over the past 30 days, the company's 2022 earnings estimates have increased 2.7%.

As of Sep 30, 2021, CNOB had total cash and cash equivalents worth $413.2 million, total assets of $7.95 billion and borrowings of $253.2 million. Over the past five years (2016-2020), total revenues witnessed a CAGR of 15.8%. The rise in revenues has been aided mainly by decent loan demand, which saw a CAGR of 15.7% over the same period.

Supported by a solid capital and liquidity position, ConnectOne Bancorp is well poised to enhance shareholder value through efficient capital deployments. Along with third-quarter 2021 results, the company announced a cash dividend of 13 cents per share, representing a hike of 18% from the prior payout. This represents the second dividend hike of 2 cents per share in 2021. Also, as of Sep 30, 2021, the company had 315,000 shares remaining under its buyback authorization. Moreover, the board has authorized the repurchase of up to an additional 2 million shares.
Zacks Top 10 Stocks for 2022
In addition to the investment ideas discussed above, would you like to know about our 10 top picks for the entirety of 2022?
From inception in 2012 through November, the Zacks Top 10 Stocks gained an impressive +962.5% versus the S&P 500's +329.4%. Now our Director of Research is combing through 4,000 companies covered by the Zacks Rank to handpick the best 10 tickers to buy and hold. Don't miss your chance to get in on these stocks when they're released on January 3.
Be First to New Top 10 Stocks >>
Want the latest recommendations from Zacks Investment Research? Today, you can download 7 Best Stocks for the Next 30 Days.
Click to get this free report
ConnectOne Bancorp, Inc. (CNOB): Free Stock Analysis Report
Metropolitan Bank Holding Corp. (MCB): Free Stock Analysis Report
Amerant Bancorp Inc. (AMTB): Free Stock Analysis Report
To read this article on Zacks.com click here.
Zacks Investment Research