Simulations Plus (SLP) Q3 Earnings Top, Revenues Miss Estimates
Simulations Plus SLP reported third-quarter fiscal 2021 earnings of 18 cents per share, up 13% on a year-over-year basis. The figure beat the Zacks Consensus Estimate by 5.9%.

Revenues of $12.8 million increased 4% year over year driven by strong performance of the company's software business. However, the top line missed the consensus mark by 14.7%. Weakness in Services business owing to project delays negatively impacted the top line.

Simulation Plus revised its full-year revenue outlook considering the slowdown in Services business. The company now expects full-year revenue growth in the range of 5-10%.

Earlier, the company had projected organic revenue growth in the range of 15-20% for fiscal 2021 and anticipated Lixoft to contribute 3-5% to the top line over the organic growth in fiscal 2021.
Simulations Plus, Inc. Price, Consensus and EPS Surprise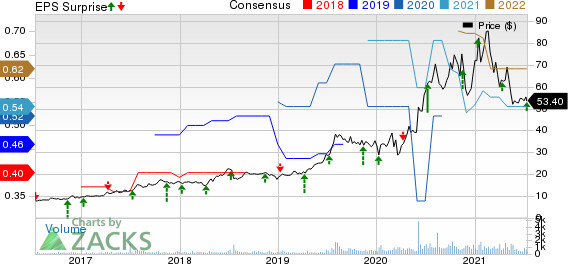 Simulations Plus, Inc. price-consensus-eps-surprise-chart | Simulations Plus, Inc. Quote
Following the development, shares of Simulations Plus are down 13.9% in the premarket trading on Jul 13, 2021. The stock has declined 14.3% in the past year against the industry's growth of 33.8%.
Quarter in Details
Software revenues (65% of the total quarterly revenues) jumped 21% year over year to $8.3 million. The Lixoft buyout expanded the company's total addressable market (TAM) and increased the mix of software revenues, which bodes well for profitability. Monolix suite from Lixoft reported revenue growth of 64% on a year-over-year basis.

The company added five new clients for its $100,000-plus license club in the quarter.

Services revenues (35% of total quarterly revenues) declined 18% to $4.5 million. In the quarter under review, the company noted that some nine projects were affected by delays or stalled due to drug development program cancellations.

Services' backlog at the end of the reported quarter was $12.4 million, up 5% year over year and 10.7% sequentially.

Renewal rate came in at 91% based upon fees, which compares with renewal rate of 93% in the prior quarter.
Operating Details
Gross margin in the quarter under review was 81%, up 300 basis points (bps) year over year. Total operating expenses, as a percentage of revenues, contracted 200 bps to year over year 45%.

Operating income margin expanded 500 bps to 36% on a year-over-year basis.
Balance Sheet
As of May 31, 2021, cash and cash equivalents were $58.8 million compared with $42.4 million as of Feb 28, 2021.

The company declared a cash dividend of 6 cents per share payable on Aug 2, 2021, to stockholders as of Jul 26, 2021.
Fiscal 2021 Outlook
Software revenue growth is expected in the range of 20-25% for fiscal 2021. Services revenue is now anticipated to decline in the range of 7-12%.
Zacks Rank & Stocks to Consider
Currently, Simulations Plus carries a Zacks Rank #3 (Hold).

Some better-ranked stocks in the broader technology sector worth considering are Jabil JBL, Intuit INTU and Zoom Video ZM. All the stocks sport a Zacks Rank #1 (Strong Buy). You can see the complete list of today's Zacks #1 Rank stocks here.
The long-term earnings growth rate for Jabil, Intuit and Zoom Video is currently pegged at 12%, 14.8% and 15.6%, respectively.
Bitcoin, Like the Internet Itself, Could Change Everything
Blockchain and cryptocurrency has sparked one of the most exciting discussion topics of a generation. Some call it the "Internet of Money" and predict it could change the way money works forever. If true, it could do to banks what Netflix did to Blockbuster and Amazon did to Sears. Experts agree we're still in the early stages of this technology, and as it grows, it will create several investing opportunities.
Zacks' has just revealed 3 companies that can help investors capitalize on the explosive profit potential of Bitcoin and the other cryptocurrencies with significantly less volatility than buying them directly.
See 3 crypto-related stocks now >>
Want the latest recommendations from Zacks Investment Research? Today, you can download 7 Best Stocks for the Next 30 Days.
Click to get this free report
Intuit Inc. (INTU): Free Stock Analysis Report
Jabil, Inc. (JBL): Free Stock Analysis Report
Simulations Plus, Inc. (SLP): Free Stock Analysis Report
Zoom Video Communications, Inc. (ZM): Free Stock Analysis Report
To read this article on Zacks.com click here.