AstraZeneca's Fasenra Long-Term Asthma Study Data Positive
AstraZeneca AZN announced positive long-term safety and efficacy data on Fasenra (benralizumab) from the phase III BORA extension study, evaluating the drug as an add-on maintenance treatment for severe eosinophilic asthma patients who were previously treated in pivotal SIROCCO or CALIMA studies.
Data from the study showed that treatment with Fasenra maintained improvements in efficacy observed in the two pivotal studies over the additional 56 weeks of treatment.
The drug was approved in November last year as an add-on maintenance treatment for the indication.
So far this year, AstraZeneca's shares have gained 8%, comparing favorably with the industry's rise of 6.3%.

Continued treatment with Fasenra stopped disease worsening (exacerbation-free) in 74% of patients who have baseline blood eosinophil count of 300 cells per μL or greater in the BORA study over the second year of treatment after being treated in previously completed SIROCCO or CALIMA studies. This number was 65% and 66% in the first year of treatment in SIROCCO and CALIMA studies, respectively. This shows that Fasenra effectively improved its efficacy over the long term. The safety and tolerability profile, and improvement in lung function and asthma control was also similar to the previous two studies.
GlaxoSmithKline's GSK Nucala (subcutaneous administration) and Teva Pharmaceutical Industries' TEVA Cinqair (intravenous infusion) are also marketed for the same indication but administered once every four weeks. The encouraging long-term data from the BORA study coupled with the oral administration of the drug is likely to boost prospects of Fasenra going forward.
Per the press release, asthma is a chronic inflammatory disease of breathlessness and has a significant unmet medical need. This is because it affects 339 million individuals worldwide and up to 10% of patients who have severe asthma, which can become uncontrolled despite receiving high doses of standard of care medicines and require the use of chronic OCS.
However in May, Fasenra failed to meet the primary endpoint of two phase III studies — TERRANOVA and GALATHEA — to significantly reduce exacerbations compared to placebo in patients with chronic obstructive pulmonary disease.
Apart from Fasenra, the company is developing other pipeline candidates, ralokinumab and tezepelumab, for treating severe asthma in partnership with Amgen AMGN.
AstraZeneca PLC Price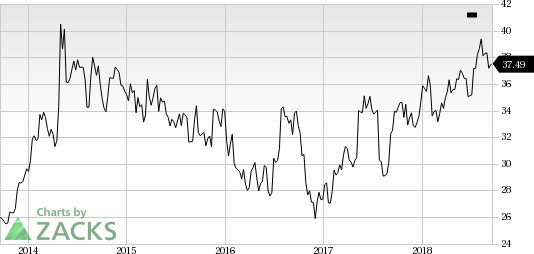 Zacks Rank
AstraZeneca currently carries a Zacks Rank #3 (Hold). You can see the complete list of today's Zacks #1 Rank (Strong Buy) stocks here.
Today's Stocks from Zacks' Hottest Strategies
It's hard to believe, even for us at Zacks. But while the market gained +21.9% in 2017, our top stock-picking screens have returned +115.0%, +109.3%, +104.9%, +98.6%, and +67.1%.
And this outperformance has not just been a recent phenomenon. Over the years it has been remarkably consistent. From 2000 - 2017, the composite yearly average gain for these strategies has beaten the market more than 19X over. Maybe even more remarkable is the fact that we're willing to share their latest stocks with you without cost or obligation.
Want the latest recommendations from Zacks Investment Research? Today, you can download 7 Best Stocks for the Next 30 Days.
Click to get this free report
AstraZeneca PLC (AZN): Free Stock Analysis Report
GlaxoSmithKline plc (GSK): Free Stock Analysis Report
Amgen Inc. (AMGN): Free Stock Analysis Report
Teva Pharmaceutical Industries Ltd. (TEVA): Free Stock Analysis Report
To read this article on Zacks.com click here.
Zacks Investment Research