CRISPR Therapeutics (CRSP) Q2 Earnings & Sales Miss Estimates
CRISPR Therapeutics AG CRSP reported second-quarter 2022 net loss per share of $2.40, wider than the Zacks Consensus Estimate of a loss of $2.23. The company had posted earnings of $9.44 per share in the year-ago period.
CRISPR Therapeutics' total revenues, which comprise grants and collaboration revenues, came in at $0.2 million for the second quarter compared with $900 million reported in the year-ago period. The revenues comprised entirely of collaboration revenues. Revenues substantially missed the Zacks Consensus Estimate of $4.0 million.
The year-ago quarter's revenues included a $900.0 million upfront payment from partner Vertex Pharmaceuticals VRTX related to an amended agreement for the development of the lead pipeline candidate, exagamglogene autotemcel (exa-cel, formerly CTX001).
Shares of CRISPR Therapeutics have risen 7.4% so far this year against the industry's 18% decline.


Image Source: Zacks Investment Research
Quarter in Detail
For the reported quarter, research and development expenses were $123.2 million, up 49.7% from the year-ago figure to support the development of its immuno-oncology programs and costs related to the new U.S. R&D headquarters.
General and administrative expenses rose 8.8% year over year to $26.3 million.
As of Jun 30, 2022, the company had cash, cash equivalents and marketable securities of $2.07 billion compared with $2.2 billion as of Mar 31, 2022.
Pipeline Updates
CRISPR Therapeutics is developing exa-cel — an investigational ex-vivo CRISPR gene-edited therapy for treating sickle cell disease (SCD) and transfusion-dependent beta thalassemia (TDT) — in partnership with Vertex Pharmaceuticals. The candidate is currently being evaluated in two separate phase III studies, CLIMB THAL-111 and CLIMB SCD-121, for treating TDT and severe SCD, respectively. Both the studies are now fully enrolled. The regulatory submission for the therapy in both indications is anticipated in Europe and the United Kingdom by the end of 2022. Discussion regarding the U.S. submission package for exa-cel is ongoing with the FDA. CRISPR Therapeutics and Vertex have initiated two new phase III studies of CTX001 in pediatric patients with TDT and SCD.
Apart from CTX001, CRISPR Therapeutics is also developing three chimeric antigen receptor T cell (CAR-T) therapy candidates — CTX110, CTX120, and CTX130 — for hematological and solid-tumor cancers.
The company is currently evaluating CTX110 in a phase I CARBON pivotal study for the treatment of relapsed/refractory B-cell malignancies. The company is expected to report additional data from this study later this year.
An ongoing phase I study is evaluating the safety and efficacy of several dose levels of CTX120 for the treatment of relapsed or refractory multiple myeloma. Two independent ongoing phase I studies are also evaluating the safety and efficacy of several dose levels of CTX130 for treating solid tumors such as renal cell carcinoma (COBALT-RCC study) and certain T-cell and B-cell hematologic malignancies (COBALT-LYM study).
In June 2022, management announced preliminary results from the COBALT-LYM study, which showed that treatment with CTX130 can produce broad activity and deep responses in patients with relapsed/refractory T-cell lymphomas, especially at higher dose levels. Preliminary data from the COBALT-RCC showed signs of meaningful activity in solid tumors
Zacks Rank & Stocks to Consider
CRISPR Therapeutics currently carries a Zacks Rank #3 (Hold).
CRISPR Therapeutics AG Price, Consensus and EPS Surprise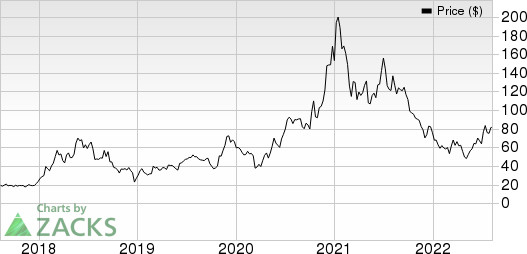 CRISPR Therapeutics AG price-consensus-eps-surprise-chart | CRISPR Therapeutics AG Quote
Some better-ranked stocks in the biotech sector include Alkermes ALKS and BioMarin Pharmaceutical BMRN, both carrying a Zacks Rank #2 (Buy). You can see the complete list of today's Zacks #1 Rank (Strong Buy) stocks here.
Alkermes' estimates for 2022 have narrowed from a loss of 17 cents to earnings of 20 cents over the past 30 days. Earnings estimates for 2023 have gone up from 31 cents to 50 cents over the same time frame. Shares of Alkermes have risen 10.7% this year so far.
Earnings of Alkermes beat estimates in all the last four quarters, delivering a surprise of 325.48%, on average.
BioMarin Pharmaceutical's earnings estimates for 2022 have gone up from $1.95 per share to $1.97 per share for 2022 and from $3.69 to $3.71 in the past 7 days. BMRN's stock has risen 8.4% in the year-to-date period.
Earnings of BioMarin Pharmaceutical beat estimates in three of the last four quarters while delivering in-line results in one, the average surprise being 98.9%.
Want to Know the #1 Semiconductor Stock for 2022?
Few people know how promising the semiconductor market is. Over the last couple of years, disruptions to the supply chain have caused shortages in several industries. The absence of one single semiconductor can stop all operations in certain industries.
This year, companies that create and produce this essential material will have incredible pricing power. For a limited time, Zacks is revealing the top semiconductor stock for 2022. You'll find it in our new Special Report, One Semiconductor Stock Stands to Gain the Most.
Today, it's yours free with no obligation.
>>Give me access to my free special report.
Want the latest recommendations from Zacks Investment Research? Today, you can download 7 Best Stocks for the Next 30 Days.
Click to get this free report
BioMarin Pharmaceutical Inc. (BMRN): Free Stock Analysis Report
Alkermes plc (ALKS): Free Stock Analysis Report
Vertex Pharmaceuticals Incorporated (VRTX): Free Stock Analysis Report
CRISPR Therapeutics AG (CRSP): Free Stock Analysis Report
To read this article on Zacks.com click here.
Zacks Investment Research