Biotech Stock Roundup: VRTX Q4 Earnings, GILD, INCYs Regulatory Updates & More
The biotech sector has been in focus over the past week as bigwig Vertex VRTX came out with Q4 earnings. Also, pipeline and regulatory updates grabbed the spotlight in the sector.
Recap of the Week's Most Important Stories:
Q4 Results From Vertex: Vertex kick-started fourth-quarter earnings in the biotech sector. The company reported adjusted earnings per share of $3.37, which comfortably beat the Zacks Consensus Estimate of $3.28. Earnings rose 34% year over year. Revenues in the quarter came in $2.07 billion, which surpassed the Zacks Consensus Estimate of $2 billion. Strong cystic fibrosis (CF) product revenues led to higher earnings in the reported quarter. Total product revenues rose 27% year over year, primarily driven by the strong launches of Kaftrio in Europe and the performance of Trikafta in the United States. The company expects total revenues from CF products in the range of $8.4-$8.6 billion for 2022.
Vertex currently carries a Zacks Rank #2 (Buy). You can see the complete list of today's Zacks #1 Rank (Strong Buy) stocks here.
Regulatory Updates From Gilead: Gilead Sciences, Inc. GILD announced that the FDA has approved the label expansion of antiviral treatment Veklury (remdesivir) for COVID-19. The regulatory body has granted expedited approval to a supplemental new drug application (sNDA) for Veklury for the treatment of non-hospitalized adult and adolescent patients who are at high risk of progression to severe COVID-19, including hospitalization or death. The FDA has also expanded the pediatric Emergency Use Authorization (EUA) of Veklury to include non-hospitalized pediatric patients younger than 12 years of age who are at high risk of disease progression. The phase III PINETREE study results were the basis of label expansion of Veklury, pediatric EUA expansion and recently updated National Institutes of Health Treatment Guidelines for COVID-19 that additionally recommend Veklury for treatment in non-hospitalized settings.
Gilead also announced that the FDA has placed a partial clinical hold on studies evaluating the combination of magrolimab plus azacitidine. The combination is being evaluated in various studies across a range of indications. The studies impacted by this partial clinical hold include phase III ENHANCE study in myelodysplastic syndrome (MDS), phase III ENHANCE-2 study in acute myeloid leukemia (AML), phase III ENHANCE-3 study in unfit AML, phase Ib study in MDS and phase II study in myeloid malignancies. The hold was placed due to an apparent imbalance in investigator-reported suspected unexpected serious adverse reactions (SUSARs) between study arms.
Moderna Doses First Candidate in Omicron Study: Moderna, Inc. MRNA announced that the first participant has been dosed in the phase II study of its Omicron-specific booster candidate (mRNA-1273.529). The study will evaluate the immunogenicity, safety and reactogenicity of mRNA-1273.529 as a single booster dose in adults aged 18 years and older in two cohorts: individuals who previously received the two-dose primary series of mRNA-1273 with the second dose being at least six months ago (cohort 1), and who have received the two-dose primary series and a 50 µg booster dose of mRNA-1273 with the booster dose being at least three months ago (cohort 2). Participants in both cohorts will receive a single booster dose of mRNA-1273.529. The company expects to enrol approximately 300 participants into each cohort of this study, which will be conducted at up to 24 sites in the United States Additionally, Moderna is evaluating the inclusion of mRNA-1273.529 in its multivalent booster program.
Concurrently, Moderna announced that neutralizing antibody data against the Omicron variant six months following a booster dose was published in The New England Journal of Medicine. While Omicron neutralization had declined 6.3-fold from peak titers at day 29 post-boost, levels remained detectable in all participants.
Incyte Provides Updates: Incyte INCY decided to withdraw its new drug application (NDA) for parsaclisib for the treatment of patients with relapsed or refractory follicular lymphoma (FL), marginal zone lymphoma (MZL) and mantle cell lymphoma (MCL). Incyte was in discussions with the FDA. Following the same, it determined that confirmatory studies to support accelerated approval of the candidate cannot be completed within a time period that would support the investment. Hence, the company decided to withdraw it. The decision impacts only the FL, MZL and MCL indications in the United States, and does not affect other ongoing clinical trials in the country or other regions.
Incyte has also decided to opt out of the continued development of MCLA-145 under a global collaboration and license agreement with Merus as part of its ongoing portfolio prioritization and capital allocation review.
OPKO Health Down on Regulatory Update: Shares of OPKO Health OPK were down after the company and partner Pfizer obtained a Complete Response Letter (CRL) for the biologics license application (BLA) for somatrogon. The BLA was seeking approval of somatrogon, an investigational once-weekly long-acting recombinant human growth hormone, for the treatment of growth hormone deficiency (GHD) in pediatric patients. While OPKO is responsible for conducting the clinical program, Pfizer is responsible for registering and commercializing the product for GHD. Hence, Pfizer is evaluating the FDA's comments and will work with the agency to determine an appropriate path forward.
Performance
Medical - Biomedical and Genetics Industry 5YR % Return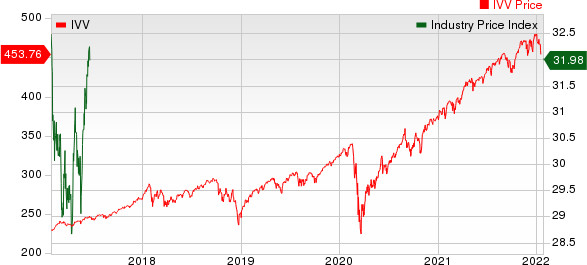 The Nasdaq Biotechnology Index has lost 4.38% in the past four trading sessions. Among the biotech giants, Moderna has lost 10.98% during the period. Over the past six months, shares of Vertex have soared 13.9%. (See the last biotech stock roundup here: Biotech Stock Roundup: Biotech Stock Roundup: ZGNXs Acquisition News, REGN, BLUEs Updates & More)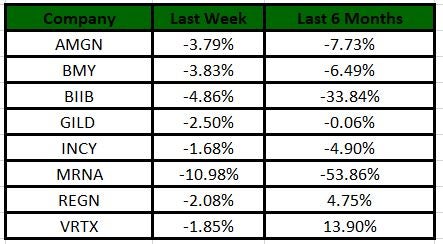 Image Source: Zacks Investment Research
What's Next in Biotech?
Stay tuned for more pipeline and regulatory updates along with earnings updates.





Want the latest recommendations from Zacks Investment Research? Today, you can download 7 Best Stocks for the Next 30 Days.
Click to get this free report
Gilead Sciences, Inc. (GILD): Free Stock Analysis Report
Vertex Pharmaceuticals Incorporated (VRTX): Free Stock Analysis Report
Incyte Corporation (INCY): Free Stock Analysis Report
Moderna, Inc. (MRNA): Free Stock Analysis Report
OPKO Health, Inc. (OPK): Free Stock Analysis Report
To read this article on Zacks.com click here.
Zacks Investment Research