Michaels' (MIK) Q4 Earnings Surpass Estimates, Sales Miss
The Michaels Companies, Inc. MIK posted fourth-quarter fiscal 2019 results wherein the bottom line surpassed the Zacks Consensus Estimate while sales lagged the same. Further, both metrics declined on a year-over-year basis. Although results were affected by a shorter holiday selling season, the company witnessed a robust performance during Black Friday, Cyber Week and post-holiday clearance sale.
Also, Michaels is progressing well with the implementation of the Maker strategy and expects to gain from this initiative in the upcoming quarters. Keeping in these lines, the company recently opened its first Maker store in Texas, which comes with curated products, enhanced layout and signage, improved services and better omnichannel capabilities. Moving ahead, it intends to open more such stores in 2020.
However, management did not provide any fiscal 2020 guidance due to the uncertain impacts of the ongoing COVID-19 outbreak. Meanwhile, it issued a fiscal first-quarter view, which doesn't consider any impact from the pandemic. Moreover, the company doesn't foresee any supply-chain disruption, stemming from the virus spread, for the first quarter.
However, it is making efforts to reduce adverse impacts on its supply chain during the second quarter and thereafter. Further, lower sales in certain product categories and a marginal rise in conversion in its e-commerce business remain concerns. That said, the company noted that sales and store traffic starting February till Mar 10 remained in line with their expectations.
The Michaels Companies, Inc. Price, Consensus and EPS Surprise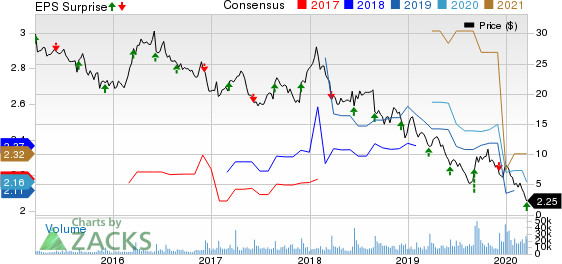 The Michaels Companies, Inc. price-consensus-eps-surprise-chart | The Michaels Companies, Inc. Quote
Q4 Numbers
Michaels' adjusted earnings of $1.26 per share exceeded the Zacks Consensus Estimate of $1.25 but declined 12.5% from the prior-year quarter. This downside can be mainly attributed to lower sales and margins, somewhat offset by a fall in SG&A expenses.
Net sales of this arts and crafts specialty retailer dipped 3.7% year over year to $1,722.6 million and fell short of the Zacks Consensus Estimate of $1,724 million. Sales declined year over year due to the impact of Pat Catan's store closures in fourth-quarter fiscal 2018 coupled with a 2.4% fall in comparable store sales (comps) and lower wholesale revenues. The decline was partly compensated by incremental sales from the addition of 16 net flagship stores since the end of fourth-quarter fiscal 2018.
Gross profit declined 9.6% year over year to $646 million and gross margin contracted 250 basis points (bps) to 37.5%. Lower gross margin can be attributed to aggressive pricing actions in seasonal products during the winter clearance sale.
SG&A expenses, including pre-opening costs, decreased 2.7% to $370.8 million. As a percentage of sales, SG&A expenses, including pre-opening costs, increased 20 bps to 21.5%.
Adjusted operating income fell 16.4% to $278.6 million due to lower gross profit, somewhat offset by a decline in SG&A expenses.
Financial Position
Michaels had cash and equivalents of $410 million, long-term debt of $2,644.5 million and total stockholders' deficit of $1,446.5 million as of Feb1, 2020. Total merchandise inventory fell 1% to $1,097.1 million at the end of fiscal 2019.
In fiscal 2019, the company bought back 11.6 million shares worth $105.1 million under its share repurchase authorization. Following this, Michaels had an outstanding repurchase authorization of roughly $294 million.
Guidance
For first-quarter fiscal 2020, the company projects sales to be $1.08-$1.1 billion with comparable store sales down 1.5% to flat. Further, adjusted operating income is anticipated to be $74-$82 million.
Going ahead into fiscal 2020, adjusted operating income is estimated to plunge roughly 50% year over year due to higher margins witnessed before the imposition of tariffs in fiscal 2019. Further, the company forecasts cost and tariff headwinds to continue in the fiscal year. In this regard, a full-year impact of tariffs to the tune of $45 million and a rise of $22 million in SG&A expenses are likely to be incurred in fiscal 2020.
Management expects an improvement in the second half of fiscal 2020, driven by gains from the A.C. Moore transaction. Notably, the company had leased a distribution facility in New Jersey along with 19 store locations, as part of the deal. Most of these locations are expected to reopen under its own brand name in the fiscal second quarter. Also, few existing flagship stores are touted to be relocated in this process.
Price Performance
We note that shares of this Zacks Rank #3 (Hold) company have slumped 72.2% year to date compared with the industry's decline of 41.5%.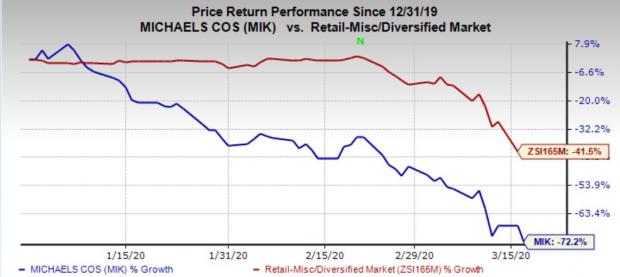 Key Retail Picks
DICK'S Sporting Goods, Inc. DKS has an impressive long-term earnings growth rate of 5.9% and a Zacks Rank #2 (Buy). You can see the complete list of today's Zacks #1 Rank (Strong Buy) stocks here.
Levi Strauss LEVI, also a Zacks Rank #2 stock, has an impressive long-term earnings growth rate of 7.2%.
Genesco GCO, which presently carries a Zacks Rank #2, has an expected long-term earnings growth rate of 5%.
Looking for Stocks with Skyrocketing Upside?
Zacks has just released a Special Report on the booming investment opportunities of legal marijuana.
Ignited by new referendums and legislation, this industry is expected to blast from an already robust $6.7 billion to $20.2 billion in 2021. Early investors stand to make a killing, but you have to be ready to act and know just where to look.
See the pot trades we're targeting>>
Want the latest recommendations from Zacks Investment Research? Today, you can download 7 Best Stocks for the Next 30 Days.
Click to get this free report
DICK'S Sporting Goods, Inc. (DKS): Free Stock Analysis Report
Genesco Inc. (GCO): Free Stock Analysis Report
The Michaels Companies, Inc. (MIK): Free Stock Analysis Report
Levi Strauss & Co. (LEVI): Free Stock Analysis Report
To read this article on Zacks.com click here.
Zacks Investment Research