Highwoods (HIW) Expands in Charlotte, Buys Property for $203M
Highwoods Properties, Inc. HIW has completed the acquisition of 650 South Tryon, located in Charlotte's dynamic Uptown CBD submarket, for $203 million. The move is in sync with the company's expansion effort in the Charlotte market.

The trophy, LEED gold-certified office building is situated immediately adjacent to the Bank of America Tower owned by Highwoods at Legacy Union and is also connected to it.

The property encompasses 367,000 square feet and is presently 79% leased. It was delivered in late 2020.

Highwoods' total investment in the property comprises expected leasing capital expenditures of $5.2 million associated with bringing the property to stabilization. Also, the total investment amount is net of $3.7 million of free rent and other rent-related credits, which were received from the seller at the deal's closing.

Highwoods follows a disciplined capital-recycling strategy through which it disposes of non-core assets and redeploys the proceeds in premium asset acquisitions and accretive development projects. To improve the quality of its overall portfolio, HIW has been undertaking measures to expand its footprint in the high-growth BBD markets.

From the beginning of 2019 through 2021, Highwoods acquired 3.1 million square feet of trophy office assets for a total investment of $1.3 billion. Moreover, it sold 6.7 million square feet of non-core office and industrial assets for $992 million during the same period. These moves marked the company's exit from Greensboro and Memphis and its entry into Charlotte, a higher-growth market with greater prospects.

Further, during the second quarter of 2022, Highwoods acquired a mixed-use development parcel for $27 million in Charlotte's South End BBD. The parcel can support at least 300,000 square feet of office and 250 residential units.

A large part of HIW's portfolio is concentrated in high-growth Sun Belt markets, which have long-term favorable demographic trends and are expected to continue experiencing above-average job growth. This will likely support Highwoods' rent growth over the long term.

Analysts seem bullish on this Zacks Rank #3 (Hold) stock. The recent estimate revision trend for 2022 funds from operations (FFO) per share indicates a favorable outlook for the company as estimates have marginally moved northward in the past week to $3.96.

However, shares of HIW have lost 10.6% against the industry's growth of 8.0% over the past three months.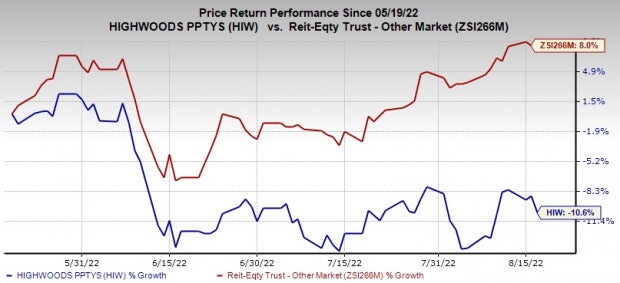 Image Source: Zacks Investment Research
Stocks to Consider
Some better-ranked stocks from the REIT sector are Prologis PLD, SBA Communications SBAC and Host Hotels & Resorts HST, each carrying a Zacks Rank #2 (Buy). You can see the complete list of today's Zacks #1 Rank (Strong Buy) stocks here.

The Zacks Consensus Estimate for Prologis' 2022 FFO per share has moved marginally upward in the past month to $5.17.

The Zacks Consensus Estimate for SBA Communication's current-year FFO per share has moved 1.2% northward in the past month to $12.13.

The Zacks Consensus Estimate for Host Hotels & Resorts' ongoing year's FFO per share has been raised 6.1% over the past month to $1.73.

Note: Anything related to earnings presented in this write-up represent funds from operations (FFO) — a widely used metric to gauge the performance of REITs.
Free: Top Stocks for the $30 Trillion Metaverse Boom
The metaverse is a quantum leap for the internet as we currently know it - and it will make some investors rich. Just like the internet, the metaverse is expected to transform how we live, work and play. Zacks has put together a new special report to help readers like you target big profits. The Metaverse - What is it? And How to Profit with These 5 Pioneering Stocks reveals specific stocks set to skyrocket as this emerging technology develops and expands.
Download Zacks' Metaverse Report now >>
Want the latest recommendations from Zacks Investment Research? Today, you can download 7 Best Stocks for the Next 30 Days.
Click to get this free report
Host Hotels & Resorts, Inc. (HST): Free Stock Analysis Report
Prologis, Inc. (PLD): Free Stock Analysis Report
Highwoods Properties, Inc. (HIW): Free Stock Analysis Report
SBA Communications Corporation (SBAC): Free Stock Analysis Report
To read this article on Zacks.com click here.