Bristol-Myers (BMY) Wins EC Approval for MS Drug Zeposia
Bristol-Myers BMY announced that the European Commission (EC) has approved multiple sclerosis drug Zeposia (ozanimod), an oral medication taken once daily.
The drug has been approved for the treatment of adult patients with relapsing remitting multiple sclerosis (RRMS) with active disease as defined by clinical or imaging features.
The approval of Zeposia was based on data from the SUNBEAM and RADIANCE Part B clinical studies. The data showed that Zeposia delivered efficacy as measured by annualized relapse rate (ARR), as well as on the number and size of brain lesions as compared to Biogen's BIIB Avonex (interferon beta-1a).
The approval makes Zeposia the only approved sphingosine-1-phosphate (S1P) receptor modulator for RRMS patients with active disease and provides a new oral option to the patients.
The FDA had approved the drug for the treatment of adults with relapsing forms of multiple sclerosis (RMS) in March 2020.
The drug strengthens Bristol-Myers immunology franchise. While competition is stiff in the MS market from the likes of Biogen, it holds potential. MS affects 700,000 people in Europe and approximately 2.5 million people worldwide. Zeposia was added to the company's portfolio with the acquisition of Celgene Corporation in November.
The drug is also being evaluated for additional immune-inflammatory indications, including ulcerative colitis and Crohn's disease.
Last month, Bristol Myers and partner Acceleron Pharma Inc. XLRN also won the FDA approval for a label expansion of Reblozyl for the treatment of anemia failing an erythropoiesis stimulating agent and requiring 2 or more red blood cell (RBC) units over 8 weeks in adult patients with very low- to intermediate-risk myelodysplastic syndromes with ring sideroblasts (MDS-RS) or with myelodysplastic/myeloproliferative neoplasm with ring sideroblasts and thrombocytosis (MDS/MPN-RS-T). This drug was also added to Bristol-Myers' portfolio following Celgene's acquisition.
Approval of new drugs and label expansion of existing drugs will enable the company to achieve the targeted synergies from the acquisition.
Bristol-Myers' shares have lost 5.9% in the year so far compared with the industry's decline of 3.4%.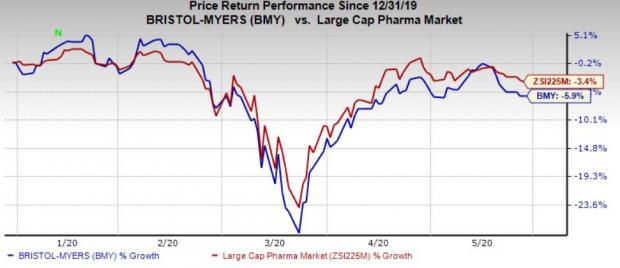 Moreover, the approval of new drugs has become more important for the company as blockbuster drug Opdivo is facing stiff competition from Merck's MRK Keytruda.
Earlier in the week, the FDA approved Opdivo 360 mg plus Yervoy 1 mg/kg (injections for intravenous use) given with two cycles of platinum-doublet chemotherapy for the first-line treatment of adult patients with metastatic or recurrent non-small cell lung cancer (NSCLC) with no EGFR or ALK genomic tumor aberrations. The therapy is approved for patients with squamous or non-squamous disease and regardless of PD-L1 expression. The combination has also won FDA approval as a first-line treatment for certain patients with metastatic NSCLC whose tumors express PD-L1≥1% as determined by an FDA-approved test.
Bristol-Myers currently carries a Zacks Rank #2 (Buy). You can see the complete list of today's Zacks #1 Rank (Strong Buy) stocks here.
Just Released: Zacks' 7 Best Stocks for Today
Experts extracted 7 stocks from the list of 220 Zacks Rank #1 Strong Buys that has beaten the market more than 2X over with a stunning average gain of +24.1% per year.

These 7 were selected because of their superior potential for immediate breakout.

See these time-sensitive tickers now >>
Want the latest recommendations from Zacks Investment Research? Today, you can download 7 Best Stocks for the Next 30 Days.
Click to get this free report
Biogen Inc. (BIIB): Free Stock Analysis Report
Merck Co., Inc. (MRK): Free Stock Analysis Report
BristolMyers Squibb Company (BMY): Free Stock Analysis Report
Acceleron Pharma Inc. (XLRN): Free Stock Analysis Report
To read this article on Zacks.com click here.