Snap-on (SNA) Q2 Earnings Surpass Estimates, Sales Up Y/Y
Snap-on Incorporated SNA maintained its positive earnings surprise streak in second-quarter 2018. The company reported adjusted earnings of $3.11 per share, which surpassed the Zacks Consensus Estimate of $2.95 and improved 19.6% from the year-ago quarter's number.

On a GAAP basis, the company posted earnings of $3.12, which increased 20% on a year-over-year basis. The bottom line benefited from Snap-on's robust business model and focus on value-creation processes. Also, higher sales owing to gains from acquisitions and currency boosted the company's performance.
Snap-on Incorporated Price, Consensus and EPS Surprise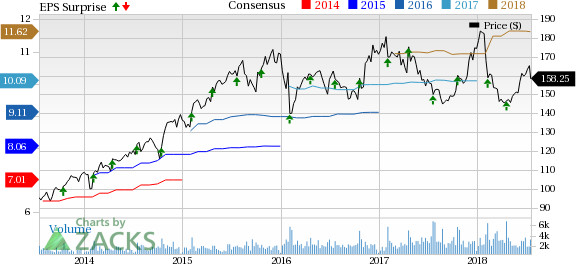 Snap-on Incorporated Price, Consensus and EPS Surprise | Snap-on Incorporated Quote
Consequently, shares of the company gained nearly 2% during pre-market trading. However, this Zacks Rank #4 (Sell) stock has lost 12.4% in the past six months, wider than the industry's 11.5% decline.

Q2 in Detail

Net sales in the quarter increased 3.6% to $954.6 million but came slightly below the Zacks Consensus Estimate of $956.3 million. The year-over-year improvement in the metric was driven by organic sales growth of 1.3% along with gains from acquisitions and currency tailwinds.

Segment-wise, Commercial & Industrial Group sales improved 9% to $337.8 million. Organic sales were up 4.4%. Increased sales to customers in critical industries along with higher sales at European-based hand tools business drove organic sales. This was somewhat offset by weak sales at power tools.

Snap-on's Tools Group segment's sales continued to show weakness, declining 0.5% year over year to $411.9 million. Also, organic sales at the segment fell 1.5%, which was partly offset by currency tailwinds. Lower sales at the company's U.S. franchise business continued to drag the segment's growth. However, sales in the international franchise business remained flat.

Repair Systems & Information Group continued to display strength as sales climbed 1.5% year over year to $343.1 million. Meanwhile, organic sales at the segment improved slightly from the prior-year quarter number. Increase in sales of diagnostics and repair information products to independent repair shop owners drove the segment's top line. Also, sales to OEM dealerships remained flat. The uptick was largely compensated with lower sales at undercar equipment.

Meanwhile, the Financial Services business reported revenues of $82 million, up from $77.7 million in the year-ago quarter.

Further, the company's operating earnings before financial services totaled $193.1 million, up 5.1% from $183.7 million in the prior-year quarter.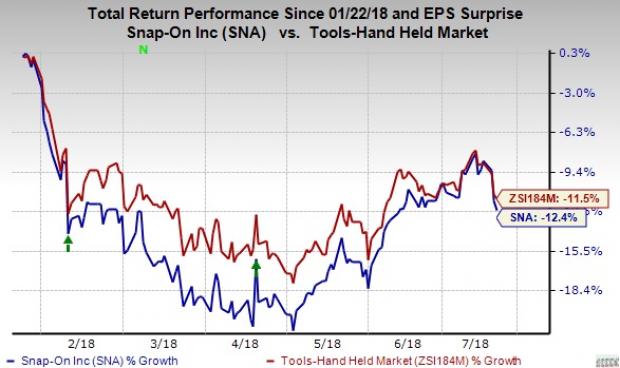 Liquidity

At the end of the reported quarter, Snap-on's cash and cash equivalents summed $112.3 million compared with $92 million at 2017 end. The company's long-term debt came in at $945.4 million at quarter end, up from $753.6 million recorded at the end of 2017.

Looking Ahead

Management remains impressed with its quarterly results and expects to continue with these encouraging prospects in 2018. Snap-on is also making efforts to revive its performance at the Tools Group division. Additionally, the company expects to leverage on its capabilities in the automotive repair area besides strengthening its overall professional customer base.

Based on these factors, Snap-on still expects to incur capital expenditures in the band of $90-$100 million in 2018, of which $38.6 million was spent in the first half of the year. Further, the effective income tax rate is projected in the range of 24-25% for 2018.

Better-Ranked Stocks in the Consumer Discretionary Space

Deckers Outdoor Corporation DECK has pulled off an average positive earnings surprise of 70% in the trailing four quarters. The company sports a Zacks Rank #1 (Strong Buy). You can see the complete list of today's Zacks #1 Rank stocks here.

Wolverine World Wide, Inc. WWW delivered an average earnings beat of 24.9% in the last four quarters and carries a Zacks Rank #2 (Buy).

Nutrisystem, Inc. NTRI is also a Zacks Rank #2 stock, which has an impressive long-term earnings growth rate of 17.5%.

Today's Stocks from Zacks' Hottest Strategies

It's hard to believe, even for us at Zacks. But while the market gained +21.9% in 2017, our top stock-picking screens have returned +115.0%, +109.3%, +104.9%, +98.6%, and +67.1%.

And this outperformance has not just been a recent phenomenon. Over the years it has been remarkably consistent. From 2000 - 2017, the composite yearly average gain for these strategies has beaten the market more than 19X over. Maybe even more remarkable is the fact that we're willing to share their latest stocks with you without cost or obligation.
Want the latest recommendations from Zacks Investment Research? Today, you can download 7 Best Stocks for the Next 30 Days.
Click to get this free report
NutriSystem Inc (NTRI): Free Stock Analysis Report
Deckers Outdoor Corporation (DECK): Free Stock Analysis Report
Wolverine World Wide, Inc. (WWW): Free Stock Analysis Report
Snap-On Incorporated (SNA): Free Stock Analysis Report
To read this article on Zacks.com click here.
Zacks Investment Research