Smucker Does Not Look Enticing But These 3 Food Stocks Do
Many players in the Zacks Food – Miscellaneous industry have been sailing through rough seas, thanks to rising cost woes. Input cost inflation for a variety of commodities and persistently rising freight expenses have been posing acute concerns to several players in the food universe. Additionally, competition in the food space has been steadily rising, making things tougher for companies belonging to the Food – Miscellaneous industry, which has lost 16.1% in a year compared with the S&P 500's decline of 4.3%.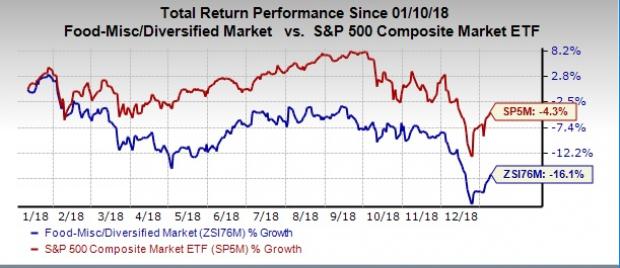 Despite the obstacles, the space is surely not devoid of delicacies that have managed to perform well and defy the industry trends. However, before getting into those rosy picks, we have highlighted The J. M. Smucker Company SJM that has not been in a good shape lately, due worries related to escalated costs and lower net price realization. Well, this Zacks Rank #4 (Sell) stock has plummeted close to 17% in a year.

Smucker: Not So Enticing

Smucker is bearing the brunt of lower net price realization. We note that the company's top line slipped 1% during the second quarter (excluding items that impact comparability), due to lower net price realization. Further, such a headwind also dragged gross margin in the said period. In fact, lower net price realization has been weighing on the performance of the company's U.S. Retail Coffee, the International and Away from Home categories for a while.

Also, high freight costs marred Smucker's profitability in the U.S. Retail Pet Foods category in the second quarter of fiscal 2019. Moreover, management expects increased freight costs to be a drag on earnings in fiscal 2019. Further, Smucker's SG&A expenses witnessed 6% year-over-year growth during the second quarter, mainly due to the Ainsworth's addition. Also, interest expenses rose 28.8% in the quarter on account of costs related to the acquisition. We note that interest expenses went up 27.6% in the first quarter of 2019, preceded by 17.6% and 6.9% in the fourth and third quarters of fiscal 2018, respectively. Persistence of these trends is a concern for Smucker's bottom line.

Owing to the aforementioned hurdles, Smucker's top and bottom lines missed the Zacks Consensus Estimate during the second quarter of fiscal 2019. This marks the company's third consecutive quarter of sales and earnings miss. Performance in the quarter was also marred by the divestiture of the U.S. baking business. Unfortunately, management lowered fiscal 2019 view and projected net sales to be $7.9 billion, down from the prior forecast of $8 billion. Further, Smucker forecasted adjusted earnings per share of $8.00-$8.20, down from the prior view of $8.40-$8.65. To top it, earnings for the third quarter are expected to decline almost 20% year over year.

Clearly, these factors have made analysts hesitant about Smucker, with the Zacks Consensus Estimate for the third quarter and fiscal 2019 moving south over the past 60 days.

Appetizers in the Food Space

Though obstacles like the aforementioned ones have placed the Food – Miscellaneous industry in the bottom 23% out of all Zacks industries, the space still has some hidden gems with favorable prospects. Notably, there are some solid food players, which have bucked the industry trend with their solid pricing initiatives, focus on innovation, product launches and diversification. Also, benefits from acquisitions, divestitures and alliances have been helping these companies tide over the obstacles. Additionally, many food companies are gaining from efforts to augment organic and natural offerings in response to rising health consciousness. Stringent cost-containment efforts and efficient productivity programs are also helping a host of food players stand out.

That said, we have highlighted three stocks, which have crushed the industry trend. Markedly, these stocks carry a favorable Zacks Rank and flaunt an impressive record of earnings surprises.

3 Food Stocks to Satiate Investors' Appetite

Investors can count on Smart & Final Stores, Inc. SFS. This California-based company's earnings estimates for the current year have increased 9.3% to 47 cents in the past 60 days. Also, this Zacks Rank #1 (Strong Buy) company has seen its shares rally as much as 17.1% in the past six months. Smart & Final Stores has long-term growth rate of 3% and its earnings beat the Zacks Consensus Estimate by average of 25.8% in the trailing four quarters. You can seethe complete list of today's Zacks #1 Rank stocks here.

McCormick & Company, Incorporated MKC is another solid bet. Carrying a Zacks Rank #2 (Buy), the Maryland-based company's shares have gained 41.3% in a year. McCormick, which has delivered a positive earnings surprise of 5.2% in the past four quarters, has been gaining from dedicated focus on buyouts, product innovations, cost-containment measures and efficient marketing initiatives. Notably, this leading manufacturer and distributor of spices and seasonings has long-term growth rate of 9%.

Lamb Weston Holdings, Inc. LW also appears appetizing. This Zacks Rank #2 stock has grown close to 22% in the past year, courtesy of its superb surprise history. Markedly, following its spin-off from Conagra Brands in November 2016, the company has been delivering positive earnings and sales surprise. Also, the company's robust potential is reflected in its encouraging outlook for fiscal 2019, strong estimate revisions for the fiscal in the past seven days and long-term growth rate of 12%.

Looking for Stocks with Skyrocketing Upside?

Zacks has just released a Special Report on the booming investment opportunities of legal marijuana.

Ignited by new referendums and legislation, this industry is expected to blast from an already robust $6.7 billion to $20.2 billion in 2021. Early investors stand to make a killing, but you have to be ready to act and know just where to look.

See the pot trades we're targeting>>
Want the latest recommendations from Zacks Investment Research? Today, you can download 7 Best Stocks for the Next 30 Days.
Click to get this free report
McCormick & Company, Incorporated (MKC): Free Stock Analysis Report
Lamb Weston Holdings Inc. (LW): Free Stock Analysis Report
The J. M. Smucker Company (SJM): Free Stock Analysis Report
Smart (SFS): Free Stock Analysis Report
To read this article on Zacks.com click here.
Zacks Investment Research