Alphabet (GOOGL) Boosts Steaming Efforts With Annual Plans
Alphabet's GOOGL division Google has taken a solid pricing strategy in order to gain a bigger market share in the booming streaming market.

This is evident from the latest annual subscription plans for YouTube Premium and YouTube Music Premium.

Notably, the yearly subscription price for YouTube Premium and YouTube Music Premium stands at $107.99 and $89.99, respectively, in a promotional offer, which ends on Jan 23.

Without the offer, the price stands at $119.99 for YouTube Premium and $99.99 for Music Premium.

The annual plans will help customers save money. Otherwise, they would have to pay $143.88 and $119.88 for YouTube Premium and Music Premium, respectively, for buying 12 monthly subscriptions of the services.

Currently, the annual plans are available in countries like the United States, Canada, Mexico, Brazil, Russia, Turkey, Germany, Thailand, India and Japan.
Alphabet Inc. Price and Consensus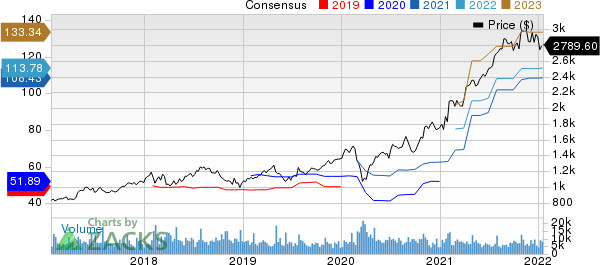 Annual Plans to Boost Prospects
We believe that these saving opportunities will enable Google to attract customers to its streaming platforms, which, in turn, will expand its user base in the video streaming and music streaming markets.

This will help the company capitalize on the growth prospects in the markets.

Notably, the music and video streaming markets have been witnessing a significant rise due to an increase in mobile advertisement spending, use of mobile apps, a rise in the number of subscription services, users' accessibility to the Internet, and expanding content on streaming platforms.

Per a report by Allied Market Research, the online music streaming space is expected to reach $24.7 billion by 2027, seeing a CAGR of 9.8% between 2021 and 2027.

In addition, a report by Fortune Business Insights reveals that the global video streaming market is expected to hit $932.3 billion in 2028, witnessing a CAGR of 12.1% between 2021 and 2028.
Competitive Scenario
The latest move by Google is likely to aid it a competitive edge against its peers like Netflix NFLX and Amazon AMZN, which have raised their subscription prices recently.

Notably, Netflix has hiked the price of its monthly subscription plans in the United States and Canada.

In the United States, the basic plan, which allows for one stream on one screen at a time and does not have HD streaming, is now priced at $9.99 a month, up from $8.99. Further, standard plans, which allow users to stream on two screens simultaneously, now cost $15.49 per month, an increase from $13.99, while premium plans have inched up to $19.99 a month.

In Canada, standard plans are now priced at CAD 16.49 a month and premium plans cost CAD 20.99 per month.

Meanwhile, Netflix reduced its subscription cost in India. The mobile-only plan now costs Rs. 149 per month, down from Rs. 199. The Netflix Basic plan now costs Rs. 199 per month, which used to cost Rs 499 per month. The standard Netflix plan costs Rs. 499 per month now instead of Rs 649 as the earlier price.

Then again, Amazon raised its Prime monthly, quarterly, and annual subscription plans in India. Users now have to pay Rs 1,499 for the annual Prime membership, up from the previous price of Rs. 999. The monthly plan on Amazon Prime, which used to cost Rs. 129, increased to Rs. 179. Further, the quarterly plan increased to Rs 459 from Rs 329.
Zacks Rank & Another Stock to Consider
Currently, Alphabet carries a Zacks Rank #3 (Hold).

Investors interested in the broader technology sector can consider Advanced Micro Devices AMD, which carries a Zacks Rank #2 (Buy) at present. You can see the complete list of today's Zacks #1 Rank (Strong Buy) stocks here.

Advanced Micro Devices has gained 48.7% over a year. The long-term earnings growth rate for AMD is currently projected at 46.2%.
7 Best Stocks for the Next 30 Days
Just released: Experts distill 7 elite stocks from the current list of 220 Zacks Rank #1 Strong Buys. They deem these tickers "Most Likely for Early Price Pops."
Since 1988, the full list has beaten the market more than 2X over with an average gain of +25.3% per year. So be sure to give these hand-picked 7 your immediate attention.
See them now >>
Want the latest recommendations from Zacks Investment Research? Today, you can download 7 Best Stocks for the Next 30 Days.
Click to get this free report
Amazon.com, Inc. (AMZN): Free Stock Analysis Report
Advanced Micro Devices, Inc. (AMD): Free Stock Analysis Report
Netflix, Inc. (NFLX): Free Stock Analysis Report
Alphabet Inc. (GOOGL): Free Stock Analysis Report
To read this article on Zacks.com click here.
Zacks Investment Research