Domino's Pizza (DPZ) Recently Broke Out Above the 20-Day Moving Average
After reaching an important support level, Domino's Pizza (DPZ) could be a good stock pick from a technical perspective. DPZ surpassed resistance at the 20-day moving average, suggesting a short-term bullish trend.
The 20-day simple moving average is a well-liked trading tool because it provides a look back at a stock's price over a 20-day period. Additionally, short-term traders find this SMA very beneficial, as it smooths out short-term price trends and shows more trend reversal signals than longer-term moving averages.
Like other SMAs, if a stock's price is moving above the 20-day, the trend is considered positive. When the price falls below the moving average, it can signal a downward trend.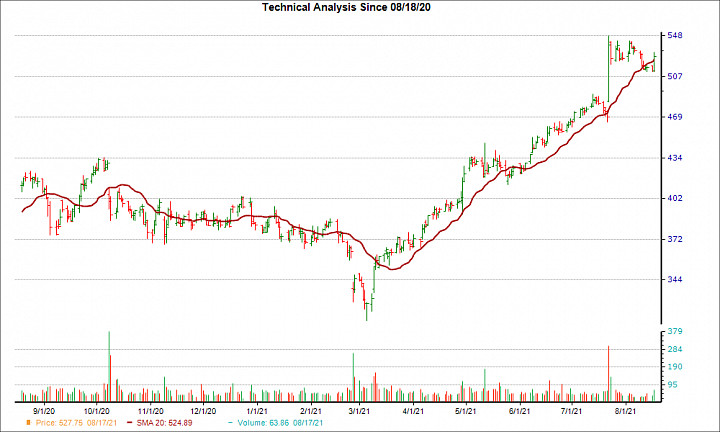 Shares of DPZ have been moving higher over the past four weeks, up 11.1%. Plus, the company is currently a Zacks Rank #3 (Hold) stock, suggesting that DPZ could be poised for a continued surge.
The bullish case solidifies once investors consider DPZ's positive earnings estimate revisions. No estimate has gone lower in the past two months for the current fiscal year, compared to 8 higher, while the consensus estimate has increased too.
Given this move in earnings estimate revisions and the positive technical factor, investors may want to keep their eye on DPZ for more gains in the near future.
Zacks' Top Picks to Cash in on Artificial Intelligence
This world-changing technology is projected to generate $100S of billions by 2025. From self-driving cars to consumer data analysis, people are relying on machines more than we ever have before. Now is the time to capitalize on the 4th Industrial Revolution. Zacks' urgent special report reveals 6 AI picks investors need to know about today.
See 6 Artificial Intelligence Stocks With Extreme Upside Potential>>
Want the latest recommendations from Zacks Investment Research? Today, you can download 7 Best Stocks for the Next 30 Days.
Click to get this free report
Dominos Pizza Inc (DPZ): Free Stock Analysis Report
To read this article on Zacks.com click here.