American Electric (AEP), Opdenergy Ink Solar Energy Deal
American Electric Power Company, Inc. AEP recently revealed a 12-year power purchase agreement (PPA) signed between its subsidiary, AEP Energy and Opdenergy, an independent power producer. Per the terms of the deal, Opdenergy will develop a solar plant with generating capacity of 80-megawatt (MWac), in Jefferson County, WV.
Energy generated from the plant will be supplied to AEP Energy's customers through its Integrated Renewable Energy (IRE) solution. On completion of the plant, expected by the end of 2022, the plant will generate more than 153,000 megawatt hours (MWh) per year of clean energy.
Solar Prospects in West Virginia
As the entire United States transitions toward a carbon-free future, West Virginia remains in focus. Notably, as stated by Solar Energy Industries Association (SEIA), 11.24 MW of solar installations have been done in this state, as of Dec 31, 2020. However, the percentage of electricity from solar still remains nil for West Virginia, while 276.6 MW of solar installations are expected in the state over the next five years.
This implies that there is ample solar growth opportunity in this state, thereby offering utilities like American Electric that are rapidly expanding their renewable generation portfolio, in particular solar, to expand their footprint here. The latest PPA is an example of that only.
American Electric's Solar Portfolio
With most of the utilities across the nation racing to make their generation mix 100% renewable, American Electric is no exception. Notably, as of Dec 31, 2020, AEP Renewables, a division of AEP Energy, owned renewable projects including 90 Mws of installed solar capacity. On the other hand, as of Dec 31, 2020, another division of AEP Energy, OnSite Partners, owned projects located in 21 states, including approximately 152 MWs of installed solar capacity, and approximately 9 MWs of solar projects under construction.
In November 2020, the company signed a Purchase and Sale Agreement to acquire 75% of the Dry Lake Solar Project, a 100 MW solar facility in southern Nevada. This facility is expected to be in-service in the second quarter of 2021. So, the company is vigorously expanding its renewable portfolio, nay solar, across the nation and the latest PPA marks a step ahead in that strategy.
U.S. Utilities & Solar Expansion
Its true that the U.S. solar market stumbled at the middle of last year, with installation work almost at a halt owing to the impact of the coronavirus outbreak. Nevertheless, over the past few months, the market has returned to the growth trajectory.
Looking ahead, per the latest projection by SEIA, the U.S. solar industry is expected to install more than 324 GW of capacity over the next 10 years, quadrupling the current amount of solar capacity installed.
Naturally, U.S. utilities like American Electric are giving significant effort to expand their solar portfolio to make the most of the enhancing solar market of the nation.
For instance, Duke Energy's DUK subsidiary, Duke Energy Florida is investing to bring 700 MW of solar online by 2022 and has filed a $1 billion shared solar program called Clean Energy Connection, which will add another 750 MW of solar by the end of 2024.
Another utility provider, NextEra Energy NEE has revealed its "30-by-30" plan to install more than 30 million solar panels in Florida by 2030.
AES Corp. AES successfully signed 3,017 MW of renewables and energy storage under long-term PPAs during 2020. This includes a 1,180 MW of energy storage, solar and solar plus storage and hydro in the United States and El Salvador; and 1,171 MW of wind and solar at AES Gener in Chile and Colombia.
Zacks Rank & Price Performance
American Electric currently carries a Zacks Rank #3 (Hold). You can see the complete list of today's Zacks #1 Rank (Strong Buy) stocks here.
In the past year, shares of the company have gained 8.8% compared with the industry's 11.9% surge.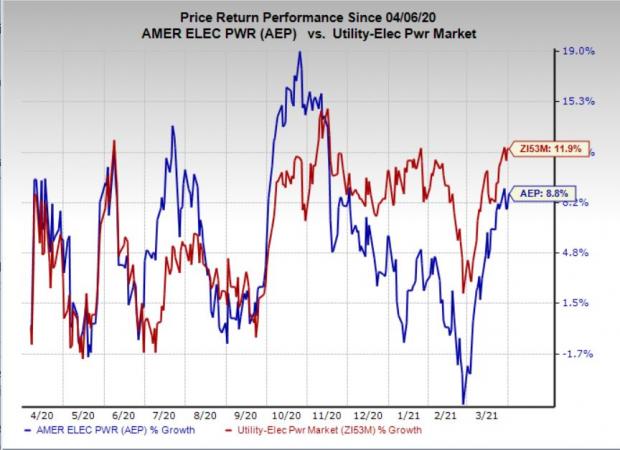 Bitcoin, Like the Internet Itself, Could Change Everything
Blockchain and cryptocurrency has sparked one of the most exciting discussion topics of a generation. Some call it the "Internet of Money" and predict it could change the way money works forever. If true, it could do to banks what Netflix did to Blockbuster and Amazon did to Sears. Experts agree we're still in the early stages of this technology, and as it grows, it will create several investing opportunities.

Zacks' has just revealed 3 companies that can help investors capitalize on the explosive profit potential of Bitcoin and the other cryptocurrencies with significantly less volatility than buying them directly.

See 3 crypto-related stocks now >>
Want the latest recommendations from Zacks Investment Research? Today, you can download 7 Best Stocks for the Next 30 Days.
Click to get this free report
American Electric Power Company, Inc. (AEP): Free Stock Analysis Report
Duke Energy Corporation (DUK): Free Stock Analysis Report
To read this article on Zacks.com click here.
Zacks Investment Research