Northrop Grumman (NOC) Unit Wins $82M Deal to Aid Triton UAS
Northrop Grumman Corp.'s NOC business unit, Northrop Grumman Systems Corp., recently clinched a contract to support MQ-4C Triton unmanned aircraft systems (UAS). The deal has been awarded by the Naval Air Systems Command, Patuxent River, MD.
Valued at $82 million, the contract is projected to be completed by March 2022. Per the deal terms, Northrop Grumman Systems will offer sustainment, engineering, logistics, test, mission control and operator training systems support for MQ-4C Triton UAS. The contract will serve the U.S. Navy and Australian army.
The majority of work related to this deal will be executed in Patuxent River, MD and San Diego, CA.
Why Triton UAS?
Northrop Grumman's MQ-4C Triton UAS is equipped to provide real-time intelligence, surveillance and reconnaissance (ISR) over vast ocean, and coastal regions. The system is also equipped with a robust mission sensor suite that provides 360-degree coverage on all sensors, ensuring unprecedented maritime domain awareness for the U.S. Navy.
Triton UAS supports a wide range of missions including maritime ISR patrol, signals intelligence, search and rescue, along with communications relay.
Northrop Grumman's Prospects
Cost effectiveness combined with manned aircraft and zero mortality, which UAS offers, has been bolstering demand for military drones. This, in turn, has been driving demand for Triton, a next-generation UAS. The latest contract win is a bright example of the same.
According to Fortune Business Insights' projection, during the 2020-2027 period, the global unmanned aerial vehicle (UAV) market is anticipated to see a CAGR of 12.2% and reach $25.13 billion. Rise in the procurement of military UAVs by defense forces worldwide is one of the most significant factors, which should provide a boost to the UAV market.
With Northrop Grumman being a prominent defense major and an expert UAV manufacturer, the aforementioned market potential should substantially boost this defense prime's growth.
Other Dominant Players
To date, North America remains the largest market for UAV, driven by increasing use inborder and maritime surveillance activities, particularly in the United States and Canada.
Considering the impressive prospects that the global UAV market boasts, it is imperative to mention that in addition to Northrop, there are other defense majors in the country that dominate the UAV market space including Boeing BA and Lockheed Martin LMT. Boeing's Insitu unit offers high-performance, low-cost unmanned aircraft systems used for ISR. Conversely, leveraging decades of expertise in low observable technology including the RQ-170, Lockheed's Skunk Works unit has developed survivable, interoperable next generation unmanned aerial system concepts to support future battlespace operations.
No doubt, the UAV market's growth potential will benefit the aforementioned defense contractors in the coming days.
Price Performance
In a year's time, shares of Northrop Grumman have lost 5.4% against the industry's 41% gain.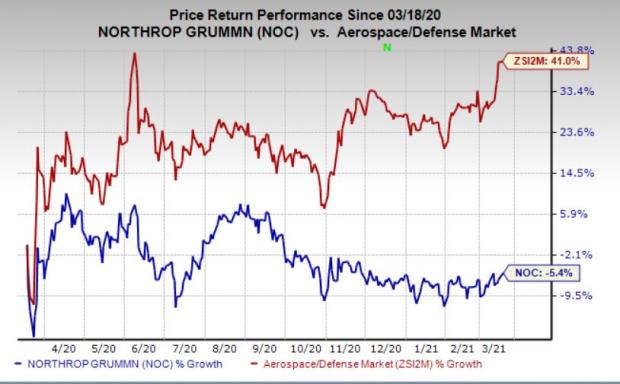 Zacks Rank & Key Pick
Northrop currently carries a Zacks Rank #3 (Hold). A better-ranked stock in the same sector is Triumph Group TGI, which holds a Zacks Rank #2 (Buy). You can see the complete list of today's Zacks #1 Rank (Strong Buy) stocks here.
Triumph delivered an earnings surprise of 228.6% in the last reported quarter. The company boasts a long-term earnings growth rate of 2.6%.
+1,500% Growth: One of 2021's Most Exciting Investment Opportunities
In addition to the stocks you read about above, would you like to see Zacks' top picks to capitalize on the Internet of Things (IoT)? It is one of the fastest-growing technologies in history, with an estimated 77 billion devices to be connected by 2025. That works out to 127 new devices per second.
Zacks has released a special report to help you capitalize on the Internet of Things's exponential growth. It reveals 4 under-the-radar stocks that could be some of the most profitable holdings in your portfolio in 2021 and beyond.
Click here to download this report FREE >>
Want the latest recommendations from Zacks Investment Research? Today, you can download 7 Best Stocks for the Next 30 Days.
Click to get this free report
Northrop Grumman Corporation (NOC): Get Free Report
The Boeing Company (BA): Free Stock Analysis Report
Lockheed Martin Corporation (LMT): Get Free Report
Triumph Group, Inc. (TGI): Free Stock Analysis Report
To read this article on Zacks.com click here.
Zacks Investment Research