ANSYS Helps TURBOTECH to Develop Hybrid-Electric Aircraft
ANSYS' ANSS simulation solutions are enabling startups to design innovative solutions.

As part of ANSYS Startup Program, France-based startup TURBOTECH is utilizing the company's fluids solutions to build robust propulsion systems to run futuristic hybrid-electric aircraft.

ANSYS' fluids solutions enable TURBOTECH to design turbogenerators based on turbines and generators, which recover energy from exhaust gases and reduce fuel consumption.

Notably, the turbogenerators designed by TURBOTECH enhance "endurance of electric aircrafts by 10X," facilitating considerable cost and weight savings.

Per data from International Air Transport Association (IATA), aviation amounts to around 2% in global carbon emissions. Moreover, IATA estimates passenger count to double to 8.2 billion by 2037.

Rising concerns over increasing aviation emissions is expected to boost demand for technology aimed at development of electrification of aircrafts.

In this backdrop, ANSYS' fluids solutions, which are enabling TURBOTECH to design robust aeronautical propulsion systems and reduce emissions, are likely to gain impetus.

Expanding Presence in Aerospace Bodes Well

ANSYS Startup Program provides the company with exposure to various emerging domains via collaboration with innovative startups.

We believe association with TURBOTECH to design solutions aimed at reducing air emissions, reinforces the company's footprint in simulation software solutions.
ANSYS, Inc. Price and Consensus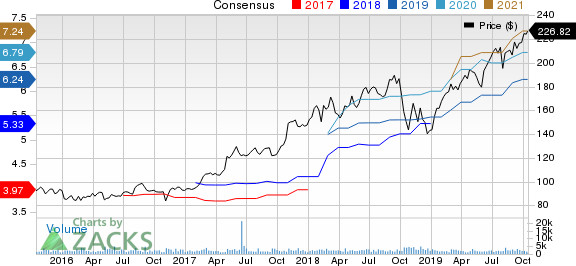 TURBOTECH's turbogenerators are enabled to generate electricity from renewable flammable materials, like bio-gas, bio-fuel, hydrogen and other conventional fuels.

Increasing popularity of ANSYS' simulation solutions, particularly in the aerospace end-market, holds promise. Notably, global microturbines market is estimated to hit $420 million by 2025, according to data from Researchmoz.

Moreover, the growing clout of AI, 5G and ADAS chipset making is fueling demand for computational software tools, which favors ANSYS' prospects. Per Mordor Intelligence data, the simulation software market is forecast to hit $16.69 billion by 2024 compared with $7.16 billion in 2018 at a CAGR of 15.14%.

Further, the company acquired all assets of DfR Solutions. The buyout is aimed at providing customers with designer-level toolkit to investigate for electronics failure at the nascent design stage. The buyout is anticipated to aid ANSYS enhance strength in automotive, avionics and aerospace, and other domains.

We believe that the partnerships and strategic startup programs in emerging markets will aid ANSYS to strengthen its competitive position in the simulations market.

Zacks Rank & Stocks to Consider

Currently, ANSYS carries a Zacks Rank #3 (Hold).

Some better-ranked stocks in the broader technology sector are Alteryx AYX, Synopsys SNPS and Keysight Technologies KEYS, each flaunting a Zacks Rank #1 (Strong Buy). You can see the complete list of today's Zacks #1 Rank stocks here.

Long-term earnings growth rate for Alteryx, Synopsys and Keysight is currently pegged at 17.62%, 12% and 10%, respectively.

Free: Zacks' Single Best Stock Set to Double

Today you are invited to download our just-released Special Report that reveals 5 stocks with the most potential to gain +100% or more in 2020. From those 5, Zacks Director of Research, Sheraz Mian hand-picks one to have the most explosive upside of all.

This pioneering tech ticker had soared to all-time highs and then subsided to a price that is irresistible. Now a pending acquisition could super-charge the company's drive past competitors in the development of true Artificial Intelligence. The earlier you get in to this stock, the greater your potential gain.

Download Free Report Now >>
Want the latest recommendations from Zacks Investment Research? Today, you can download 7 Best Stocks for the Next 30 Days.
Click to get this free report
ANSYS, Inc. (ANSS): Free Stock Analysis Report
Synopsys, Inc. (SNPS): Free Stock Analysis Report
Keysight Technologies Inc. (KEYS): Free Stock Analysis Report
Alteryx, Inc. (AYX): Free Stock Analysis Report
To read this article on Zacks.com click here.
Zacks Investment Research