AngioDynamics Gets FDA Nod to Begin NanoKnife DIRECT Study
AngioDynamics, Inc. ANGO announced that it has received an approval from the U.S. FDA to initiate a clinical study for treating stage III pancreatic cancer. The approval is for an investigational device exemption (IDE) application for NanoKnife Irreversible Electroporation "Direct IRE Cancer Treatment" clinical study (DIRECT).
Investors should notice that NanoKnife is one of the flagship products of AngioDynamics. It is a major top-line contributor of the company's Oncology business.
What is IDE?
An IDE allows the investigational device to be used in a clinical study for ensuring safety and effectiveness of data (NanoKnife is the investigational device in this case). Clinical studies support a premarket approval application or a 510k submission to the FDA.
More About DIRECT
Coming back to the news, the DIRECT clinical study is expected to demonstrate comprehensive data collection strategy for clinicians, patients, payors and other stakeholders for the treatment of Stage III pancreatic cancer. Notably, the study is classified as a Category B IDE by the FDA. Its primary endpoint is overall survival of a patient participating in the study.
It is interesting to note that AngioDynamics is launching AngioDIRECT.com for enrolling participants as part of the DIRECT clinical study. The study is expected to open up a new path for an alternative treatment option for advanced pancreatic cancer.
NanoKnife – A Key Catalyst
The FDA had already granted the NanoKnife System a Breakthrough Device Designation under the 21st Century Cures Act, in January 2018.
For the surgical ablation of the soft tissue, NanoKnife has previously received a clearance from the FDA. The system utilizes low-energy direct current electrical pulses to permanently open pores in target cell membranes.
In the second quarter of fiscal 2019, NanoKnife revenues grew 29.1% year over year on increasing global adoption of the technology.
AngioDynamics, Inc. Price and Consensus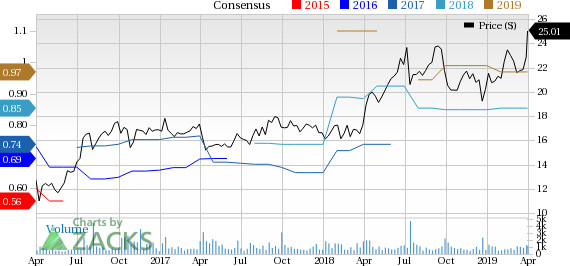 AngioDynamics, Inc. Price and Consensus | AngioDynamics, Inc. Quote
Wrapping Up
As of now, there are very limited treatment options for Stage III and IV pancreatic cancer in the United States. The disease is expected to increase dramatically and become the second leading cause for cancer-related deaths by 2030.
Chemotherapy and radiotherapy are the conventional treatments for pancreatic cancer. However, these procedures have multiple side effects and are hazardous to health. Given this scenario, management at AngioDynamics is likely to benefit from favorable results of the study.
Meanwhile, shares of AngioDynamics have rallied 36%, comparing favorably with the S&P 500 index's gain of 8.7% in a year's time. The current level is also significantly higher than the industry's 16% growth. The company's focus on R&D prospects and the coveted NanoKnife platform lends it a competitive edge.
Last month, AngioDynamics announced that the FDA has granted an expanded 510(k) clearance for its OARtrac Radiation Dose Monitoring System for use during cancer treatments.
Zacks Rank & Key Picks
AngioDynamics has a Zacks Rank #3 (Hold). A few better-ranked stocks from the MedTech space are Penumbra, Inc. PEN, Fluidigm Corporation FLDM and Tactile Systems Technology, Inc. TCMD, each carrying a Zacks Rank #2 (Buy). You can see the complete list of today's Zacks #1 Rank (Strong Buy) stocks here.
Penumbra delivered a positive earnings surprise in each of the trailing four quarters, the average being 321.2%.
Fluidigm has a long-term earnings growth rate of 25%.
Tactile Systems has a long-term earnings growth rate of 20%.
Today's Best Stocks from Zacks
Would you like to see the updated picks from our best market-beating strategies? From 2017 through 2018, while the S&P 500 gained +15.8%, five of our screens returned +38.0%, +61.3%, +61.6%, +68.1%, and +98.3%.
This outperformance has not just been a recent phenomenon. From 2000 – 2018, while the S&P averaged +4.8% per year, our top strategies averaged up to +56.2% per year.
See their latest picks free >>
Want the latest recommendations from Zacks Investment Research? Today, you can download 7 Best Stocks for the Next 30 Days.
Click to get this free report
Fluidigm Corporation (FLDM): Free Stock Analysis Report
Penumbra, Inc. (PEN): Free Stock Analysis Report
Tactile Systems Technology, Inc. (TCMD): Free Stock Analysis Report
AngioDynamics, Inc. (ANGO): Free Stock Analysis Report
To read this article on Zacks.com click here.