NVIDIA Ups the Game in Self Driving, Unveils DGX SuperPOD
NVIDIA NVDA unveiled what it claims to be the world's 22nd fastest supercomputer — DGX SuperPOD — to accelerate its autonomous-vehicle deployment program.
The DGX SuperPOD contains 96 NVIDIA DGX-2H units and 1,536 V100 Tensor Core GPUs, interconnected with Mellanox MLNX network fabrics and NVIDIA's NVSwitch technologies. Reportedly, the AI infrastructure allows it to deliver 9.4 petaflops of processing power.
Per the company, it takes about three weeks to set up the SuperPod, which compares with six-nine months required for systems of this scale. Moreover, it is roughly 400 times smaller than other top-ranked supercomputing systems.
NVIDIA further pointed out that DGX SuperPOD could run AI training model, ResNet-50, within two minutes as compared to 25 days taken when the model first came out in 2015. DGX SuperPOD delivers results that are 18,000 times faster, adds the company.
NVIDIA's Growth Trajectory: AI Holds the Key
NVIDIA's steady focus on developing more updated AI technologies for self-directed cars is making it well-poised to become a leading provider of technology for autonomous vehicles. The company is already helming the market in this space, outclassing other competitors, such as Intel Corp. INTC and Advanced Micro Devices AMD in terms of growth.
Furthermore, by expanding its business avenues, the company will be able to curb its reliance on the PC industry, which is currently lying dormant.
It should be noted that during the last reported quarterly results while revenues from both gaming and data center segment declined, the company witnessed a 14% year-over-year rise in automotive segment revenues. This upside was mainly driven by autonomous vehicle development deals and the increasing uptake of AI-based smart cockpit infotainment solutions.
Moreover, consistent efforts have been benefiting NVIDIA as more and more companies agreed to use its AI technologies for the development of autonomous vehicles. The addition of a superior product like DGX SuperPOD is expected to help it win more partnerships going forward.
NVIDIA Corporation Revenue (TTM)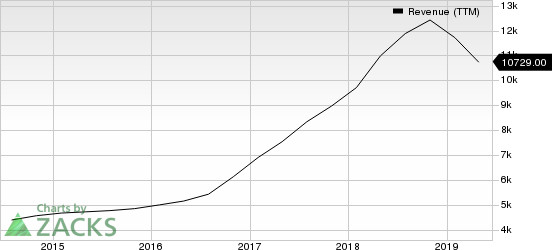 Prospects Look Bright
According to data available from BI intelligence, 10 million automated cars will hit the road by 2020. Per Statista, the market for fully autonomous modes of conveyance will be valued at roughly $6 billion while that of the partially autonomous ones will rake in $36 billion by 2025.
Going by Boston Consulting Group estimates, the autonomous car market will be worth $42 billion by 2025 and $77 billion by 2035.
NVIDIA expects its automotive TAM (Total Addressable Market) to be $30 billion by 2025, comprising $25 billion for driving, $3 billion for training/development of deep neural networks and $2 billion for validation and testing.
These projections encourage us about NVIDIA's growth prospects in the space.
NVIDIA has a Zacks Rank #3 (Hold). You can see the complete list of today's Zacks #1 Rank (Strong Buy) stocks here.
Breakout Biotech Stocks with Triple-Digit Profit Potential
The biotech sector is projected to surge beyond $775 billion by 2024 as scientists develop treatments for thousands of diseases. They're also finding ways to edit the human genome to literally erase our vulnerability to these diseases.
Zacks has just released Century of Biology: 7 Biotech Stocks to Buy Right Now to help investors profit from 7 stocks poised for outperformance. Our recent biotech recommendations have produced gains of +98%, +119% and +164% in as little as 1 month. The stocks in this report could perform even better.
See these 7 breakthrough stocks now>>
Want the latest recommendations from Zacks Investment Research? Today, you can download 7 Best Stocks for the Next 30 Days.
Click to get this free report
Mellanox Technologies, Ltd. (MLNX): Free Stock Analysis Report
Advanced Micro Devices, Inc. (AMD): Free Stock Analysis Report
Intel Corporation (INTC): Free Stock Analysis Report
NVIDIA Corporation (NVDA): Free Stock Analysis Report
To read this article on Zacks.com click here.
Zacks Investment Research