Canadian Solar (CSIQ) to Post Q4 Earnings: What's in Store?
Canadian Solar Inc. CSIQ is set to report fourth-quarter 2020 results on Mar 18, before market open.
In the last reported quarter, the company delivered an earnings surprise of 475.00%. In the trailing four quarters, the company came up with an earnings surprise of 194.93%, on average.
Factors at Play
In October 2020, Canadian Solar launched its Series 7 high-power, high-efficiency modules. This launch must have boosted the company's quarterly shipment volumes.
Meanwhile, as gradual recovery has been observed recently in the economy, the company has been witnessing expansion in raw material supply along with increased average selling price for modules. This must have pushed up its production rate and thereby shipment volumes.
Cumulatively, the above-mentioned factors must have boosted Canadian Solar's revenues in the soon-to-be-reported quarter.
Canadian Solar Inc. Price and EPS Surprise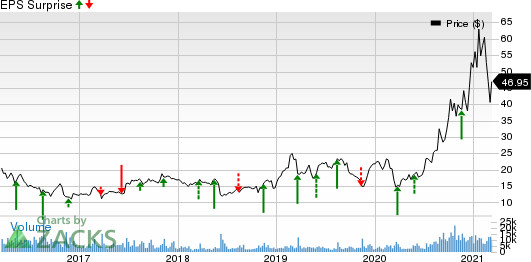 Canadian Solar Inc. price-eps-surprise | Canadian Solar Inc. Quote
Moreover, in December, the company completed the sale of the remaining 30% ownership of the Big Fish SPV and Iron SPV solar projects to Falck Renewables. In the same month, Canadian Solar also completed the sale of Gunma Aramaki, a 19 MWp operational solar power plant in Japan for approximately $64 million. Revenues recognized from these sales must have contributed favorably to the company's top-line performance.
Notably, the Zacks Consensus Estimate for fourth-quarter revenues is pegged at $997.3 million, suggesting an improvement of 8.4% from the figure reported in the year-ago quarter.
Sharp depreciation of the U.S. dollar relative to Chinese currency, RMB, has been causing Canadian Solar to incur significant foreign exchange loss in the recent times. This in turn has been impacting its bottom-line performance.
Although the company boasts a comprehensive hedging program, covering more than a dozen currencies, the U.S. dollar RMB exposure is by far the largest since most of Canadian Solar's revenues is earned in U.S. dollars, while most of its expenses are in RMB. Therefore, we expect the company to have incurred notable foreign exchange loss in the fourth quarter as well, which must have hurt its earnings.
The Zacks Consensus Estimate for loss per share stands at 55 cents, implying a huge deterioration from the year-ago period's reported earnings of $1.04.
Earnings Whispers
Our proven model does not conclusively predict an earnings beat for Canadian Solar this time around. The combination of a positive Earnings ESP and a Zacks Rank #1 (Strong Buy), 2 (Buy) or 3 (Hold) increases the odds of an earnings surprise. But that's not the case here, as you will see below.
Earnings ESP: Canadian Solar has an Earnings ESP of 0.00%. You can uncover the best stocks to buy or sell before they're reported with our Earnings ESP Filter.
Zacks Rank: The company carries a Zacks Rank of 3. You can see the complete list of today's Zacks #1 Rank stocks here.
Key Q4 Solar Releases
Enphase Energy ENPH reported fourth-quarter 2020 adjusted earnings of 51 cents per share, which surpassed the Zacks Consensus Estimate of 40 cents by 27.5%.
SolarEdge Technologies SEDG reported fourth-quarter 2020 adjusted earnings of 98 cents per share, which surpassed the Zacks Consensus Estimate of 87 cents by 12.6%.
SunRun Inc. RUN incurred fourth-quarter 2020 loss of 6 cents per share against the Zacks Consensus Estimate of earnings of 7 cents.
5G Revolution: 3 Stocks to Make Your Move
With super high data speed, it will make current cell phones obsolete and unlock the full potential of big data, cloud computing, and artificial intelligence. In the next few years this industry is predicted to create 22 million jobs and a stunning $12.3 trillion in revenue.
Today you have an historic chance to pursue almost unimaginable gains like Microsoft, Netflix, and Apple in their early phases. Zacks has released a Special Report that reveals our . . .
Smartest stock for 5G telecom
Safest investment in 5G hardware
Single best 5G buy of all!

Download now. Today the report is FREE >>


Want the latest recommendations from Zacks Investment Research? Today, you can download 7 Best Stocks for the Next 30 Days.
Click to get this free report
Canadian Solar Inc. (CSIQ): Free Stock Analysis Report
Enphase Energy, Inc. (ENPH): Get Free Report
SolarEdge Technologies, Inc. (SEDG): Get Free Report
Sunrun Inc. (RUN): Free Stock Analysis Report
To read this article on Zacks.com click here.
Zacks Investment Research