Airline Stock Roundup: LUV's 737 MAX Update, DAL's Bullish View & More
In the past week, Southwest Airlines LUV, which has 34 Boeing 737 Max jets in its fleet, extended the grounding period of such jets until the end of May 2019. The low-cost carrier had earlier stated that the jets would remain grounded until Apr 20.
Meanwhile, Delta Air Lines DAL unveiled a bullish adjusted earnings guidance for first-quarter 2019. Delta will kick-start the earnings season for airlines on Apr 10. This Atlanta, GA-based carrier also grabbed headlines by virtue of its decision to extend the credit card deal with American Express AXP through 2029.
On the traffic front, Delta and Ryanair Holdings RYAAY unveiled their respective traffic numbers for March.
(Read the last Airline Stock Roundup here).
Recap of the Past Week's Most Important Stories
1. Southwest Airlines will release a new flight schedule for May. This followed the joint announcement with Southwest Airlines Pilots' Association ("SWAPA") that Boeing 737 MAX jets will not operate at Southwest Airlines until the end of May 2019. (Read more: Southwest Calls Off 737 MAX Operations Through May-End).
2. For first-quarter 2019, Delta expects adjusted earnings per share in the 85-95 cents band, higher 70-90 cents projected earlier. The mid-point (90 cents) of the guided range is above the Zacks Consensus Estimate of 81 cents. Also, pre-tax margin is expected between 7% and 8% (past outlook: 6.5-8.5%).
Moreover,it expects the top line to rise approximately 7%. Total unit revenues (TRASM) are anticipated to inch up approximately 2% (prior view was an increase in the 0-2% range). The upside can be primarily attributed to healthy corporate-travel demand. Also, the contract extension between Delta and American Express has aided first-quarter TRASM to the tune of 1 point.
The company's non-fuel unit costs have also improved backed by better completion factor and costs control measures. The metric is now envisioned to be either flat or to increase up to 0.5% (previous view was an increase of 1-2%).
Average fuel price is estimated between $2.03 and $2.08 per gallon. Additionally, effective tax rate is projected to be 23-24% for the March quarter. Capacity is estimated to rise approximately 5% year over year in the soon-to-be-reported quarter.
On a separate note, Delta's consolidated traffic, measured in revenue passenger miles (RPMs), increased 5.3% year over year. Consolidated capacity (or available seat miles/ASMs) climbed 5.4% on a year-over-year basis. Consolidated load factor (% of seats filled by passengers) contracted 20 basis points (bps) to 86.7% as capacity expansion exceeded traffic growth.
Delta carries a Zacks Rank #3 (Hold). You can see the complete list of today's Zacks #1 Rank (Strong Buy) stocks here.
3. At Ryanair, March traffic (including 0.4 million from its LaudaMotion unit) rose 9% year over year to 10.9 million. Moreover, load factor increased to 96% from 95% a year ago. In March, this European low-cost carrier operated more than 59,800 scheduled flights.
4. Operations at leading U.S.-based carriers like Southwest Airlines, Delta, United Airlines — the wholly owned subsidiary of United Continental Holdings UAL — and Alaska Air Group ALK were briefly disrupted on the morning of Apr 1, 2019, due to a technical glitch. The issue, which has now been resolved, resulted in flight delays across the country. The system-wide outages were reportedly caused due to a software problem at Aerodata — a provider of information related to aircraft weight and balance.
5. Hawaiian Airlines — the wholly owned subsidiary of Hawaiian Holdings HA — is constantly working to modernize its fleet in a bid to improve its passengers' flying experience. In a fleet-related development, the carrier announced the names of its partners (Adient Aerospace and Collins Aerospace) for designing seats of Boeing 787-9 Dreamliner aircraft. The jet is scheduled to join Hawaiian Airlines' fleet in 2021.
Performance
The following table shows the price movement of the major airline players over the past week and during the last six months.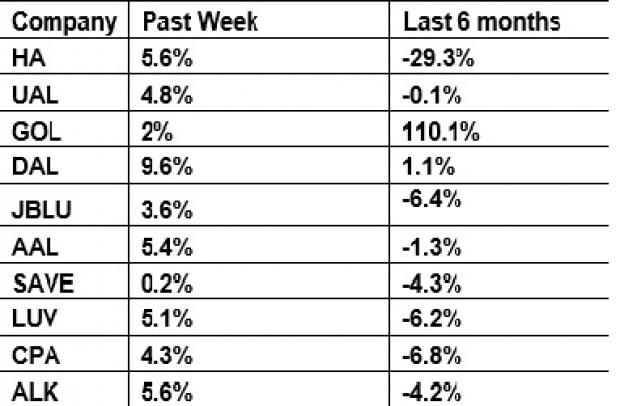 The table above shows all airline stocks gained in the past week. Shares of Delta have appreciated the most (9.6%) driven by its bullish guidance. The NYSE ARCA Airline index increased 3.6% in the period. Over the course of six months, the NYSE ARCA Airline index declined 0.1%.
What's Next in the Airline Space?
Multiple traffic reports for March are expected in the coming days.
Is Your Investment Advisor Fumbling Your Financial Future?

See how you can more effectively safeguard your retirement with a new Special Report, "4 Warning Signs Your Investment Advisor Might Be Sabotaging Your Financial Future."

Click to get it free >>
Want the latest recommendations from Zacks Investment Research? Today, you can download 7 Best Stocks for the Next 30 Days.
Click to get this free report
Southwest Airlines Co. (LUV): Free Stock Analysis Report
Ryanair Holdings PLC (RYAAY): Free Stock Analysis Report
Hawaiian Holdings, Inc. (HA): Free Stock Analysis Report
Delta Air Lines, Inc. (DAL): Free Stock Analysis Report
Alaska Air Group, Inc. (ALK): Free Stock Analysis Report
United Continental Holdings, Inc. (UAL): Free Stock Analysis Report
American Express Company (AXP): Free Stock Analysis Report
To read this article on Zacks.com click here.
Zacks Investment Research