Low Rates to Impact Northern Trust's (NTRS) Q4 Earnings
Northern Trust Corporation's NTRS fourth-quarter results, scheduled for Jan 22, are expected to reflect a year-over-year rise in revenues, while earnings might display a decline.

Northern Trust uses a lag effect to calculate its corporate custody and investment management fees, i.e. the computations are based on the prior-quarter end valuations. Since the performance of equity markets was strong in the fourth quarter, the company might have registered growth in custody, servicing and management fees.

Notably, the company provides majority of its asset-management services through the C&IS unit, which generates more than 50% of total revenues. A rise in revenues in this segment is likely to have boosted the company's overall revenues. Further, the Zacks Consensus Estimate of $1.54 billion for the to-be-reported quarter's sales reflects a year-over-year rise of 2.6%.

Per the Zacks Consensus Estimate, the C&I segment's custody and fund administration fees will likely flare up 2% sequentially to $400 million. Furthermore, securities lending revenues are projected to be up 16.4% sequentially. Yet, investment management revenues are likely to have declined on a sequential basis.

Therefore, with steady performance of its components, total C&I trust, investment and other servicing fees are likely to have escalated 1.3% sequentially to $567 million.

Let's have a look at what our quantitative model predicts:

Northern Trust does not have the right combination of the two key ingredients — a positive Earnings ESP and Zacks Rank #3 (Hold) or higher — for increasing the odds of an earnings beat.

You can uncover the best stocks to buy or sell before they're reported with our Earnings ESP Filter.

Earnings ESP: The Earnings ESP for Northern Trust is -0.64%.

Zacks Rank: Northern Trust currently carries a Zacks Rank of 2 (Buy), which increases the predictive power of ESP. But we also need to have a positive ESP to be confident of a positive earnings surprise.

Here are the other factors that might have influenced the company's quarterly performance:

Controlled Expenses: With Northern Trust's cost-saving initiatives underway, expenses in the quarter are anticipated to have been under control.

Low Foreign Exchange Trading Revenues: Given the low foreign exchange ("FX") trading volatility in developing and emerging markets, along with mostly reduced volumes in the October-December quarter, the company's revenues from FX trading might have remained low.

Soft Loan Growth: Per the Fed's latest data, rise in loans is likely to have been low on a sequential basis for the December-end quarter. Particularly, weakness in revolving home equity loans and commercial and industrial (C&I) are expected to have offset growth in consumer and commercial real estate loans. Also, trade-war concerns, though subsided to an extent, hurt business sentiments across the industries, which might have had an adverse impact on loan demand.

Net Interest Income (NII) Disappointing: A dismal lending scenario — mainly in the areas of commercial and industrial, and revolving home equity — during the fourth quarter might have dragged down net interest income (NII).

Further, the Federal Reserve's accommodative monetary-policy stance, with decline in interest rates (three rate cuts in July, September and October), and its impact on the yield curve are likely to have dampened net interest margin in the to-be-reported quarter.

The Zacks Consensus Estimate for average interest earning assets of $105 billion for the quarter is almost stable. The consensus estimate of $422 million for NII reflects around 1% sequential decline.

In addition, the company's activities during the quarter under review were adequate to win analysts' confidence. As a result, the Zacks Consensus Estimate for earnings of $1.77 moved up slightly over the last 30 days. Yet, the figure reflects a year-over-year decline of 2.8%.

Northern Trust Corporation Price and EPS Surprise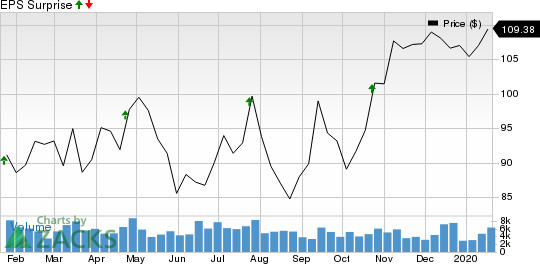 Northern Trust Corporation price-eps-surprise | Northern Trust Corporation Quote
Stocks That Warrant a Look

Here are some stocks you may want to consider, as according to our model, these have the right combination of elements to post an earnings beat this quarter.

Bank of Hawaii Corporation BOH is set to release results on Jan 27. The company has an Earnings ESP of +0.37% and carries a Zacks Rank of 2, at present. You can see the complete list of today's Zacks #1 Rank (Strong Buy) stocks here.

Cullen/Frost Bankers, Inc. CFR is slated to report earnings on Jan 30. The company has an Earnings ESP of +0.18% and currently carries a Zacks Rank of 3.

TD Ameritrade Holding Corporation AMTD has an Earnings ESP of +0.39% and at present, holds a Zacks Rank of 3. It is scheduled to report quarterly figures on Jan 21.

Biggest Tech Breakthrough in a Generation

Be among the early investors in the new type of device that experts say could impact society as much as the discovery of electricity. Current technology will soon be outdated and replaced by these new devices. In the process, it's expected to create 22 million jobs and generate $12.3 trillion in activity.

A select few stocks could skyrocket the most as rollout accelerates for this new tech. Early investors could see gains similar to buying Microsoft in the 1990s. Zacks' just-released special report reveals 8 stocks to watch. The report is only available for a limited time.

See 8 breakthrough stocks now>>
Want the latest recommendations from Zacks Investment Research? Today, you can download 7 Best Stocks for the Next 30 Days.
Click to get this free report
Northern Trust Corporation (NTRS): Free Stock Analysis Report
Cullen/Frost Bankers, Inc. (CFR): Free Stock Analysis Report
Bank of Hawaii Corporation (BOH): Free Stock Analysis Report
TD Ameritrade Holding Corporation (AMTD): Free Stock Analysis Report
To read this article on Zacks.com click here.