Albertsons (ACI) Q3 Earnings Beat Estimates, Sales Up Y/Y
Albertsons Companies, Inc. ACI reported robust third-quarter fiscal 2020 results, with the top and the bottom line increasing year over year. Also, the bottom line beat the Zacks Consensus Estimate. Results benefited from strong identical sales, backed by growth in digital revenues. Further, management highlighted that the quarterly results gained from growth in market share in food and fuel. The company also experienced growth across several geographic regions despite COVID-19 related restrictions. Further, the company raised view for fiscal 2020.

Management expects to keep gaining from continued at-home food consumptions trends. The company believes that consumers are less likely to revert to pre-pandemic dining trends any time soon. Moreover, continued work-from-home norms are likely to keep fueling at-home cooking practices. Accordingly, management expects to keep gaining from rising demand for breakfast items such as cereals, sandwich, cheese bacon and eggs along with other convenience food products. Apart from these, management is on track with bolstering omni-channel offerings and technology infrastructure. It is also on track with enhancing productivity and product assortments.

We note that the company gained 2.1% in yesterday's trading session. Moreover, shares of this Zacks Rank #3 (Hold) company have increased 16.3% in the past three months against the industry's decline of 5.3%.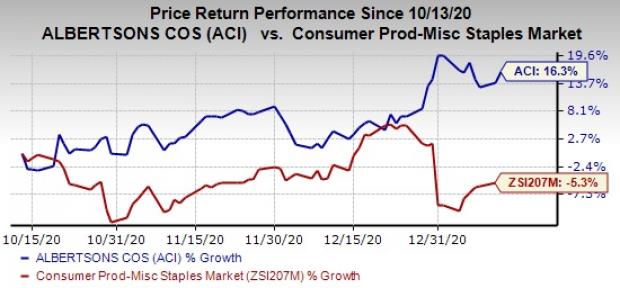 Results in Detail
Adjusted earnings came in at 66 cents per share, which surged significantly from earnings of 24 cents in the prior-year quarter. The bottom line also surpassed the Zacks Consensus Estimate of 42 cents.

Albertsons' net sales and other revenues during the third quarter increased 9.3% year over year to $15,408.9 million. The year-over-year increase was driven by 12.3% rise in the company's identical sales, partly offset by reduced fuel sales. Markedly, identical sales gained from 225% surge in digital sales. However, the top line missed the Zacks Consensus Estimate of $15,410 million.

Gross profit amounted to $4,508.6 million, up 12.9% year on year. Moreover, gross profit margin improved 100 basis points (bps) to 29.3%. Excluding fuel, gross profit margin improved 25 bps. The uptick can be attributed to shrink expense improvements as well as sales leverage on advertising and supply chain costs. These were partially offset by expenses related to digital sales as well as investments in price.

Selling and administrative expenses, as a percentage of sales, increased 100 bps to 28%. Excluding the impact of fuel, the metric rose 40 bps. Rise in selling and administrative expenses was caused by incremental COVID-19 expenses along with other charges. These were partially countered by enhanced sales leverage driven by higher identical sales and focus on cost control.

Further, adjusted EBITDA increased 52.5% to $967.7 million. The upside was backed by higher identical sales and improved sales leverage witnessed in gross margin and selling and administrative expenses.
Other Financial Details
Albertsons ended the quarter with cash and cash equivalents of $1,836.1 million, as of Dec 5, 2020. Long-term debt and finance lease obligations amounted to $8,328 million, while total shareholders' equity amounted to $1,374.7 million.

For the 40 week period ended Dec 5, net cash from operating activities was $2,996 million. Capital expenditures during this period were nearly $1.1 billion, including investments toward digital and technological growth endeavors and remodeling of nearly 225 stores.

Additionally, we note that the company repurchased shares worth $102.7 million as part of its existing share repurchase authorization of $300 million. Moreover, the company paid out its first quarterly dividend of 10 cents per share on Nov 10, 2020 to shareholders in record as on Oct 26. The company also announced its next quarterly dividend of 10 cents payable on Feb 10, 2021 to share holders in record as of Jan 26.

Apart from these factors, the company executed debt refinancing and announced paydown to drive an additional $25 million in annualized interest savings.
Guidance
For fiscal 2020, the company expects identical sales of nearly 16.5%, up from the earlier estimation of at least 15.5%. Further, adjusted earnings are anticipated in the range of $3.05-$3.15 per share compared with the earlier view of earnings in the bracket of $2.75-$2.85. Adjusted EBITDA is now expected in the range of $4.4-$4.5 billion compared with the prior view in the bracket of $4.15-$4.25 billion. Management expects capital expenditures between $1.65 billion and $1.75 billion. Previously, capital expenditures were expected to be $1.9 billion.
Check These Solid Consumer Staples Stocks
Newell Brands Inc. NWL, flaunting a Zacks Rank #1 (Strong Buy), has a long-term earnings growth rate of 2.9%. You can see the complete list of today's Zacks #1 Rank stocks here.

The Hain Celestial Group, Inc. HAIN, also with a Zacks Rank #1, has a trailing four-quarter earnings surprise of 24.6%, on average.

B&G Foods, Inc. BGS, with a Zacks Rank #1, has a trailing four-quarter earnings surprise of 9.3%, on average.
The Hottest Tech Mega-Trend of All
Last year, it generated $24 billion in global revenues. By 2020, it's predicted to blast through the roof to $77.6 billion. Famed investor Mark Cuban says it will produce ""the world's first trillionaires,"" but that should still leave plenty of money for regular investors who make the right trades early.

See Zacks' 3 Best Stocks to Play This Trend >>


Want the latest recommendations from Zacks Investment Research? Today, you can download 7 Best Stocks for the Next 30 Days.
Click to get this free report
Newell Brands Inc. (NWL): Free Stock Analysis Report
The Hain Celestial Group, Inc. (HAIN): Free Stock Analysis Report
Albertsons Companies, Inc. (ACI): Free Stock Analysis Report
B&G Foods, Inc. (BGS): Free Stock Analysis Report
To read this article on Zacks.com click here.
Zacks Investment Research