Kohl's (KSS) Q3 Earnings Beat Estimates, Sales & Comps Up Y/Y
Kohl's Corporation KSS delivered third-quarter fiscal 2018 results, with the top and the bottom line improving year over year and beating the Zacks Consensus Estimate. While this marked the sixth straight quarter of revenue beat, earnings surpassed the consensus mark for the fourth time in a row. Better-than-expected results prompted management to raise fiscal 2018 earnings view.

Certainly, the positive surprise streak propelled the shares of this Zacks Rank #2 (Buy) company. The stock surged roughly 70% in a year compared with the industry's surge of about 54.9%.

Coming back to results, quarterly earnings of 98 cents per share beat the Zacks Consensus Estimate of 96 cents and soared 40% on a year-over-year basis. The uptick came on the back of higher sales, improved comparable sales (comps) and enhanced gross margin.

Management highlighted that store and digital channels showcased strength in the quarter. Moreover, the company posted growth in the apparel business as well as benefited from inventory management and focus on speed to market efforts.

Sales and Margins

Total revenues came in at $4,628 million, up 1.3% from the prior-year quarter's tally and ahead of the Zacks Consensus Estimate of $4,619 million. Net sales also improved 1.3% to $4,369 million, while other revenues increased to $259 million from $255 million in the year-ago quarter.

Further, comps rose 2.5% from a rise of 0.1% recorded in the year-ago quarter. Well, comps have been positive since the past five quarters.

Moving on, gross margin expanded 25 basis points (bps) to 37% in the reported quarter. Further, operating income came in at $258 million, up roughly 0.4% from the prior-year quarter's level.
Kohl's Corporation Price, Consensus and EPS Surprise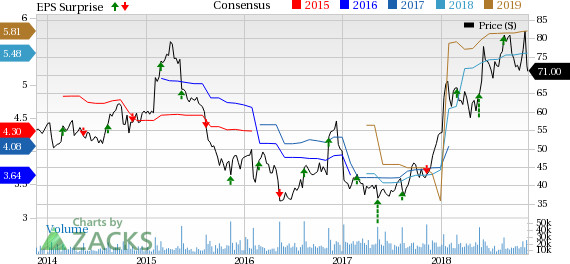 Kohl's Corporation Price, Consensus and EPS Surprise | Kohl's Corporation Quote
Other Financial Details

Kohl's ended the quarter with cash and cash equivalents of $1,047 million, long-term debt of $2,272 million and shareholders' equity of $5,453 million. The company generated net cash flow of $1,423 million from operating activities during the first nine months of fiscal 2018.

Guidance

Well, such upbeat results boosted the company's bottom-line expectations for fiscal 2018. Management now expects adjusted earnings per share (EPS) in the range of $5.35-$5.55 compared with the previous view of $5.15-$5.55. Including loss on extinguishment of debt, earnings are projected in the range of $5.16-$5.36 compared with the previous projection of $4.96-$5.36. The Zacks Consensus Estimate for fiscal 2018 is pegged at $5.48.

3 Retail Stocks to Consider

Burlington Stores BURL, with long-term EPS growth rate of 20.8%, carries a Zacks Rank #2. You can see the complete list of today's Zacks #1 Rank (Strong Buy) stocks here.

Dollar General DG has long-term EPS growth rate of 13.6% and a Zacks Rank #2.

Tiffany TIF, a Zacks Rank #2 stock, has surpassed estimates in the past four quarters.

Will You Make a Fortune on the Shift to Electric Cars?

Here's another stock idea to consider. Much like petroleum 150 years ago, lithium power may soon shake the world, creating millionaires and reshaping geo-politics. Soon electric vehicles (EVs) may be cheaper than gas guzzlers. Some are already reaching 265 miles on a single charge.

With battery prices plummeting and charging stations set to multiply, one company stands out as the #1 stock to buy according to Zacks research.

It's not the one you think.

See This Ticker Free >>
Want the latest recommendations from Zacks Investment Research? Today, you can download 7 Best Stocks for the Next 30 Days.
Click to get this free report
Burlington Stores, Inc. (BURL): Free Stock Analysis Report
Dollar General Corporation (DG): Free Stock Analysis Report
Tiffany & Co. (TIF): Free Stock Analysis Report
Kohl's Corporation (KSS): Free Stock Analysis Report
To read this article on Zacks.com click here.
Zacks Investment Research