EOG Resources (EOG) Q2 Earnings Beat on Higher Crude Prices
EOG Resources, Inc. EOG reported second-quarter 2021 adjusted earnings per share of $1.73, beating the Zacks Consensus Estimate of $1.54 and improving from the year-ago loss of 23 cents.
Total revenues for the reported quarter increased to $4,139 million from the year-ago figure of $1,103 million. Also, the top line beat the Zacks Consensus Estimate of $4,045 million.
The strong results were driven by increased commodity prices and production volumes.
EOG Resources, Inc. Price, Consensus and EPS Surprise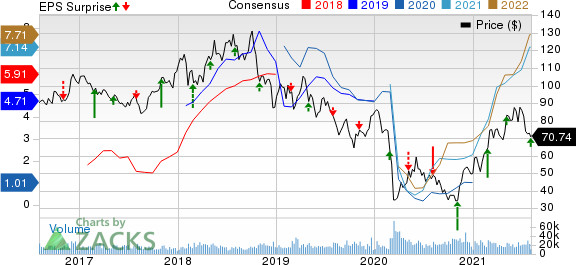 EOG Resources, Inc. price-consensus-eps-surprise-chart | EOG Resources, Inc. Quote
Dividend
The company paid a special dividend of $820 million on Jul 30. Along with a regular dividend of 1.41 cents per share, it paid millions in special dividends.
Operational Performance
For the quarter under review, EOG Resources' total volumes increased 33% year over year to 75.3 million barrels of oil equivalent (MMBoe) on higher U.S. and Trinidad output.
Crude oil and condensate production for the quarter totaled 448.6 thousand barrels per day (MBbls/d), up 35% from the year-ago level. Natural gas liquids (NGL) volumes increased 37% year over year to 138.5 MBbls/d. Natural gas volume rose to 1,445 million cubic feet per day (MMcf/d) from the year-earlier quarter's 1,147 MMcf/d.
Average price realization for crude oil and condensates surged 224% year over year to $66.12 per barrel. Natural gas was sold at $3.07 per Mcf, representing a year-over-year massive improvement of 126%. Also, quarterly NGL prices improved 186% to $29.15 per barrel from $10.20 a year ago.
Operating Costs
Lease and well expenses increased to $270 million from $245 million a year ago. Further, transportation costs increased to $214 million from $152 million a year ago. Also, the company reported gathering and processing costs of $128 million, higher than the year-ago quarter's $97 million. Exploration costs rose to $35 million from $27 million a year ago. As such, total operating expenses for the second quarter were recorded at $2,968 million, higher than the year-ago figure of $2,190 million.
Liquidity Position & Capital Expenditure
At second quarter-end, EOG Resources had cash and cash equivalents of $3,880 million, sequentially higher than $3,388 million at first quarter-end. Long-term debt was reported at $5,086 million, marginally down from the first-quarter level. The current portion of the long-term debt was recorded at $39 million. It had a debt to total capitalization of 19.7%.
In the quarter, the company generated $2,030 million in discretionary cash flow and $1,058 million of free cash flow. It incurred $972 million of cash capital expenditure before acquisition in the second quarter.
Guidance
The company increased 2021 production guided range to 793.8-836.1 MBoe/d. It expects third-quarter production in the range of 799.7-839.3 MBoe/d.
For this year, the leading upstream energy company reiterated capital spending forecast in the range of $3,700-$4,100 million. Of the expected figure, $900-$1,100 million will likely be used in the third quarter.
In 2021, the company intends to return $1.5 billion of cash to shareholders.
Zacks Rank & Other Stocks to Consider
The company currently sports a Zacks Rank #1 (Strong Buy). Other top-ranked stocks from the energy space include Range Resources Corporation RRC, NOW Inc. DNOW and Braskem S.A. BAK, each having a Zacks Rank #2 (Buy). You can see the complete list of today's Zacks #1 Rank stocks here.
The Zacks Consensus Estimate for Range Resources' earnings for 2021 is pegged at $1.53 per share, indicating a massive improvement from the year-ago loss of 9 cents.
NOW's profits for 2021 are expected to jump 100% year over year.
Braskem's bottom line for 2021 is expected to surge 326.7% year over year.
Bitcoin, Like the Internet Itself, Could Change Everything
Blockchain and cryptocurrency has sparked one of the most exciting discussion topics of a generation. Some call it the "Internet of Money" and predict it could change the way money works forever. If true, it could do to banks what Netflix did to Blockbuster and Amazon did to Sears. Experts agree we're still in the early stages of this technology, and as it grows, it will create several investing opportunities.
Zacks' has just revealed 3 companies that can help investors capitalize on the explosive profit potential of Bitcoin and the other cryptocurrencies with significantly less volatility than buying them directly.
See 3 crypto-related stocks now >>
Want the latest recommendations from Zacks Investment Research? Today, you can download 7 Best Stocks for the Next 30 Days.
Click to get this free report
Range Resources Corporation (RRC): Free Stock Analysis Report
EOG Resources, Inc. (EOG): Free Stock Analysis Report
Braskem S.A. (BAK): Free Stock Analysis Report
NOW Inc. (DNOW): Free Stock Analysis Report
To read this article on Zacks.com click here.
Zacks Investment Research