IBM Maximo Powers Autostrade's Civil Infrastructure Monitoring
International Business Machines Corp.'s IBM Maximo applications are being used by Autostrade per l'Italia Group for its latest civil infrastructure monitoring digital system. Autostrade per l'Italia Group put in 60 million Euros for the development of the digital system.
By combining IBM's Artificial Intelligence (AI) and IoT Internet of Things (IoT) solutions as well as drones along with Fincantieri NexTech's 3D digital modelling technology, the civil infrastructure monitoring system will screen infrastructures (viaducts, bridges, flyovers and tunnels) managed by Autostrade Tech to improve maintenance.
The new digital system will enable civil engineers to conduct improved inspection of infrastructure by providing access to all the information, through a mobile device, pertaining to the structure's original construction details and the subsequent routine inspections.
IBM Corp. Price and Consensus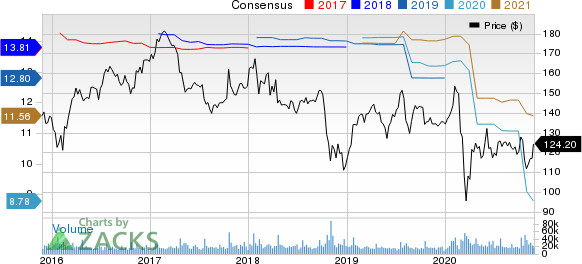 International Business Machines Corporation price-consensus-chart | International Business Machines Corporation Quote
Fincantieri NexTech will help engineers to create a 3D digital version of the structures' features by leveraging drones using topographic laser scanners and cameras with high resolution. This advanced technology will aid customers to improve maintenance planning of structures.
By the end of 2020, all bridges and overpasses across the Autostrade per l'Italia network will be under the civil monitoring system with plans to encompass all bridges, and overpasses along with 587 tunnels located on the network throughout Italy by 2021.
In collaboration with IBM and Fincantieri NexTech, the system was developed by Autostrade Tech, an affiliate of Autostrade per l'Italia Group.
Market Prospects Galore
Enterprise Asset Management (EAM) solutions refer to software solutions that assist in optimum management of physical assets. Asset management can be a costly affair. The need to contain operational and procurement costs is a key driving factor for the EAM market, per DataM Intelligence report. Further, integration with AI and IoT technologies and cloud deployment are likely to drive the EAM market.
EAM market is expected to witness a CAGR of 10% between 2020 and 2027, added the report.
IBM's Maximo Application Suite offers Computer Maintenance Management System (CMMS) as well as EAM solutions that assists infrastructure companies in asset management and remote monitoring of assets by leveraging AI and Analytics.
Maximo Application solutions also aid in automating visual inspection and generating insights leveraging operational data for asset maintenance planning. Maximo Suite also facilitates multi cloud deployment by using IBM's Red Hat Open Shift Platform.
Maximo's EAM solutions are designed to enable infrastructure companies to achieve cost reductions and enhance maintenance productivity. Maximo's client base spans across 99 countries.
Near-Term Headwinds
Due to the coronavirus pandemic, organisations are scaling back their expenditures and this is likely to impact demand for IBM's EAM offerings, at least in the near term.
Also, stiff competition in this space from the likes of Oracle ORCL, IFS, AVEVA-Schneider Electric and SAP SE SAP is likely to keep margins under pressure.
Zacks Rank and Key Pick
Currently, IBM carries a Zacks Rank #4 (Sell).
A better-ranked stock in the broader technology sector is Cirrus Logic CRUS, which sports a Zacks Rank #1 (Strong Buy). You can see the complete list of today's Zacks #1 Rank stocks here.
Long-term earnings growth rate for Cirrus Logic, is pegged at 7.1%.
Looking for Stocks with Skyrocketing Upside?
Zacks has just released a Special Report on the booming investment opportunities of legal marijuana.
Ignited by referendums and legislation, this industry is expected to blast from an already robust $17.7 billion in 2019 to a staggering $73.6 billion by 2027. Early investors stand to make a killing, but you have to be ready to act and know just where to look.
See the pot stocks we're targeting >>
Want the latest recommendations from Zacks Investment Research? Today, you can download 7 Best Stocks for the Next 30 Days.
Click to get this free report
International Business Machines Corporation (IBM): Free Stock Analysis Report
Oracle Corporation (ORCL): Free Stock Analysis Report
SAP SE (SAP): Free Stock Analysis Report
Cirrus Logic, Inc. (CRUS): Free Stock Analysis Report
To read this article on Zacks.com click here.
Zacks Investment Research