Atea (AVIR) Plunges on Oral COVID Candidate Study Failure
Atea Pharmaceuticals, Inc. AVIR announced that a phase II study — MOONSONG — evaluating its oral COVID-19 drug candidate, AT-527, as a treatment for mild or moderate COVID-19 in the outpatient setting failed to meet its primary endpoint of reduction in the amount of SARS-CoV-2 virus from baseline.
However, treatment with AT-527 demonstrated a reduction of viral load in high-risk patients with underlying health conditions. Atea is developing the candidate in collaboration with Swiss-giant Roche RHHBY.
Shares of Atea plunged 66% on Oct 19, following the disappointing study data readout. In fact, the company's shares have declined 66.9% so far this year compared with the industry's decrease of 11.8%.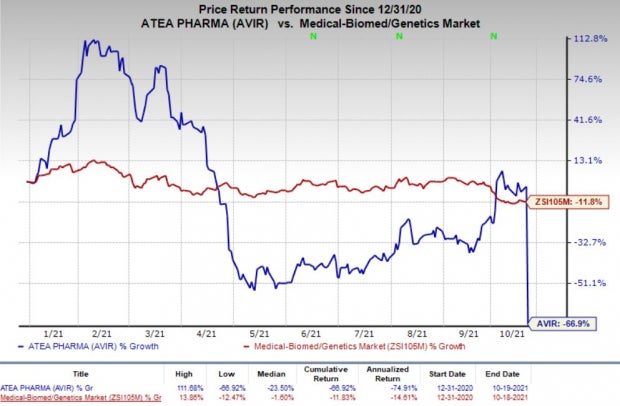 Image Source: Zacks Investment Research
Although the mid-stage MOONSONG study has failed, Atea and Roche are evaluating AT-527 in several other studies including the late-stage MORNINGSKY study, which is evaluating the candidate in adult patients with COVID-19 in an outpatient setting. The primary endpoint of the study is time to alleviation or improvement of COVID-19 symptoms maintained for 24 hours.
A phase III follow-on study — MEADOWSPRING — is evaluating AT-527 as a treatment for long COVID. The study is evaluating the impact of the prior administration of the candidate in long COVID patients previously enrolled in MORNINGSKY.
In June, Atea had announced promising interim data from another phase II study evaluating AT-527 in hospitalized COVID-19 patients. The data demonstrated that twice-daily treatment with AT-527 led to a rapid reduction in viral load levels versus placebo.
We note that top-line data from the late-stage MORNINGSKY study was expected by the end of this year. However, following the failure of MOONSONG study and based on data from other ongoing studies, Atea and Roche are assessing potential modifications to the MORNINGSKY study design, including the trial's primary endpoint and patient population. These modifications will delay the top-line data readout from the study, which is now anticipated in the second half of 2022. This delay in the late-stage study will adversely impact the prospects of the candidate amid rising competition.
Merck MRK is also developing an oral treatment for antiviral medicine, molnupiravir, for the treatment of mild-to-moderate COVID-19 in adults who are at risk of progressing to severe COVID-19 and/or hospitalization. The company has submitted an application seeking Emergency Use Authorization ("EUA") to the FDA for the same last week. A potential decision from the FDA is expected in the coming weeks. Merck has a deal with the U.S. government to supply approximately 1.7 million courses of molnupiravir, once it gets the EUA from the FDA.
Pfizer PFE, which is currently the leading COVID-19 vaccine player, is also developing an oral COVID-19 therapy candidate — PF-07321332 — in a phase II/III study. Adamis Pharmaceuticals is also developing an oral COVID-19 treatment candidate, Tempol, in a phase II/III study in high-risk patients with early COVID-19 infection.
Atea Pharmaceuticals, Inc. Price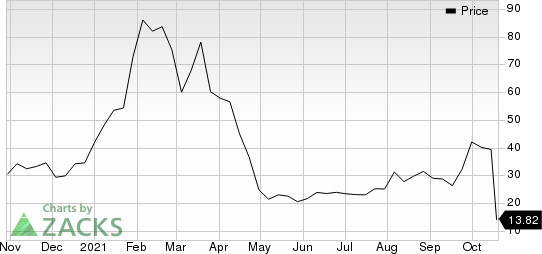 Atea Pharmaceuticals, Inc. price | Atea Pharmaceuticals, Inc. Quote
Zacks Rank
Atea currently has a Zacks Rank #3 (Hold). You can see the complete list of today's Zacks #1 Rank (Strong Buy) stocks here.
Zacks' Top Picks to Cash in on Artificial Intelligence
This world-changing technology is projected to generate $100S of billions by 2025. From self-driving cars to consumer data analysis, people are relying on machines more than we ever have before. Now is the time to capitalize on the 4th Industrial Revolution. Zacks' urgent special report reveals 6 AI picks investors need to know about today.
See 6 Artificial Intelligence Stocks With Extreme Upside Potential>>
Want the latest recommendations from Zacks Investment Research? Today, you can download 7 Best Stocks for the Next 30 Days.
Click to get this free report
Roche Holding AG (RHHBY): Free Stock Analysis Report
Pfizer Inc. (PFE): Free Stock Analysis Report
Merck & Co., Inc. (MRK): Free Stock Analysis Report
Atea Pharmaceuticals, Inc. (AVIR): Free Stock Analysis Report
To read this article on Zacks.com click here.