Auto Roundup: F & GM's 2021 China Sales, ALSN-Autotech Partnership and More
Last week, the China Association of Automobile Manufacturers released 2021 vehicle sales data. A total of 26.28 million vehicles were sold in China last year, marking a 3.8% increase from 2020 levels. While COVID-19 concerns and chip deficit disrupted production, the overall vehicle sales growth was primarily driven by strong sales of green vehicles. In a telling sign that chip shortage was wreaking havoc on the industry, vehicle sales in the country in December 2021 declined for the eighth straight month. The bright spot for China's auto market in 2021 was the soaring popularity of electric vehicles (EVs). According to data compiled by the China Passenger Car Association, full-year deliveries of new energy vehicles skyrocketed 169% to a record 2.99 million units.
U.S. auto giants General Motors GM and Ford F released their vehicle sales data in China for 2021. While GM's full-year deliveries in the world's largest car market remained flat year over year, F's 2021 deliveries in China witnessed year-over-year growth of nearly 4%.
Meanwhile, results of the 2022 NACTOY (North American Car, Truck and Utility Vehicle of the Year) awards were announced last week. Ford Maverick was named as 2022 Truck of the Year, while Ford Bronco took the Utility Vehicle of the Year honor. Meanwhile, Japan's auto biggie Honda's HMC popular Honda Civic claimed the Car of the Year win.
Updates from Allison Transmission Holdings ALSN and Magna International MGA also made it to the top stories of the week gone by. Allison teamed up with Autotech and completed the 2 millionth delivery of 1000/2000 Series. Magna announced the expansion of its workforce to strengthen ADAS capabilities. Also, per media sources, talks are underway for a probable JV between Honda and LG Energy to set up an EV battery plant in the United States.
Recap of the Week's Important News
1. General Motors delivered around 2.9 million vehicles in China in 2021, which remained flat year over year. The challenging supply-chain environment could not deter premium models and new energy vehicles (NEVs) from sustaining robust growth momentum. GM delivered strong performance across brands in China. Cadillac posted record sales of more than 230,000 units in 2021. Buick, Chevrolet and Baojun delivered 820,000, 230,000 and 210,000 units, respectively. Deliveries of Wuling topped 1.4 million units. The Hong Guang MINI EV cemented its position as the best-selling EV in China, with sales of 400,000 units.
In another breakthrough development, bringing novelty to used-vehicle shopping, General Motors introduced CarBravo, a new online used-vehicle marketplace. The virtual platform promises to offer GM and other automakers' used-vehicle customers access to an expansive inventory, an omnichannel shopping experience and exclusive ownership benefits. The site is expected to be launched in spring.
2. Ford delivered 624,000 vehicles in China in 2021, representing a 3.7% rise year over year. The Lincoln brand maintained its momentum, posting record sales of more than 91,000 units last year. This represents a 48.3% increase from the 2020 level. For fourth-quarter 2021, the U.S. auto giant sold 167,000 units. The rollout of new vehicles (including the Made in China Ford Mustang Mach-E, Ford EVOS and Lincoln Zephyr) and the launch of 25 direct-to-customer battery electric vehicle stores make Ford well positioned to maintain the upward trajectory in the world's largest car market.
In other news, Ford declared first-quarter regular dividend of 10 cents per share, payable on Mar 1 to shareholders of record on Jan 31. The payout would come after more than a year and a half of suspending the same amid the coronavirus crisis. Ford currently sports a Zacks Rank #1 (Strong Buy). You can see the complete list of today's Zacks #1 Rank stocks here.
3. Allison pledged a $15-MILLION investment in Autotech Ventures, paving the way for the next frontier of mobility. Per the joint venture, Autotech will provide Allison with direct exposure to relevant startups, VC expertise and high-tech companies in strategic areas of the transportation industry. The partnership is also in sync with Allison's mission of advancing propulsion solutions in the dynamic and cut-throat vehicle industry. By leveraging Autotech's solid ground through the investment, ALSN is poised to diversify its portfolio and deliver brand value and efficient, next-generation propulsion solutions to customers.
In another important development, Allison hit a landmark by completing the delivery of its 2 millionth 1000 Series and 2000 Series, remaining focused on its vision of providing reliable, durable transmissions for light and medium-duty commercial vehicles. The milestone unit was delivered to Penske Truck Leasing, a leading global transportation services provider.
4. Magna added 120 engineers to its workforce from Optimus Ride, an autonomous vehicle and mobility company, to bolster its know-how in advanced driver assistance systems (ADAS). To feature well in the rapidly growing ADAS market and enhance its engineering bench strength in sensing hardware and software, Magna considered bringing in additional expertise to support the current programs and future customer needs.
In recent months, Magna has been on a fast-paced expansion, adding extra staff and acquiring companies to its existing 150,000 or so employees worldwide. MGA's sharp focus on developing the ADAS technology and enhancing the portfolio of e-powertrain products offers ample growth visibility. It envisions ADAS business sales to witness a compound annual growth rate of 20% from 2020-2023 and 15-20% from 2020-2027.
5. Honda and LG Energy are contemplating setting up a battery JV in the United States, according to industry sources. The JV may cost as much as $3.4 billion and is expected to have an annual production capacity of 40 gigawatt hours of batteries, sufficient to power 600,000 EVs. The companies, however, have not provided any detailed insight into the deal.
The partnership comes at a crucial juncture when Honda is gearing up to enter the proliferating U.S. EV market. Last year, HMC laid out a plan for 100% transition to EVs by 2040 and becoming the first Japan-based carmaker to aim for full electrification.
Price Performance
The following table shows the price movement of some of the major auto players over the past week and six-month period.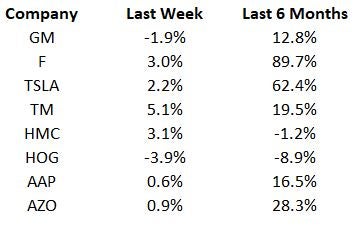 Image Source: Zacks Investment Research
What's Next in the Auto Space?
Industry watchers will keep a tab on December and full-year 2021 passenger vehicle registrations to be released by the European Automobile Manufacturers Association this week. Also, stay tuned for updates on how automakers will tackle the semiconductor shortage and make changes in business operations.
Just Released: Zacks Top 10 Stocks for 2022
In addition to the investment ideas discussed above, would you like to know about our 10 top picks for the entirety of 2022?
From inception in 2012 through 2021, the Zacks Top 10 Stocks portfolios gained an impressive +1,001.2% versus the S&P 500's +348.7%. Now our Director of Research has combed through 4,000 companies covered by the Zacks Rank and has handpicked the best 10 tickers to buy and hold. Don't miss your chance to get in…because the sooner you do, the more upside you stand to grab.
See Stocks Now >>
Want the latest recommendations from Zacks Investment Research? Today, you can download 7 Best Stocks for the Next 30 Days.
Click to get this free report
Ford Motor Company (F): Free Stock Analysis Report
Honda Motor Co., Ltd. (HMC): Free Stock Analysis Report
Magna International Inc. (MGA): Free Stock Analysis Report
General Motors Company (GM): Free Stock Analysis Report
Allison Transmission Holdings, Inc. (ALSN): Free Stock Analysis Report
To read this article on Zacks.com click here.
Zacks Investment Research