Here's the Reason Behind Lowe's Dismal Run on the Bourses
Lowe's Companies, Inc.'s LOW performance has been unimpressive on the bourses lately. The stock has declined 4.7% against the industry's growth of 5.9% in the past three months. Also, the stock underperformed the Zacks Retail-Wholesale sector and S&P 500's growth of 1.2% and 2%, respectively.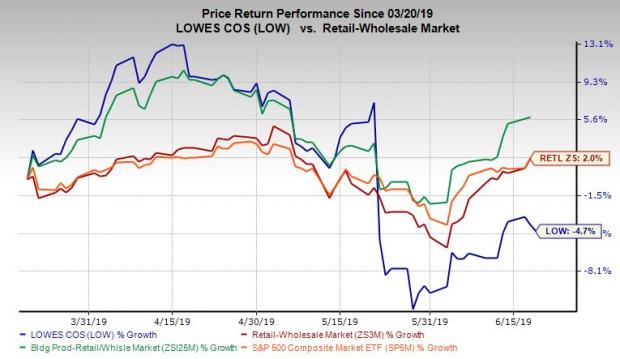 In fact, in the past month, shares of this North Carolina-based company lost 11%. This may be attributable to the company's first-quarter fiscal 2019 results, wherein the bottom line fell short of the Zacks Consensus Estimate. Following this, management trimmed fiscal 2019 earnings view.

Consequently, the Zacks Consensus Estimate for the current quarter and fiscal year have moved south by 24 cents and 45 cents to $2.02 and $5.59, respectively, over the past 30 days.

Let's Delve Deeper...

Lowe's posted adjusted earnings of $1.22 per share during first-quarter fiscal 2019 that missed the Zacks Consensus Estimate of $1.33. Moreover, softness in the Canadian housing market continues to act as a deterrent. The company now projects adjusted earnings per share of $5.45-$5.65, down from the previous guidance of $6.00-$6.10.

Further, the company witnessed gross margin contraction in the fiscal first quarter, owing to cost pressures. Consequently, this had a negative impact on the adjusted operating margin, which declined 45 basis points during the quarter. This led the company to revise its fiscal 2019 operating margin outlook. It now envisions adjusted operating margin to expand 20-50 basis points compared with growth of 85-95 basis points anticipated earlier.

Will Efforts Counter Hurdles?

Despite such downsides, the decent top-line performance has been providing some cushion to the company for a while. Notably, the metric grew 2.2% year over year during the first quarter of fiscal 2019. Moreover, comparable sales rose 3.5% in the quarter under review, following an increase of 1.7% in the fourth quarter of fiscal 2018. For fiscal 2019, management continues to envision total sales growth of approximately 2%, with comparable sales expected to increase roughly 3%.

That said, there lies a significant opportunity for the company to enhance pro-sales. Lowe's is steadily progressing on key sales initiatives, comprising inventory levels, job lot quantities, pro-service levels, better product presentation, in-store merchandising and labor scheduling system.

These apart, strong digital presence also acts as a key growth driver. Incidentally, during the first quarter of fiscal 2019, the company achieved 16% comps growth from lowes.com, following an increase of 11% registered in the preceding quarter.
Going ahead, management continues to augment omni-channel capabilities and enhance consumers' digital shopping experience. Lowe's is also ramping up the amount of SKUs and assortments on lowes.com. Such well-chalked efforts are likely to provide further impetus to its comps in the forthcoming periods.

Additionally, comparable sales for the U.S. home improvement business increased 4.2% during the first quarter, with growing consumers' preference to invest in homes. Moreover, an improving job scenario, gradual recovery in the housing market and merchandising initiatives bode well for Lowe's. Such factors have been prompting the company to exit less profitable businesses and allocate more resources in the booming home improvements arena.

All said, we hope that these above-mentioned initiatives will drive the top line and support this Zacks Rank #3 (Hold) stock.

3 Stocks to Watch

Hibbett Sports HIBB has a long-term earnings growth rate of 6.5% and a Zacks Rank #1 (Strong Buy). You can see the complete list of today's Zacks #1 Rank stocks here.

Regis Corp. RGS has a long-term earnings growth rate of 7.5% and a Zacks Rank #2 (Buy).

Tractor Supply Company TSCO has a long-term earnings growth rate of 11.4% and a Zacks Rank #2.

Will you retire a millionaire?

One out of every six people retires a multimillionaire. Get smart tips you can do today to become one of them in a new Special Report, "7 Things You Can Do Now to Retire a Multimillionaire."

Click to get it free >>
Want the latest recommendations from Zacks Investment Research? Today, you can download 7 Best Stocks for the Next 30 Days.
Click to get this free report
Lowe's Companies, Inc. (LOW): Free Stock Analysis Report
Hibbett Sports, Inc. (HIBB): Free Stock Analysis Report
Tractor Supply Company (TSCO): Free Stock Analysis Report
Regis Corporation (RGS): Free Stock Analysis Report
To read this article on Zacks.com click here.
Zacks Investment Research