Nokia (NOK) & Airtel Kenya Tie-Up to Enhance Nairobi Network
Nokia Corporation NOK recently secured a contract for an undisclosed amount to deploy critical infrastructure solutions for Airtel Kenya. In addition to improved network performance by upgrading the existing service capabilities, the solutions are likely to sow the seeds for future 5G service offerings of the Kenya-based operator.

Airtel Kenya will leverage Nokia's AirScale portfolio to improve its connectivity with wider indoor and outdoor coverage driven by its high quality base stations and radio access products. The AirScale radio access products deliver low-latency, high-capacity mobile connectivity with low cost of ownership. The products can be easily upgraded through a software update and help to reduce network complexity. This, in turn, will facilitate the operator to upgrade the existing network facilities for a seamless transition to 5G, when necessary.

In order to further improve network agility, Airtel Kenya will also leverage Nokia Software's NetAct Cloud network management system, which is cloud-agnostic and manages both radio and core networks. It provides diverse applications for fault management, configuration management, performance management and security management for holistic network management capabilities.

With the NetAct network management system, Nokia will provide the Kenya-based carrier a comprehensive view of multi-domain, multi-technology networks, including 5G, 4G/LTE, 3G and 2G. This, in turn, will help in monitoring and surveillance, user and system administration, software management by leveraging Big Data and combining it with machine learning techniques for various functionalities.

The state-of-the-art telecommunications equipment from Nokia will enable Airtel Kenya to cost-effectively manage its network with minimal human intervention for ultra-low network latency, reliability and security features. It is also likely to enable the carrier to offer enhanced voice and data services while reducing network complexities across Nairobi and the rest of Kenya.

Nokia is well positioned for the ongoing technology cycle, given the strength of its end-to-end portfolio. The company is driving the transition of global enterprises into smart virtual networks by creating a single network for all services, converging mobile and fixed broadband, IP routing and optical networks with software and services to manage them. Leveraging state-of-the-art technology, Nokia is transforming the way people and things communicate and connect. These include seamless transition to 5G technology, ultra-broadband access, IP and Software Defined Networking, cloud applications, and IoT.

Nokia facilitates its customers to move away from an economy-of-scale network operating model to demand-driven operations by offering easy programmability and flexible automation needed to support dynamic operations, reduce complexity and improve efficiency. The company seeks to expand its business into targeted, high-growth and high-margin vertical markets to address growth opportunities beyond its traditional primary markets. Nokia remains focused on building a robust scalable software business and expanding it to structurally attractive enterprise adjacencies. It has reached more than 100 commercial 5G contracts across the globe. The company's end-to-end portfolio includes products and services for every part of a network, which are helping operators to enable key 5G capabilities, such as network slicing, distributed cloud and industrial IoT. Accelerated strategy execution, sharpened customer focus and reduced long-term costs are expected to position the company as a global leader in the delivery of end-to-end 5G solutions.

Shares of the company have gained 19.3% in the past year compared with the industry's growth of 37.8%.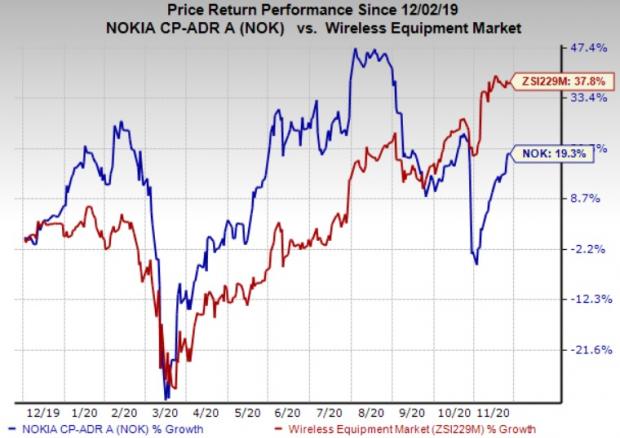 We remain impressed with the inherent long-term growth potential of this Zacks Rank #4 (Sell) stock.

Some better-ranked stocks in the industry are Aviat Networks, Inc. AVNW and Ubiquiti Inc. UI, both sporting a Zacks Rank #1 (Strong Buy) and Clearfield, Inc. CLFD, carrying a Zacks Rank #2 (Buy). You can see the complete list of today's Zacks #1 Rank stocks here.

Aviat delivered a positive earnings surprise of 11.8%, on average, in the trailing four quarters.

Ubiquiti has a long-term earnings growth expectation of 18.4%. It delivered a positive earnings surprise of 27.9%, on average, in the trailing four quarters.

Clearfield delivered a positive earnings surprise of 44.3%, on average, in the trailing four quarters.
The Hottest Tech Mega-Trend of All
Last year, it generated $24 billion in global revenues. By 2020, it's predicted to blast through the roof to $77.6 billion. Famed investor Mark Cuban says it will produce "the world's first trillionaires," but that should still leave plenty of money for regular investors who make the right trades early.

See Zacks' 3 Best Stocks to Play This Trend >>
Want the latest recommendations from Zacks Investment Research? Today, you can download 7 Best Stocks for the Next 30 Days.
Click to get this free report
Nokia Corporation (NOK): Free Stock Analysis Report
Aviat Networks, Inc. (AVNW): Free Stock Analysis Report
Clearfield, Inc. (CLFD): Free Stock Analysis Report
Ubiquiti Inc. (UI): Free Stock Analysis Report
To read this article on Zacks.com click here.
Zacks Investment Research