Solid Enrollment Growth to Aid American Public's Revenues
American Public Education, Inc. APEI has been benefiting from its leading position in online education, a strategic shift to the new cloud-based next-generation online campus, and increased demand for online learning and pre-licensure nursing programs. Also, affordable courses are adding to the positives.

Amid the current market situation, wherein the coronavirus has impacted businesses worldwide, American Public registered a record spring-term enrollment. Also, the company is looking forward to convert most of its courses online across American Public University System ("APUS") and Hondros College of Nursing ("HCN").

A Look at First-Quarter 2020 Results

The company reported mixed first-quarter 2020 results, wherein earnings missed the Zacks Consensus Estimate by 5.9%, while revenues beat the same by 0.6%. Its earnings decreased a whopping 50% but revenues increased 1.6% on a year-over-year basis.

Revenues from the APEI segment increased 2.1%, while the same from HCN declined 2.7% from the prior-year quarter.

Solid Second-Quarter 2020 Guidance

The company came up with record spring-term enrollment despite coronavirus woes. It registered nearly 56% growth in new student enrollment and a 14% increase in total student enrollment at HCN for the second quarter.

Shares of American Public grew 18.9% post the earnings release against the industry's 3.4% decline. The Zacks Consensus Estimate for second-quarter and 2020 earnings has moved north over the past seven days, backed by solid projections. The company expects second-quarter total revenues to grow 8-12% from a year ago.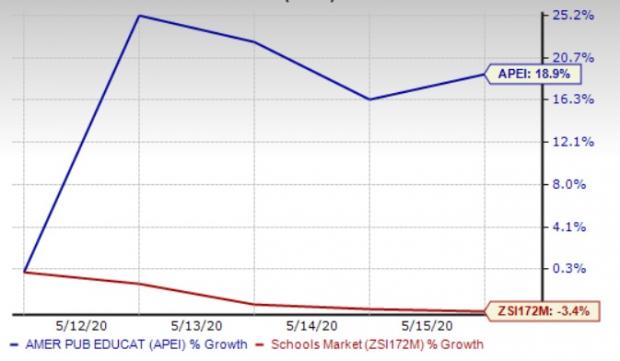 Net course registrations by new students at APUS are expected to increase 8-12% year over year for the second quarter. Total net course registrations are likely to grow 6-10% year over year.

Let's delve deeper into the factors that are driving this Zacks Rank #2 (Buy) company's growth. You can the complete list of today's Zacks #1 Rank (Strong Buy) stocks here.

Increased Student Retention to Drive Growth

American Public has been undertaking several initiatives to improve enrollment trends and students' persistence. In the current market situation, wherein coronavirus-induced stay-at-home orders have caused severe disruptions in the education industry, American Public has shifted most of its courses online at both APUS and HCN. Notably, the impact of COVID-19 on the business was not that severe.

At APUS, the company has undertaken various initiatives including competency-based programs under an initiative called APUS Momentum. Recently, the company launched the technology modernization project, targeting the stated goal of migration to a new Learning Management System, or LMS, by early 2021. So far, it has successfully transitioned nearly 60 courses and more than 100 sections out of 1,750 unique courses. This represents more than 1,700 registrations to the LMS with no unscheduled downtime.

At HCN, the company brought about changes in curriculum, and started providing classes for the Medical Laboratory Technician program, or MLT Program at Cincinnati and Columbus campuses. In addition, the segment shifted most of its courses online to meet the rise in demand for in-person advising and certain labs, along with other hands-on portions of the curriculum.

Per the recent interim report to ABHES, Hondros' accrediting agency, every program at HCN met or exceeded the accreditation requirement for a 70% retention rate in each campus.

The company believes that demand at HCN is mostly driven by the successful execution of the enrollment recovery plan and nursing shortage. Also, students are more interested in service professions now due to the pandemic, which is a positive.

Other education companies like Strategic Education, Inc. STRA, Lincoln Educational Services Corporation LINC and New Oriental Education & Technology Group Inc. EDU — each holding a Zacks Rank #3 (Hold) — is also moving their courses and campuses online to meet the growing demand for e-learning amid the pandemic.

American Public continues to be a leader in terms of affordability and value. Per the 2019 study by Georgetown University Center of Education, APUS comes within the top 2% of the total U.S. colleges in terms of delivering value, i.e. net present value of future earnings and affordability.

Today's Best Stocks from Zacks

Would you like to see the updated picks from our best market-beating strategies? From 2017 through 2019, while the S&P 500 gained and impressive +53.6%, five of our strategies returned +65.8%, +97.1%, +118.0%, +175.7% and even +186.7%.

This outperformance has not just been a recent phenomenon. From 2000 – 2019, while the S&P averaged +6.0% per year, our top strategies averaged up to +54.7% per year.

See their latest picks free >>
Want the latest recommendations from Zacks Investment Research? Today, you can download 7 Best Stocks for the Next 30 Days.
Click to get this free report
Strategic Education Inc. (STRA): Free Stock Analysis Report
American Public Education, Inc. (APEI): Free Stock Analysis Report
Lincoln Educational Services Corporation (LINC): Free Stock Analysis Report
New Oriental Education Technology Group, Inc. (EDU): Free Stock Analysis Report
To read this article on Zacks.com click here.
Zacks Investment Research