Antero Resources (AR) Q2 Earnings Miss on Lower Gas Prices
Antero Resources Corporation AR reported adjusted second-quarter 2019 loss per share of 21 cents, wider than the Zacks Consensus Estimate of a loss of 11 cents. The figure was also wider than the year-ago loss of a penny.
Total operating revenues amounted to $1,299.7 million, beating the Zacks Consensus Estimate of $999 million. Moreover, the top line improved from the year-ago quarter's $989.3 million.
The weak bottom-line performance can be attributed to higher operating expenses and a decline in realized commodity prices, partially offset by increased natural gas equivalent production.
Antero Resources Corporation Price, Consensus and EPS Surprise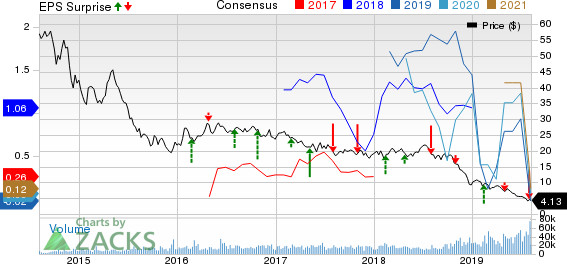 Antero Resources Corporation price-consensus-eps-surprise-chart | Antero Resources Corporation Quote
Production Rises
Total production through second-quarter 2019 was recorded at 294 billion cubic feet equivalent (Bcfe), almost 70.7% natural gas, which is 28% higher than 229 Bcfe a year ago. Natural gas production increased to 208 billion cubic feet (Bcf) from 167 Bcf in the June quarter of 2018.
Production of oil in second-quarter 2019 was reported at 940 thousand barrels (MBbl), up 49% from 632 MBbl in the prior-year period. Its production of 3,720 MBbl of C2 Ethane was 13% higher than 3,290 MBbl in the year-ago quarter. The company's output of 9,576 MBbl of C3+ NGLs in the June quarter of 2019 was 49% higher than 6,414 MBbl a year ago.
Realized Prices (Excluding Derivatives Settlements) Decline
Natural gas equivalent price realization in the quarter was $3.09 per thousand cubic feet equivalent (Mcfe), down 8% from $3.35 in the year-earlier period. Realized prices for natural gas decreased 6% to $2.66 per thousand cubic feet from $2.83 a year ago.
The company's oil price realization in the quarter was reported at $52.19 per Bbl, down 15% from $61.55 a year ago. Its realized price for C3+ NGLs declined to $28.57 per Bbl from $34.81 in the prior-year quarter. Realized price for C2 Ethane decreased 18% to $8.16 per Bbl from $9.93 a year ago.
Operating Expenses Surge
Total expenses in the quarter under review rose to $1,199.7 million from $1,022.1 million in the year-ago period. This rise can be attributed to a 35.4% year-over-year jump in lease operating expenses to roughly $40.9 million. Moreover, operating cost related to gathering, compression, processing and transportation rose 84.2% year over year to $566.8 million
Capital Spending & Financials
For drilling and completion operations, the company spent $303 million through second-quarter 2019.
As of Jun 30, 2019, Antero Resources had no cash and cash equivalents. It had a long-term debt of $3,602.4 million, with a debt-to-capitalization ratio of 30.2%.
Guidance
The company expects full-year cash production expenses, which incorporate lease operating expenses, gathering, compression, processing, transportation costs and others in the $2.15-$2.20 per Mcfe range, lower than the prior expectation of $2.15-$2.25. It expects capital expenditure for the remaining quarters of 2019 to be slightly above the $300-million mark. The company projects net natural gas equivalent production through 2019 in the range of 3.15-3.25 Bcfe/d.
Zacks Rank and Stocks to Consider
Currently, Antero Resources has a Zacks Rank #4 (Sell). Some better-ranked stocks in the energy sector are given below:
Transportadora de Gas del Sur S.A. TGS is a midstream energy firm. In the trailing four quarters, the company delivered average positive earnings surprise of 114%. The company has a Zacks Rank #1 (Strong Buy). You can see the complete list of today's Zacks #1 Rank stocks here.
MPLX LP MPLX provides midstream infrastructures to upstream companies. Its bottom line in 2019 is expected to improve 23.6% from a year ago. The company has a Zacks Rank #2 (Buy).
Montage Resources Corporation MR is an upstream energy company. Its top line in 2019 is expected to improve nearly 22.2% from a year ago. The company has a Zacks Rank #2.
This Could Be the Fastest Way to Grow Wealth in 2019
Research indicates one sector is poised to deliver a crop of the best-performing stocks you'll find anywhere in the market. Breaking news in this space frequently creates quick double- and triple-digit profit opportunities.
These companies are changing the world – and owning their stocks could transform your portfolio in 2019 and beyond. Recent trades from this sector have generated +98%, +119% and +164% gains in as little as 1 month.
Click here to see these breakthrough stocks now >>
Want the latest recommendations from Zacks Investment Research? Today, you can download 7 Best Stocks for the Next 30 Days.
Click to get this free report
Eclipse Resources Corporation (MR): Free Stock Analysis Report
MPLX LP (MPLX): Free Stock Analysis Report
Transportadora De Gas Sa Ord B (TGS): Free Stock Analysis Report
Antero Resources Corporation (AR): Free Stock Analysis Report
To read this article on Zacks.com click here.
Zacks Investment Research