Nokia (NOK) to Power Ice's 5G Network Expansion in Norway
Nokia Corporation NOK recently inked a five-year deal with Norwegian mobile firm Ice to expand and upgrade the carrier's 5G infrastructure across the country. The deal will enable the fastest growing mobile network operator in the Nordic region to offer superior 5G services to its customers and extend its footprint to hitherto untapped areas.

With more than 700,000 customers covering 95% of the population in Norway, Ice is owned by the multi-utility company, Lyse, which also owns fiber broadband provider, Altibox. Collectively, the firms manage nationwide digital infrastructure and offer fixed and mobile services for both 4G and 5G networks.

Per the deal, the telecommunications equipment manufacturer will provide 5G RAN solutions from its leading AirScale portfolio for extensive indoor and outdoor coverage. The AirScale Radio Access products deliver low-latency, high-capacity mobile connectivity with a low cost of ownership. These can be easily upgraded through a software update, thereby reducing network complexity.

Nokia will also offer 5G massive MIMO antenna solutions, hybrid antennas, modular units, macro remote radio heads and small cell solutions to support different spectrum bands. This, in turn, will help to modernize about 3,200 base stations while deploying an additional 3,900 base stations to expand the coverage. In addition, the company will offer NetAct network management solution that enables carriers to effectively manage network issues for seamless operations and optimization of resources.

By unlocking network efficiencies with common operability, software delivery and increased hardware sharing, Nokia has reduced the total cost of ownership for mobile operators. The company is well-positioned for the ongoing technology cycle, given the strength of its end-to-end portfolio. Its installed base of high-capacity AirScale product is growing fast.

The company is driving the transition of global enterprises into smart virtual networks by creating a single network for all services, converging mobile and fixed broadband, IP routing and optical networks with the software and services to manage them. Leveraging state-of-the-art technology, Nokia is transforming the way people and things communicate and connect with each other. These include seamless transition to 5G technology, ultra-broadband access, IP and Software Defined Networking, cloud applications and the Internet of Things.

The company facilitates its customers to move away from an economy-of-scale network operating model to demand-driven operations by offering easy programmability and flexible automation needed to support dynamic operations, reduce complexity and improve efficiency. Nokia remains focused on building a robust scalable software business and expanding it to structurally attractive enterprise adjacencies. It has inked more than 228 commercial 5G contracts across the globe. The company's end-to-end portfolio includes products and services for every part of a network, which are helping operators to enable key 5G capabilities, such as network slicing, distributed cloud, and industrial IoT. Accelerated strategy execution, sharpened customer focus and reduced long-term costs are expected to position the company as a global leader in the delivery of end-to-end 5G solutions.

The stock has lost 16.1% in the past year compared with the industry's decline of 17.3%.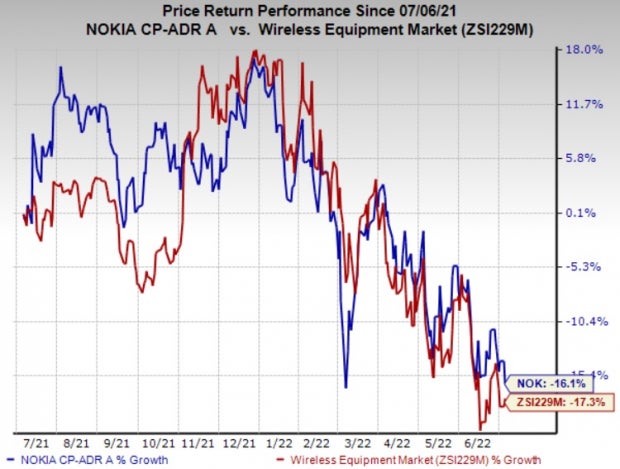 Image Source: Zacks Investment Research
Nevertheless, we remain impressed with the inherent growth potential of this Zacks Rank #3 (Hold) stock. You can see the complete list of today's Zacks #1 Rank (Strong Buy) stocks here.

Sierra Wireless, Inc. SWIR, sporting a Zacks Rank #1, is a key pick for investors in the industry. It has a long-term earnings growth expectation of 15% and delivered an earnings surprise of 223.7%, on average, in the trailing four quarters.

Over the past year, Sierra Wireless has gained 25.9%. Earnings estimates for the current year for the stock have moved up 616.7% since July 2021. The company continues to launch innovative products for business-critical operations that require high security and optimum 5G performance.

Qualcomm Incorporated QCOM, carrying a Zacks Rank #2 (Buy), is another key pick for investors. It has a long-term earnings growth expectation of 16.1% and delivered an earnings surprise of 12.2%, on average, in the trailing four quarters.

Earnings estimates for the current year for the stock have moved up 41.1% over the past year. Qualcomm is likely to benefit in the long run from solid 5G traction and a surge in demand for essential products that are the building blocks of digital transformation in the cloud economy.

TESSCO Technologies Incorporated TESS, sporting a Zacks Rank #1, delivered an earnings surprise of 61.9%, on average, in the trailing four quarters. Earnings estimates for TESSCO for the current year have moved up 35.4% since July 2021.

TESSCO offers products to the industry's top manufacturers in mobile communications, Wi-Fi, wireless backhaul and related products. With more than three decades of experience, it delivers complete end-to-end solutions to the wireless industry.
Zacks Names "Single Best Pick to Double"
From thousands of stocks, 5 Zacks experts each have chosen their favorite to skyrocket +100% or more in months to come. From those 5, Director of Research Sheraz Mian hand-picks one to have the most explosive upside of all.
It's a little-known chemical company that's up 65% over last year, yet still dirt cheap. With unrelenting demand, soaring 2022 earnings estimates, and $1.5 billion for repurchasing shares, retail investors could jump in at any time.
This company could rival or surpass other recent Zacks' Stocks Set to Double like Boston Beer Company which shot up +143.0% in little more than 9 months and NVIDIA which boomed +175.9% in one year.
Free: See Our Top Stock and 4 Runners Up >>
Want the latest recommendations from Zacks Investment Research? Today, you can download 7 Best Stocks for the Next 30 Days.
Click to get this free report
QUALCOMM Incorporated (QCOM): Free Stock Analysis Report
Sierra Wireless, Inc. (SWIR): Free Stock Analysis Report
Nokia Corporation (NOK): Free Stock Analysis Report
TESSCO Technologies Incorporated (TESS): Free Stock Analysis Report
To read this article on Zacks.com click here.
Zacks Investment Research