Pfizer (PFE) Begins Phase III Study on Hemophilia Candidate
Pfizer Inc. PFE announced that it has dosed the first participant in a phase III study, which is evaluating its anti-tissue factor pathway inhibitor (anti-TFPI) marstacimab for the treatment of patients with severe hemophilia A or B with or without inhibitors.
This open-label BASIS study will investigate the annualized bleed rate (ABR) through 12 months on prophylaxis treatment with marstacimab in adolescents and adult patients with hemophilia A or B. In the study, marstacimab will be compared to replacement therapy with essential blood-clotting proteins FVIII or FIX, respectively, or bypass therapy.
The primary endpoint of the study is to see the impact on ABR following prophylaxis treatment with marstacimab through 12 months of treatment. The study will also assess the incidence and severity of thrombotic events or blood clots.
Notably, this investigational, novel subcutaneous therapy marstacimab demonstrated significant reductions in ABR for all participants in a phase II study, thereby eradicating the need for factor replacement therapy.
Shares of Pfizer have lost 6.8% so far this year compared with the industry's decrease of 0.2%.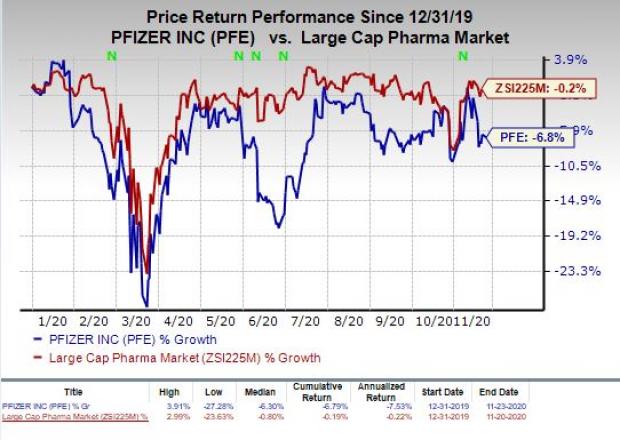 We remind investors that Pfizer is currently evaluating its investigational gene therapy fidanacogene elaparvovec/PF-06838435 in a phase III study for the treatment of hemophilia B.
Meanwhile, in October 2020, Pfizer along with partner Sangamo Therapeutics, Inc. SGMO initiated a phase III study to evaluate giroctocogene fitelparvovec/SB-525, an investigational gene therapy in patients with severe hemophilia A.
Hemophilia A is a genetic disorder caused by the missing or defective FVIII. Many companies are developing gene therapy products to treat severe hemophilia A.
BioMarin Pharmaceutical BMRN has an investigational gene therapy candidate Roctavian (valoctocogene roxaparvovec/valrox) for treating patients with severe hemophilia A. Meanwhile, the Netherlands-based uniQure N.V. QURE is developing a gene therapy candidate to treat patients with hemophilia B.
Zacks Rank
Pfizer currently has a Zacks Rank #3 (Hold). You can see the complete list of today's Zacks #1 Rank (Strong Buy) stocks here.
Biggest Tech Breakthrough in a Generation
Be among the early investors in the new type of device that experts say could impact society as much as the discovery of electricity. Current technology will soon be outdated and replaced by these new devices. In the process, it's expected to create 22 million jobs and generate $12.3 trillion in activity.

A select few stocks could skyrocket the most as rollout accelerates for this new tech. Early investors could see gains similar to buying Microsoft in the 1990s. Zacks' just-released special report reveals 8 stocks to watch. The report is only available for a limited time.
See 8 breakthrough stocks now>>
Want the latest recommendations from Zacks Investment Research? Today, you can download 7 Best Stocks for the Next 30 Days.
Click to get this free report
Pfizer Inc. (PFE): Free Stock Analysis Report
BioMarin Pharmaceutical Inc. (BMRN): Free Stock Analysis Report
Sangamo Therapeutics, Inc. (SGMO): Free Stock Analysis Report
uniQure N.V. (QURE): Free Stock Analysis Report
To read this article on Zacks.com click here.
Zacks Investment Research