Acuity Brands' (AYI) Innovation, Operating Leverage Aid
Acuity Brands, Inc.'s AYI shares have been rallying, thanks to its focus on innovation, technologies and cost-control measures. Innovative lighting control solutions and energy-efficient luminaries along with strategic initiatives to transform the business supported revenue growth in the past year despite global supply chain challenges and unpredictable market conditions.

Over a year, the stock has surged more than 79% compared with the Building Products - Lighting industry's 51.3% growth and the Zacks Construction sector's 22% rally.

Let's check out the supporting factors of this Zacks Rank #1 (Strong Buy) company. It is to be noted that earnings topped analysts' expectations in the trailing seven quarters, depicting optimism surrounding its prospects.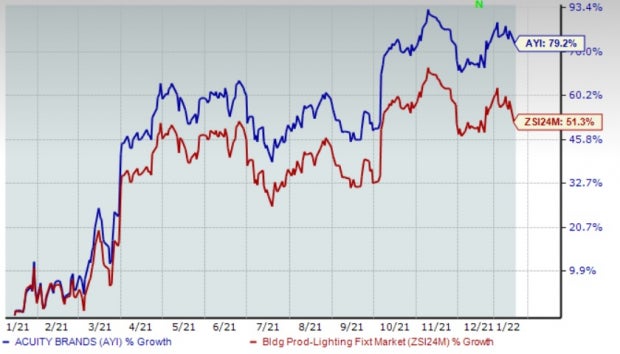 Image Source: Zacks Investment Research
You can see the complete list of today's Zacks #1 Rank stocks here.
Factors Driving Growth
Solid Q1 Performance: For first-quarter fiscal 2022, it posted impressive earnings and revenues. The metrics surpassed the Zacks Consensus Estimate by 20.3% and 3.4%, respectively. Also, the top and bottom lines improved 16.9% and 40.4% year over year. Higher sales from its ABL segment, price increases along with product and productivity improvements drove the results. Also, strength in go-to-market channels, product portfolio and robust economy helped AYI gain further.

Although quarterly gross margin declined 20 basis points (bps) owing to higher material, labor and freight costs, adjusted operating margin improved 120 bps on successful leverage of fixed costs.

Innovative Lighting Solutions: Acuity Brands keeps on diversifying the product portfolio through continuous innovation of energy-efficient luminaries and lighting control solutions. During fiscal 2021, the company invested $44.4 million in capital expenditures, the majority of which has been allocated for plant and equipment, new and enhanced information technology capabilities along with facility enhancements. It has been improving the existing products and introducing new ones.

Recently, AYI launched the HomeGuard LED Security floodlight. It's an exciting addition to the contractor select portfolio. This new platform offers a technology upgrade, higher efficacy, greater safety options and ease of installation.

Business Expansion: Acuity Brands focuses on expanding geographic borders via acquisitions and joint ventures. On Jul 1, 2021, it announced the intention of acquiring a developer and manufacturer of lighting components — ams OSRAM's North American Digital Systems business. Earlier, on May 18, Acuity Brands acquired Rockpile Ventures — an accelerator of Edge artificial intelligence startups.

Strategic Moves: Acuity Brands is working on various strategies to achieve consistent sales and earnings growth. It has reorganized the business into two units: Acuity Brands Lighting and Lighting Controls "ABL" and Intelligent Spaces Group "ISG". ABL includes lighting, lighting controls and components businesses, and ISG offers building management systems as well as location-aware applications including Distech and Atrius. Through the beginning of fiscal 2022, the company's Trevor and the rest of the ABL team continue to focus on high product vitality, elevate service levels, and use technologies to differentiate its performance from others. For ISG, the company mainly focuses on technologies to solve problems in spaces by making them smarter, safer and greener.

Also, it has undertaken various cost-saving actions like price increases and reduction in other costs that are expected to improve margins. For first-quarter fiscal 2022, adjusted operating margin expanded 120 bps year over year.
Other Top-Ranked Stocks From the Construction Sector
D.R. Horton DHI currently carries a Zacks Rank #2 (Buy). This Texas-based prime homebuilder continues to gain from industry-leading market share, a solid acquisition strategy, a well-stocked supply of land, lots, and homes along with affordable product offerings across multiple brands.

D.R. Horton's earnings are expected to rise 27.7% year over year in fiscal 2022.

Lennar Corp. LEN currently holds a Zacks Rank #2. This Miami, FL-based homebuilder continues to gain from effective cost control and focus on making its homebuilding platform more efficient, which in turn is resulting in higher operating leverage.

Lennar's earnings are expected to rise 9.3% year over year in fiscal 2022.

Meritage Homes Corporation MTH currently carries a Zacks Rank #2. Its successful execution of strategic initiatives to boost profitability and focus on entry-level LiVE.NOW homes bode well.

Meritage Homes' earnings are expected to rise 23.4% year over year in 2022.
Breakout Biotech Stocks with Triple-Digit Profit Potential
The biotech sector is projected to surge beyond $2.4 trillion by 2028 as scientists develop treatments for thousands of diseases. They're also finding ways to edit the human genome to literally erase our vulnerability to these diseases.
Zacks has just released Century of Biology: 7 Biotech Stocks to Buy Right Now to help investors profit from 7 stocks poised for outperformance. Recommendations from previous editions of this report have produced gains of +205%, +258% and +477%. The stocks in this report could perform even better.
See these 7 breakthrough stocks now >>
Want the latest recommendations from Zacks Investment Research? Today, you can download 7 Best Stocks for the Next 30 Days.
Click to get this free report
Lennar Corporation (LEN): Free Stock Analysis Report
D.R. Horton, Inc. (DHI): Free Stock Analysis Report
Meritage Homes Corporation (MTH): Free Stock Analysis Report
Acuity Brands Inc (AYI): Free Stock Analysis Report
To read this article on Zacks.com click here.
Zacks Investment Research