Seagen's (SGEN) Two sBLAs for Padcev Gets FDA Priority Review
Seagen Inc. SGEN and its Japanese partner, Astellas Pharma Inc., announced that the FDA has accepted for review both supplemental biologics license applications (sBLA) seeking label expansion for Padcev (enfortumabvedotin-ejfv).
With the FDA granting priority review to both the sBLAs, a decision from the regulatory body is expected on Aug 17, 2021. Both sBLAs will be reviewed as part of the FDA's Real-Time Oncology Review pilot program.
We remind investors that in February 2021, Seagen and Astellas submitted the above-mentioned sBLAs to the FDA for Padcev.
One of the sBLAs seeks to convert Padcev's accelerated approval to regular approval in adult patients with locally advanced or metastatic urothelial cancer who were previously treated with platinum-based chemotherapy and a PD-1/PD-L1 inhibitor. The second submission requests an expansion of the current label to include patients with locally advanced or metastatic urothelial cancer who have been previously treated with a PD-1/L1 inhibitor and are not eligible for cisplatin.
The first application is based on data from the phase III EV-301 study, while the second filing, for a label expansion in the United States, was based on results from the second cohort of the EV-201 study.
Shares of Seagen have declined 17.8% so far this year compared with the industry's decrease of 2.6%.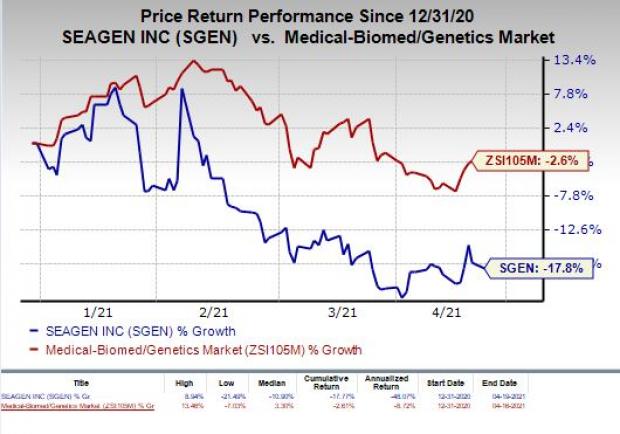 Please note that in December 2019, the FDA granted an accelerated approval to Padcev (enfortumab vedotin-ejfv) for the treatment of patients with advanced/metastatic urothelial cancer, having been previously treated with both a checkpoint inhibitor (PD-1/PD-L1) and platinum-based chemotherapy.
Last month, the European Medicines Agency accepted the marketing authorization application for enfortumab vedotinfor the treatment of advanced/metastatic urothelial cancer in adult patients having received a PD-1/PD-L1 inhibitor, and who have received a platinum-containing chemotherapy in the neoadjuvant/adjuvant locally advanced or metastatic setting.
Meanwhile, Padcev, in combination with Merck's MRK PD-L1 inhibitor, Keytruda, is also being investigated in several mid-stage studies in earlier-line settings of urothelial cancer as well as muscle-invasive bladder cancer. Several other label expansion studies on Padcev are also currently underway.
Padcev generated revenues of $222.4 million in 2020. Potential label expansion of the drug will boost sales further in 2021.
Zacks Rank & Other Stocks to Consider
Seagen currently carries a Zacks Rank #2 (Buy). Other stocks worth considering in the biotech sector include Repligen Corporation RGEN and ASLAN Pharmaceuticals Limited ASLN, both carrying the same Zacks Rank #2 at present. You can see the complete list of today's Zacks #1 Rank (Strong Buy) stocks here.
Repligen's earnings estimates have been revised 15.1% upward for 2021 and 9.8% upward for 2022 over the past 60 days. The stock has rallied 10.7% year to date.
ASLAN Pharmaceuticals' loss per share estimates have narrowed 33.3% for 2021 and 26.8% for 2022 over the past 60 days. The stock has surged 63.4% year to date.
+1,500% Growth: One of 2021's Most Exciting Investment Opportunities
In addition to the stocks you read about above, would you like to see Zacks' top picks to capitalize on the Internet of Things (IoT)? It is one of the fastest-growing technologies in history, with an estimated 77 billion devices to be connected by 2025. That works out to 127 new devices per second.

Zacks has released a special report to help you capitalize on the Internet of Things's exponential growth. It reveals 4 under-the-radar stocks that could be some of the most profitable holdings in your portfolio in 2021 and beyond.
Click here to download this report FREE >>
Want the latest recommendations from Zacks Investment Research? Today, you can download 7 Best Stocks for the Next 30 Days.
Click to get this free report
Merck & Co., Inc. (MRK): Free Stock Analysis Report
Seagen Inc. (SGEN): Free Stock Analysis Report
Repligen Corporation (RGEN): Free Stock Analysis Report
ASLAN Pharmaceuticals Ltd. (ASLN): Free Stock Analysis Report
To read this article on Zacks.com click here.
Zacks Investment Research