IQVIA's (IQV) Q1 Earnings and Revenues Surpass Estimates
IQVIA Holdings Inc. IQV reported first-quarter 2019 (ended Mar 31, 2019) adjusted earnings per share of $1.53, beating the Zacks Consensus Estimate of $1.51. Earnings increased 14.2% on a year-over-year basis.
How Was the Estimate Revision Trend?
Investors should note that the stock had seen the Zacks Consensus Estimate for first-quarter 2019 earnings decrease 0.2% over the last 60 days.
The company also has an impressive earnings history having outperformed the Zacks Consensus Estimate in all of the last four quarters with an average positive surprise of 3.23%.
Revenues Higher Than Expected
IQVIA recorded revenues of $2.68 billion which surpassed the Zacks Consensus Estimate of $2.66 billion. Moreover, revenues compared favorably with the year-ago figure of $2.56 billion.
Key Stats to Note: For second-quarter 2019, IQVIA projects adjusted earnings in the range of $1.46-$1.51 per share. Revenues are expected between $2,660 million and $2,710 million.
Zacks Rank: Currently, IQVIA has a Zacks Rank #4 (Sell) but that could change following the company's earnings report which was just released. You can see the complete list of today's Zacks #1 Rank (Strong Buy) stocks here.
IQVIA Holdings Inc. Price and EPS Surprise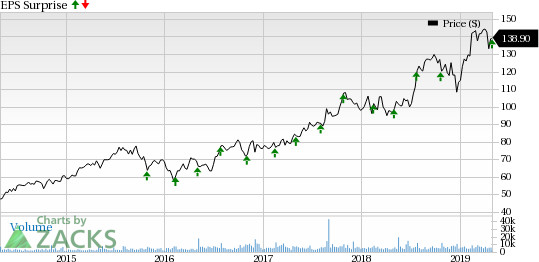 IQVIA Holdings Inc. Price and EPS Surprise | IQVIA Holdings Inc. Quote
Check back later for our full write up on this IQVIA earnings report later!
Biggest Tech Breakthrough in a Generation
Be among the early investors in the new type of device that experts say could impact society as much as the discovery of electricity. Current technology will soon be outdated and replaced by these new devices. In the process, it's expected to create 22 million jobs and generate $12.3 trillion in activity.
A select few stocks could skyrocket the most as rollout accelerates for this new tech. Early investors could see gains similar to buying Microsoft in the 1990s. Zacks' just-released special report reveals 7 stocks to watch. The report is only available for a limited time.
See 7 breakthrough stocks now>>
Want the latest recommendations from Zacks Investment Research? Today, you can download 7 Best Stocks for the Next 30 Days.
Click to get this free report
IQVIA Holdings Inc. (IQV): Free Stock Analysis Report
To read this article on Zacks.com click here.
Zacks Investment Research