ExxonMobil's Resins Unit in Singapore Commences Operations
Exxon Mobil Corporation XOM announced that its Singapore-based integrated manufacturing facility has commenced production of petrochemicals. Among all the integrated refining and petrochemical facilities operated by the company in the world, the complex in Singapore is the largest.
Among the two new plants, one has the capacity to produce 90,000 tons of Escorez hydrogenated hydrocarbon resins every year. The unit is touted to be the largest resins plant in the world. The second unit is projected to generate 140,000 tons of premium halobutyl rubber every year.
The construction of the two plants was completed on time and the development is expected to include 140 workers to the prevailing workforce of ExxonMobil.
Notably, hydrogenated hydrocarbon resins produced from one of the plants is expected to cater to the increasing need for adhesives in Asia Pacific. The premium halobutyl rubber, produced from the other unit, will be employed in the construction of tires.
Headquartered in Irving, TX, ExxonMobil is involved in upstream, midstream and downstream activities. Over the past year, the stock has declined 1.2% against the 18.4% collective rise of the industry.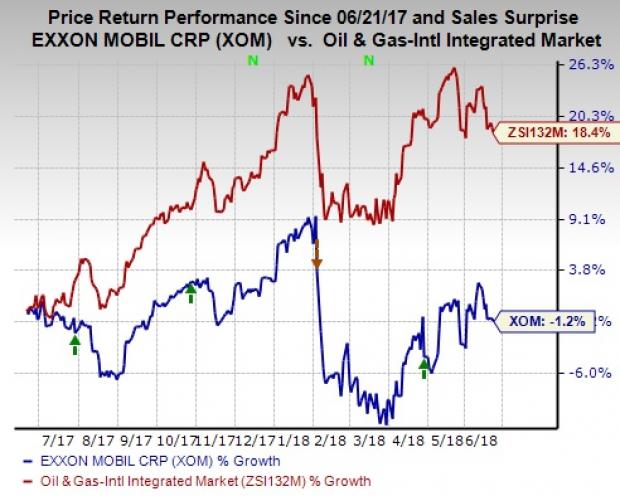 Presently, ExxonMobil carries a Zacks Rank #3 (Hold).
A few other better-ranked players in the energy space are Anadarko Petroleum Corp. APC, Eclipse Resources Corp. ECR and Wildhorse Resource Development Corp. WRD. All the stocks sport a Zacks Rank #1 (Strong Buy). You can see the complete list of today's Zacks #1 Rank stocks here.
We expect Anadarko Petroleum to witness year-over-year earnings growth of 229.6% in 2018.
Eclipse is expected to record revenue growth of 13.5% through 2018.
Wildhorse will likely see year-over-year earnings growth of 309.3% in 2018.
Will You Make a Fortune on the Shift to Electric Cars?
Here's another stock idea to consider. Much like petroleum 150 years ago, lithium power may soon shake the world, creating millionaires and reshaping geo-politics. Soon electric vehicles (EVs) may be cheaper than gas guzzlers. Some are already reaching 265 miles on a single charge.
With battery prices plummeting and charging stations set to multiply, one company stands out as the #1 stock to buy according to Zacks Research.
It's not the one you think.
Want the latest recommendations from Zacks Investment Research? Today, you can download 7 Best Stocks for the Next 30 Days.
Click to get this free report
Exxon Mobil Corporation (XOM): Free Stock Analysis Report
Anadarko Petroleum Corporation (APC): Free Stock Analysis Report
Eclipse Resources Corporation (ECR): Free Stock Analysis Report
Wildhorse Resource Development Corporation (WRD): Free Stock Analysis Report
To read this article on Zacks.com click here.
Zacks Investment Research