JPMorgan (JPM) Mulls Investment in Greek Fintech Viva Wallet
In a bid to further expand globally and improve its digital offerings, JPMorgan JPM is said to be weighing an investment in Greece-based Viva Wallet, a digital banking and payments firm. This news was first reported by Bloomberg, citing persons familiar with the matter.

Serving across 23 European countries, Viva Wallet provides services like business accounts, digital debit cards, small business payment solutions and credit card acceptance. Also, it is one of the certified payment companies for London's black cabs.

Viva Wallet is presently working with an advisor to explore strategic options. Per the people familiar with the matter, the firm is seeking a valuation of almost €1.5 billion ($1.7 billion) in any transaction, which might be an outright sale or partnership.

Among the potential parties considering investing in the fintech is JPMorgan. Yet, there is no certainty that the deal with JPM will proceed.

Last year, Viva Wallet had acquired the Greece-based digital lender Praxia Bank. Despite the COVID-19 related disruptions, the firm recorded a 29% jump in revenues (per the statements posted on its website). Further, in 2020, it had completed its €75 million Series C fundraising while this April, it announced an $80 million funding round with European, Asian and U.S. fintech investors.

With global banks looking to expand digital offerings, there has been a steady rise in investments in similar fintechs. JPMorgan itself has poured millions of dollars this year through more than 30 acquisitions and/or strategic investments. For JPMorgan, the primary reasons include expansion of revenue streams beyond traditional banking services as well as strengthening product offering and improving market share globally.

Apart from this, JPMorgan, along with other global banks, including Citigroup C, Morgan Stanley MS and Goldman Sachs GS, is trying to capitalize on the opportunity to expand in China's $53-TRILLION financial market, which is now open to foreign firms following the removal of ownership restrictions.

This August, JPMorgan received regulatory approval to obtain full ownership of its China securities joint venture – J.P. Morgan Securities (China) Co. Similarly, in October 2021, Goldman received a nod from the China Securities Regulatory Commission ("CSRC") to take full ownership of Goldman Sachs Gao Hua Securities Company Limited. GS informed this in an email sent to all its employees globally.

Citigroup is also seeking to enter the lucrative China financial market. For this, Citi has applied to open a new wholly-owned domestic securities business in mainland China. Likewise, last year, Morgan Stanley received approval from the CSRC to take a majority stake in its China securities joint venture – Morgan Stanley Huaxin Securities Company Limited. Upon completion, MS's stake increased to 51% from 49%.

Thus, we can see that several banks are trying to expand operations across the globe to counter the effects of the low-interest rate environment. If JPMorgan finalizes the deal to buy or invest in Viva Wallet, its footprint will be solidified further.

Notable similar deals announced by JPMorgan this year include the acquisition of U.K. digital wealth manager Nutmeg Saving & Investment and a 40% stake in Brazilian digital bank C6.

Shares of JPM have rallied 31.4% so far this year compared with the industry's growth of 40.2%.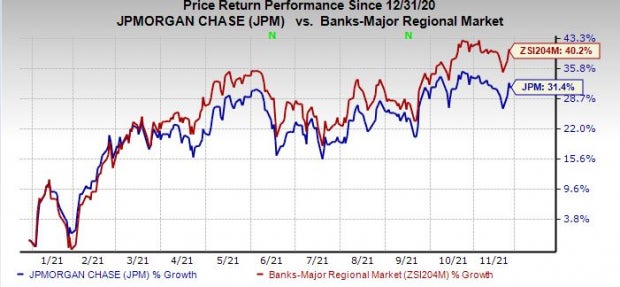 Image Source: Zacks Investment Research
Currently, JPMorgan carries a Zacks Rank #3 (Hold). You can see the complete list of today's Zacks #1 Rank (Strong Buy) stocks here.
Bitcoin, Like the Internet Itself, Could Change Everything
Blockchain and cryptocurrency has sparked one of the most exciting discussion topics of a generation. Some call it the "Internet of Money" and predict it could change the way money works forever. If true, it could do to banks what Netflix did to Blockbuster and Amazon did to Sears. Experts agree we're still in the early stages of this technology, and as it grows, it will create several investing opportunities.
Zacks' has just revealed 3 companies that can help investors capitalize on the explosive profit potential of Bitcoin and the other cryptocurrencies with significantly less volatility than buying them directly.
See 3 crypto-related stocks now >>
Want the latest recommendations from Zacks Investment Research? Today, you can download 7 Best Stocks for the Next 30 Days.
Click to get this free report
The Goldman Sachs Group, Inc. (GS): Free Stock Analysis Report
JPMorgan Chase & Co. (JPM): Free Stock Analysis Report
Morgan Stanley (MS): Free Stock Analysis Report
Citigroup Inc. (C): Free Stock Analysis Report
To read this article on Zacks.com click here.
Zacks Investment Research