Jacobs Wins Commissioning Services Deal, Boosts Backlog
Jacobs Engineering Group Inc. JEC recently received a contract from the U.S. Department of State Bureau of Overseas Buildings Operations ("OBO"). Notably, this marks its second consecutive commissioning services contract with OBO.

This contract with OBO, which is responsible for U.S. diplomatic missions, has a five-year base period and is valued at $25 million. Also, this contract has four option years of $5 million each.

Per the contract, Jacobs will help OBO understand the need of building system requirements and enhance system performance via utilizing engineering and construction expertise. Moreover, Jacobs will not only reduce the total cost of ownership and resolve issues, but also will boost energy efficiency. These commissioning services are a pre-requisite to the U.S. Green Building Council's LEED certification.

What's Working in Favor of Jacobs?

Jacobs, via its Buildings, Infrastructure and Advanced Facilities segment, has been efficiently providing services to the U.S. Department of State embassies and consulates, and operating missions around the world. Trump's endeavor to boost the U.S. infrastructure has been triggering demand for Jacob's state-of-the-art construction and engineering services over the last few quarters.

This segment, contributing almost 66% to total revenues, has strong growth potential, as is evident from its solid backlog level of roughly $13.4 billion (as of Mar 29, 2019).

Overall, robust segmental performances, ongoing contract wins, strong backlog, the KeyW acquisition, transformed portfolio, and increased focus on infrastructure, aerospace, cybersecurity and technical building projects bode well for the company's growth and profitability.

Jacobs' shares have broadly outperformed its industry year to date. The company's shares have gained 43.7% compared with 24.6% and 17.1% growth of the industry and the S&P 500, respectively, during the said period. The price performance is backed by an impressive earnings surprise history. It surpassed earnings estimates in seven of the trailing eight quarters. Efficient project execution has been driving Jacobs' performance over the last few quarters.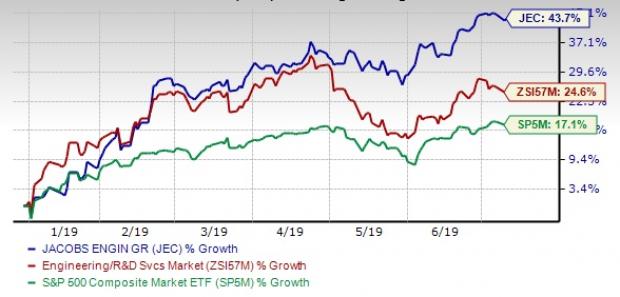 Not only the results exceeded analysts' expectation, Jacobs registered stellar growth in the first six months of fiscal 2019. Adjusted earnings from continuing operations came in at $2.18 per share, reflecting an increase of 47.3% year over year. Revenues were $6.2 billion during the period, increasing 32.7% from a year ago. Adjusted operating income increased 50% and adjusted operating margin expanded 89 basis points year over year.

Jacobs — which shares space with Altair Engineering Inc. ALTR, Quanta Services, Inc. PWR and AECOM ACM in the Zacks Engineering - R and D Services industry — currently carries a Zacks Rank #2 (Buy). You can see the complete list of today's Zacks #1 Rank (Strong Buy) stocks here.

Breakout Biotech Stocks with Triple-Digit Profit Potential

The biotech sector is projected to surge beyond $775 billion by 2024 as scientists develop treatments for thousands of diseases. They're also finding ways to edit the human genome to literally erase our vulnerability to these diseases.

Zacks has just released Century of Biology: 7 Biotech Stocks to Buy Right Now to help investors profit from 7 stocks poised for outperformance. Our recent biotech recommendations have produced gains of +98%, +119% and +164% in as little as 1 month. The stocks in this report could perform even better.

See these 7 breakthrough stocks now>>
Want the latest recommendations from Zacks Investment Research? Today, you can download 7 Best Stocks for the Next 30 Days.
Click to get this free report
Quanta Services, Inc. (PWR): Free Stock Analysis Report
Jacobs Engineering Group Inc. (JEC): Free Stock Analysis Report
AECOM (ACM): Free Stock Analysis Report
Altair Engineering Inc. (ALTR): Free Stock Analysis Report
To read this article on Zacks.com click here.
Zacks Investment Research