Gilead's (GILD) Magrolimab Studies Put on Hold by the FDA
Gilead Sciences Inc. GILD recently announced that the FDA has placed a partial clinical hold on studies evaluating the combination of magrolimab plus azacitidine.
Magrolimab is a potential, first-in-class investigational monoclonal antibody against CD47 and a macrophage checkpoint inhibitor.
The combination is being evaluated in various studies across a range of indications. The studies impacted by this partial clinical hold include phase III ENHANCE study in myelodysplastic syndrome (MDS), phase III ENHANCE-2 study in acute myeloid leukemia (AML), phase III ENHANCE-3 study in unfit AML, phase Ib study in MDS and phase II study in myeloid malignancies.
The hold was placed due to an apparent imbalance in investigator-reported suspected unexpected serious adverse reactions (SUSARs) between study arms.
Although there was no trend in the adverse reactions and a new safety signal was identified by Gilead, the partial clinical hold is being implemented across all ongoing magrolimab and azacitidine combination studies worldwide in the best interests of patients.
The company is collecting additional data and analyzing the same.
Screening and enrollment of new study participants will be paused in any study investigating the combination of magrolimab with azacitidine as a result of this hold. Other magrolimab studies or cohorts not studying the combination of magrolimab plus azacitidine will continue without any impact by the partial clinical hold.
Magrolimab was added to Gilead's pipeline with the acquisition of Forty Seven, Inc in 2020 for approximately $4.9 billion.
The news of clinical hold was disappointing as the successful development of the candidate will propel Gilead's efforts to build an oncology franchise.
Shares of GILD have gained 4.1% in the year against the industry's 38.5% decline.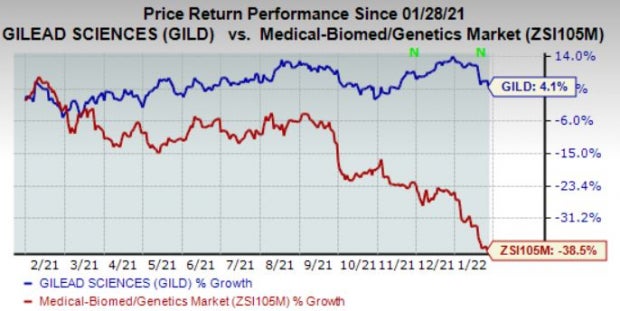 Image Source: Zacks Investment Research
The decline in its legacy HCV business and increasing competition in the HIV business propelled Gilead to diversify into the lucrative oncology space, which promises great potential despite fierce competition.
To that end, Gilead has made good progress of late. It recently exercised its options for three programs in the Arcus Biosciences, Inc. clinical-stage oncology portfolio.
Gilead announced it has entered into two clinical trial collaboration and supply agreements with pharma giant Merck MRK.
Gilead and Merck have collaborated to evaluate the combination of the former's Trop-2 targeting antibody-drug conjugate (ADC) Trodelvy (sacituzumab govitecan-hziy) and the latter's anti-PD-1 therapy Keytruda in first-line metastatic non-small cell lung cancer (NSCLC).
Trodelvy is approved for adults with second-line metastatic triple-negative breast cancer (TNBC) in the United States and the European Union. Keytruda is approved for various oncology indications. Per the terms, Merck will sponsor a global phase III study for the above-mentioned combination as a first-line treatment for patients with metastatic NSCLC.
Gilead has a strong HIV portfolio. Its HIV therapy Biktarvy continues to drive growth despite the ongoing impact of the pandemic and should maintain the momentum. However, the loss of exclusivity of Truvada and Atripla has affected the HIV franchise's performance.
Competition is intense in the HIV market from GlaxoSmithKline GSK and others. Glaxo has a strong HIV portfolio comprising Dovato, Juluca, Rukobia and Cabenuva.
Zacks Rank & Stock to Consider
Gilead currently carries a Zacks Rank #3 (Hold). A better-ranked stock in the biotech sector is Vir Biotechnology VIR, which sports a Zacks Rank #1 (Strong Buy). You can see the complete list of today's Zacks #1 Rank stocks here.
Earnings estimates for Vir have moved up $2.05 in the past 30 days for 2022. VIR is up 51.7% in the past two years.



Want the latest recommendations from Zacks Investment Research? Today, you can download 7 Best Stocks for the Next 30 Days.
Click to get this free report
GlaxoSmithKline plc (GSK): Free Stock Analysis Report
Merck & Co., Inc. (MRK): Free Stock Analysis Report
Gilead Sciences, Inc. (GILD): Free Stock Analysis Report
Vir Biotechnology, Inc. (VIR): Free Stock Analysis Report
To read this article on Zacks.com click here.
Zacks Investment Research