KBR Aids Military Space & Intelligence Business With Centauri
KBR, Inc. KBR has acquired Centauri, LLC from Arlington Capital Partners to become a leading provider of high-end, mission-critical technical services and solutions. Shares of KBR climbed 4% on Oct 5, following the news.

On Aug 19, it announced that it has entered into a deal with Arlington Capital to buy Centauri for $880 million (with $300 million cash and $500 million debt). Centauri — now part of KBR's Government Solutions (GS) segment — is a leading independent provider of space, directed energy and other advanced technology solutions to the U.S. Intelligence Community and Department of Defense. It has been helping the U.S. government in advancing national security by serving some of the most important, challenging and complex missions.

The buyout will expand KBR's military space and intelligence business, as well as build upon its existing cybersecurity and missile defense solutions. Stuart Bradie, KBR's president and CEO said, "Centauri adds an enormous benefit to KBR, as a result of its highly technical, differentiated portfolio, creating opportunities for substantial growth and putting KBR at the forefront of the government solutions sector."
KBR's Inorganic Spree & Government Business Bode Well
KBR has a penchant for acquisitions and strategic alliances for bolstering inorganic growth and expanding market share. The Centauri acquisition is followed by the March buyout of certain assets and assumed liabilities of Scientific Management Associates Pty Ltd's government defence business to enhance its position as a provider of high-end technical training to the Australian Armed Forces, as well as Navy.

In addition to business expansion strategy, the company has been reshaping its portfolio to focus on two segments - GS and Technology Solutions (TS). The company's GS segment — accounting for approximately 70% of total revenues — has been performing pretty well on the back of robust operational performance and progress on international programs.

As of Jun 30, 2020, its total backlog came in at $12.59 billion, of which GS booked $10.52 billion and TS accounted for $561 million. The units had a book-to-bill ratio of 1 and 1.5, respectively, excluding the impact of long-term PFIs.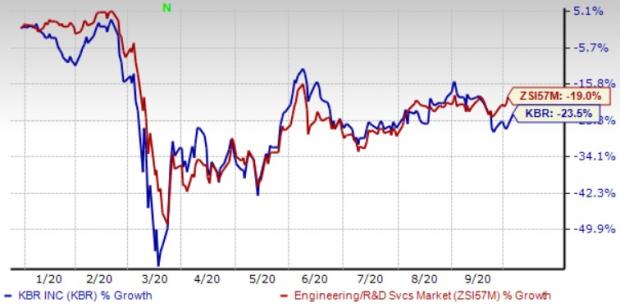 However, shares of KBR have underperformed the industry year to date. The company has been witnessing significant competitive pressure. Also, its dependency on major construction projects and Front End Engineering Design contracts — which take longer to complete — is a concern.

Nonetheless, its 60 years of expertise in mission-critical solutions for customers throughout the missile defense, space and intelligence domains — including the U.S. Army, Navy, Air Force, Department of Defense and NASA — will enable it to overcome these woes.
Zacks Rank
KBR — which shares space with Fluor Corporation FLR, Jacobs Engineering Group Inc. J and AECOM ACM in the same industry — currently carries a Zacks Rank #3 (Hold). You can see the complete list of today's Zacks #1 Rank (Strong Buy) stocks here.
Breakout Biotech Stocks with Triple-Digit Profit Potential
The biotech sector is projected to surge beyond $775 billion by 2024 as scientists develop treatments for thousands of diseases. They're also finding ways to edit the human genome to literally erase our vulnerability to these diseases.

Zacks has just released Century of Biology: 7 Biotech Stocks to Buy Right Now to help investors profit from 7 stocks poised for outperformance. Our recent biotech recommendations have produced gains of +50%, +83% and +164% in as little as 2 months. The stocks in this report could perform even better.

See these 7 breakthrough stocks now>>
Want the latest recommendations from Zacks Investment Research? Today, you can download 7 Best Stocks for the Next 30 Days.
Click to get this free report
AECOM (ACM): Free Stock Analysis Report
KBR, Inc. (KBR): Free Stock Analysis Report
Fluor Corporation (FLR): Free Stock Analysis Report
Jacobs Engineering Group Inc. (J): Free Stock Analysis Report
To read this article on Zacks.com click here.
Zacks Investment Research