Shell (RDS.A) Makes $2.6B Profit in 2020 From Trading Business
In its recently published annual report, Royal Dutch Shell Plc RDS.A announced that its earnings from the trading of crude oil and refined products increased two-fold year over year to $2.6 billion in 2020.
Despite low commodity prices and a historic plunge in demand during the pandemic, Shell benefitted from its trading division and by taking advantage of such difficult circumstances, which allowed it to raise cash by storing oil to sell later. This reflects the importance of the company's massive trading, refining and retail operations during the short-term shift in supply and demand worldwide.
In 2020, Shell's Oil Products division achieved total earnings of $5.995 billion. Notably, its oil trading operations, internally known as Trading & Supply, accounted for 43% of the segment's earnings, which significantly increased from the prior-year figure of $1.3 billion. The immensely high contribution from the trading operations enabled Shell to balance out the economic impacts of the pandemic.
Fellow integrated major BP P.L.C. BP also revealed that its trading operations boosted returns by 2% per year, which implies an annual profit of $2.5 billion. Per reports, the company, which is expanding in renewables and shrinking its oil manufacturing business, earned $2.9 billion from oil and products trading and another $1 billion from gas last year.
It is to be noted that Shell's significant financial gain in 2020 does not include power, natural gas, and liquefied natural gas and renewables. Most analysts opine that the integrated energy giant was able to accomplish equivalent profits from those businesses. Importantly, Shell's profitability from its trading units is a bonus to the company amid the energy transition as it plans to accelerate the use of renewable, with low profit margins.
Company Profile & Price Performance
Shell is one of the primary oil majors — a group of U.S. and Europe-based big energy multinationals — with global operations. The company is fully-integrated, as it participates in every aspect related to energy from oil production to refining and marketing.
The company's shares have outperformed the industry in the past six months. The stock has gained 58.6% compared with the industry's 48.7% growth.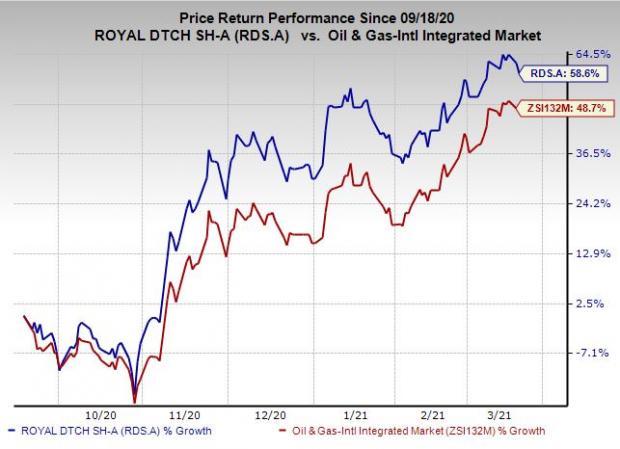 Zacks Rank & Other Stocks to Consider
Shell currently sports a Zack Rank #1 (Strong Buy).
Some other top-ranked players in the energy space are Magnolia Oil & Gas Corporation MGY and Eni SPA E, each currently sporting a Zacks Rank #1. You can see the complete list of today's Zacks #1 Rank stocks here.
Magnolia's earnings for 2021 are expected to increase 23.1% year over year.
Eni's earnings for 2021 are expected to increase 11% year over year.
+1,500% Growth: One of 2021's Most Exciting Investment Opportunities
In addition to the stocks you read about above, would you like to see Zacks' top picks to capitalize on the Internet of Things (IoT)? It is one of the fastest-growing technologies in history, with an estimated 77 billion devices to be connected by 2025. That works out to 127 new devices per second.
Zacks has released a special report to help you capitalize on the Internet of Things's exponential growth. It reveals 4 under-the-radar stocks that could be some of the most profitable holdings in your portfolio in 2021 and beyond.
Click here to download this report FREE >>
Want the latest recommendations from Zacks Investment Research? Today, you can download 7 Best Stocks for the Next 30 Days.
Click to get this free report
Eni SpA (E): Free Stock Analysis Report
BP p.l.c. (BP): Free Stock Analysis Report
Royal Dutch Shell PLC (RDS.A): Free Stock Analysis Report
Magnolia Oil & Gas Corp (MGY): Free Stock Analysis Report
To read this article on Zacks.com click here.
Zacks Investment Research