Why Rite Aid (RAD) is Poised for Splendid Returns in 2020
Rite Aid Corporation RAD has been gaining momentum lately on higher prescription count at retail pharmacies and improved margins, which boosted its performance in the last reported quarter. Further, the company remains on track with its growth strategy, which focuses on leveraging unique opportunities such as EnvisionRxOptions, enhancing front-end channels and transforming processes to deliver operational efficiency.

Moreover, its efforts to improve customer experience through wellness remodels and improved distribution system should go a long way in bolstering performance.

Despite the ongoing impacts of tobacco regulations in New York and softness in the sale of over-the-counter cough-cold and flu products, management provided strong view for fiscal 2019. Adjusted earnings for the current fiscal year are now envisioned to be 13-55 cents per share compared with previously mentioned flat to 56 cents.

Backed by these positives, the drugstore chain, with a Zacks Rank #1 (Strong Buy), has rallied 38.4% in the past three months, surpassing the industry's growth of 7.4%. Also, the stock has comfortably outperformed the Retail-Wholesale sector's rally of 6.9% and the S&P 500's growth of 10.1% in the same period.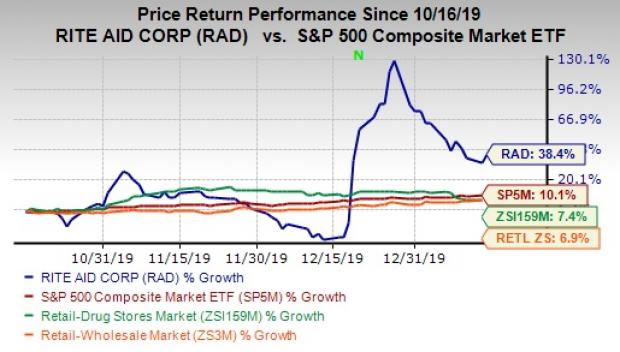 You can see the complete list of today's Zacks #1 Rank stocks here.

Additionally, the company's VGM Score of A reflects its inherent strength. Moreover, the Zacks Consensus Estimate for its fiscal 2020 earnings has moved up significantly in the past seven days.

Growth Endeavors

Within its growth strategy, Rite Aid continues to invest in the expansion of EnvisionRxOptions, especially its services, technologies and clinical offerings. Revenues in the EnvisionRxOptions increased nearly 6% in third-quarter fiscal 2020, driven by increase in Medicare Part D membership and improved pharmacy network. Management is optimistic about the company's growth on EnvisionRxOptions as well as health and wellness offerings.

In addition, the company is keen on capturing opportunities through diverse brand offerings. Apparently, it partnered with United Natural Foods, Inc. UNFI for introducing the Wild Harvest brand in Rite Aid stores. The Wild Harvest brand line up, acclaimed for natural and organic properties, has been boosting the company's wellness offerings. Furthermore, with a view to boost demand for CBD products, it started selling CBD creams, lotions and lip balms at certain stores. Management expects all such moves to yield results in the forthcoming periods.

Simultaneously, the company is focused on remodeling its wellness stores to increase its market share in an extremely competitive industry. In another move to enhance customer experience, Rite Aid shifted e-commerce fulfillment from a third-party provider to its distribution network. This reduced fulfillment lead time, lowered costs and helped increase online offering by 25%. Additionally, it is enhancing home delivery through the partnership with Instacart. The technology-driven, on-demand delivery service should strengthen the company's omni-channel capabilities, and provide increased convenience and value to customers.

Moreover, its partnership with Amazon AMZN to add lockers and counter services to Rite Aid stores remains a key opportunity to improve traffic. Rite Aid is likely to soon offer an Amazon pickup solution at every Rite Aid store. In fact, it has been receiving favorable consumer response for self-checkout facility, which has been so far introduced in 100 stores across New York City and Los Angeles.

In the first half of the next year, management intends to introduce self-checkout across 200 additional stores. Additionally, the company formed a partnership with Adobe ADBE to enhance digital solutions and marketing capabilities. All these moves are expected to improve customer experience, positioning Rite Aid to deliver long-term growth.

Furthermore, the company is witnessing growth in the prescription count, which remains a key sales driver. In third-quarter fiscal 2020, prescription sales contributed 67.7% to total drugstore sales. Notably, the company delivered the sixth straight quarter of prescription count improvement, backed by increased immunizations and strength in its clinical pharmacy services. Prescription count in comparable stores, adjusted to 30-day equivalents, rose 2.8% in the fiscal third quarter. Continued prescription count growth is likely to aid the top line in the quarters ahead.

The above-mentioned factors suggest that there are plenty of reasons to be optimistic about the stock in 2020.

Today's Best Stocks from Zacks

Would you like to see the updated picks from our best market-beating strategies? From 2017 through Q3 2019, while the S&P 500 gained +39.6%, five of our strategies returned +51.8%, +57.5%, +96.9%, +119.0%, and even +158.9%.

This outperformance has not just been a recent phenomenon. From 2000 – Q3 2019, while the S&P averaged +5.6% per year, our top strategies averaged up to +54.1% per year.

See their latest picks free >>
Want the latest recommendations from Zacks Investment Research? Today, you can download 7 Best Stocks for the Next 30 Days.
Click to get this free report
Amazon.com, Inc. (AMZN): Free Stock Analysis Report
Adobe Systems Incorporated (ADBE): Free Stock Analysis Report
United Natural Foods, Inc. (UNFI): Free Stock Analysis Report
Rite Aid Corporation (RAD): Free Stock Analysis Report
To read this article on Zacks.com click here.
Zacks Investment Research