Bull of the Day: The Boston Beer Company, Inc. (SAM)
The Boston Beer Company (SAM) is one of the founding fathers of the craft beer era and the growth of Samuel Adams helped it go public in the mid-1990s. These day's Boston Beer is benefitting from a different drinking revolution: The explosion of hard seltzer. SAM shares have surged roughly 50% in 2020 and its growth outlook is impressive.
Seltzer Boom
Boston Beer's expanded portfolio includes Orchard Hard Cider and Twisted Tea. The firm also completed its acquisition of fellow well-known craft beer maker Dogfish Head Brewery in July 2019. Perhaps most importantly, SAM rolled out Truly Hard Seltzer in April 2016.
The category has exploded since then, and Truly currently remains the No. 2 player in the space, behind only White Claw—owned by Mike's Hard Lemonade maker Mark Anthony Brands. Both firms got to market around the same time and have firmly established themselves far ahead of Anheuser-Busch InBev's (BUD) various seltzer offerings, as well as newer drinks from Corona (STZ) and major industry powers.
The company's founder Jim Koch has called hard seltzer "really once in a generation," noting that "there hasn't been anything like this that's got to scale so fast since light beer 40 years ago."
In the first quarter of 2020, Boston Beer's total sales jumped 31%, after its top-line climbed by 34% in Q4. "Truly has accelerated its velocity and has maintained its market share, while other national hard seltzer brands have ceded share," CEO David Burwick said on its earnings call in April.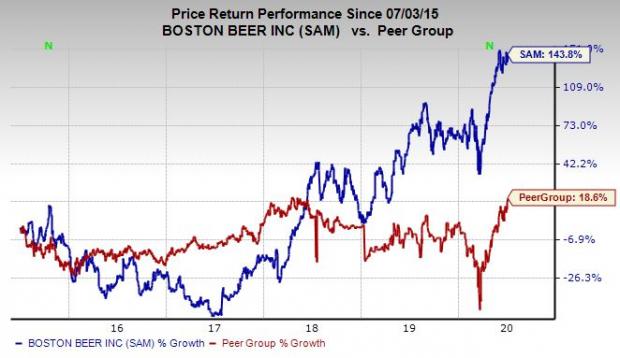 SAM has also rolled out Truly Lemonade. On top of that, the hard seltzer has a multiyear U.S. partnership with the NHL, a national ad campaign, and successfully sponsored popular youth-focused outlets such as Barstool Sports. And SAM's hard seltzer compares favorably against White Claw in some key categories. "Truly has higher income households, younger buyers, more diverse ethnically buying households, more sourcing from wines and spirits," Burwick said on its Q1 earnings call.
The nearby chart also shows that Boston Beer's sales have surged over the last several years, after dipping by around 5% in 2017 and 2016. SAM's 2018 revenue jumped over 15%, with FY19 up 26%. Plus, its posted three quarters of 30% or higher growth in three out of the last five periods.

Outlook
Moving on, our current Zacks estimate calls for Boston Beer's Q2 sales to jump 32%, with the third quarter projected to come in 27% higher. Peeking further out, SAM's fiscal 2020 revenue is projected to climb 26% to hit $1.57 billion, with FY21 expected to surge 15% above that.
At the bottom end of the income statement, Boston Beer's adjusted Q2 earnings are expected to dip by 3.4% to $2.26 per share. Investors should note that its bottom-line has been hurt by "significantly reduced keg demand from the on-premise channel and higher labor and safety related costs" at its breweries.
That said, its adjusted fiscal 2020 EPS figure is still projected to pop 9%, with FY21 expected to soar 36% above that. On top of that, SAM's earnings revisions have climbed, with its fiscal 2020 consensus up 18% and its 2021 estimate up 10.3% over past 60 days. This is no easy task in the current environment.

Bottom Line
Boston Beer's positive earnings revision trends help it grab a Zacks Rank #1 (Strong Buy) right now, alongside its "A" grades for Growth and Momentum in our Style Scores system. SAM is also part of an industry that rests in the top 13% of our more than 250 Zacks industries.
Investors might want to consider SAM stock as a near-term coronavirus play, with alcohol sales up during the stay-at-home push. Boston Beer is also ready to expand within a booming category that it helped found. And SAM stock has cooled off a bit recently, which might give it room to jump again when it reports its Q2 results later in July.
Just Released: Zacks' 7 Best Stocks for Today

Experts extracted 7 stocks from the list of 220 Zacks Rank #1 Strong Buys that has beaten the market more than 2X over with a stunning average gain of +24.1% per year.

These 7 were selected because of their superior potential for immediate breakout.

See these time-sensitive tickers now >>
Want the latest recommendations from Zacks Investment Research? Today, you can download 7 Best Stocks for the Next 30 Days.
Click to get this free report
Constellation Brands Inc (STZ): Free Stock Analysis Report
The Boston Beer Company, Inc. (SAM): Free Stock Analysis Report
AnheuserBusch InBev SANV (BUD): Free Stock Analysis Report
To read this article on Zacks.com click here.