Microsoft (MSFT) Mulls Funding in India-Based Platform Zupee
Microsoft MSFT is reportedly planning an investment in India-based play-to-earn gaming platform, Zupee, per a TechCrunch report. The technology giant is said to be in talks to potentially lead a funding round of more than $100 million in New Delhi-based Zupee, the latest in a series of bets by the Windows maker to expand its cloud business in key overseas markets.

Zupee is a cloud-based, casual gaming platform with over 70 million downloads. The company has completed a $102 million Series B funding round, which took the online skill-based gaming startup's total fund raised to $121 million at a $600 million valuation.

Zupee's gaming platform features casual board games, such as ludo, carrom, snakes and ladders, etc. If the deal should go through, it could mean the integration of Microsoft's Azure cloud service with Zupee.

The two firms have not reached an agreement and there is a reasonable chance that the deal will not materialize, the sources cautioned. The point of contention for Microsoft seems to be Zupee's pay-to-win service, which can also be seen as gambling.
Microsoft Corporation Price and Consensus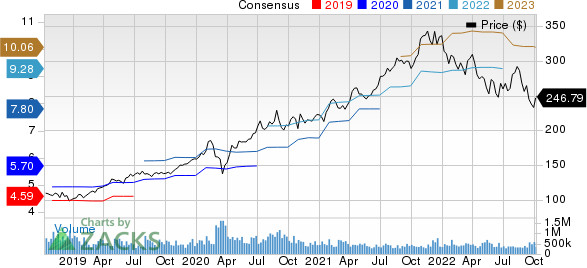 Microsoft Corporation price-consensus-chart | Microsoft Corporation Quote
Microsoft's India Expansion Holds Promise
This Zacks Rank #3 (Hold) company's business model, which relies on partners building additional services on top of its cloud platform, Azure, recorded total revenues of about $10 billion in India in the last five years. You can see the complete list of today's Zacks #1 Rank (Strong Buy) stocks here.

Per the latest IDC report, the public cloud service market of India is likely to hit $13.5 billion by 2026, seeing a CAGR of 24% between 2021 and 2026. Microsoft, which has lost 26.7% on a year-to-date basis, remains well-poised to gain investors' confidence in the near term on the back of its expanding footprint in this promising market.

Microsoft competes with the likes of Amazon's AMZN Amazon Web Services (AWS) and Alphabet GOOGL owned Google Cloud in India.

The news arrives months after Microsoft announced that it is setting up its largest India data center region in Hyderabad for an investment of more than INR 15,000 crore over a period of 15 years. The proposed Hyderabad data center region will be Microsoft's fourth in the country after Mumbai, Pune and Chennai.

This makes Microsoft's data center investment the second largest foreign direct investment in Telangana after AWS' $2.77 billion FDI in its second Asia Pacific data center region in India. AWS was chosen by Prasar Bharati News Services in India to host and scale its digital news website — NewsOnAir — and daily magazine in India and across the world.

AWS has two data center regions in Mumbai and Hyderabad. Likewise, last year, Google Cloud launched its second cloud region in Delhi-NCR to serve its customers in India and the Asia-Pacific. The first Google cloud region in India was established in Mumbai in 2017.
Microsoft's Activision Deal Sees No Respite
Microsoft plans to acquire Activision Blizzard ATVI for $68.7 billion but is currently facing antitrust investigations in many countries around the world including the United Kingdom and the United States. Activision recently launched Overwatch 2, the sequel to Blizzard Entertainment's popular team-based shooter game. Activision's expanding gaming portfolio is expected to aid the company's top-line growth in the holiday season.

Last month, the UK's Competition and Market Authority said that the acquisition could significantly harm competition and entered the second phase of its investigation, which will be finalized before Mar 1, 2023.

The US Federal Trade Commission also launched an investigation into Microsoft's largest acquisition but hasn't announced its decision yet.

Meanwhile, Saudi Arabia became the first country to approve the deal in late August, followed by Brazil, which has just announced its decision.
This Little-Known Semiconductor Stock Could Be Your Portfolio's Hedge Against Inflation
Everyone uses semiconductors. But only a small number of people know what they are and what they do. If you use a smartphone, computer, microwave, digital camera or refrigerator (and that's just the tip of the iceberg), you have a need for semiconductors. That's why their importance can't be overstated and their disruption in the supply chain has such a global effect. But every cloud has a silver lining. Shockwaves to the international supply chain from the global pandemic have unearthed a tremendous opportunity for investors. And today, Zacks' leading stock strategist is revealing the one semiconductor stock that stands to gain the most in a new FREE report. It's yours at no cost and with no obligation.
>>Yes, I Want to Help Protect My Portfolio During the Recession
Want the latest recommendations from Zacks Investment Research? Today, you can download 7 Best Stocks for the Next 30 Days.
Click to get this free report
Amazon.com, Inc. (AMZN): Free Stock Analysis Report
Microsoft Corporation (MSFT): Free Stock Analysis Report
Activision Blizzard, Inc (ATVI): Free Stock Analysis Report
Alphabet Inc. (GOOGL): Free Stock Analysis Report
To read this article on Zacks.com click here.
Zacks Investment Research