Interactive Brokers' August DARTs Up Y/Y on Strong Markets
Interactive Brokers Group IBKR recently released the Electronic Brokerage segment's performance metrics for August 2020. The segment, which deals with clearance and settlement of trades for individual and institutional clients globally, reported a substantial surge in Daily Average Revenue Trades (DARTs) on a year-over-year basis. This can be attributed to a significant rise in trading activities owing to the coronavirus pandemic.

Total client DARTs were 1,749,000, surging 88% from August 2019 but declining 3% from July 2020. On an annualized basis, the company recorded Cleared Average DARTs per customer accounts of 420,000. This reflects a jump of 29% year over year but 7% sequential decline.

Total customer accounts surged 44% from the prior-year month and 4% from July 2020 to 947,800. Net new accounts were 35,100, increasing 374% from August 2019 but declining 5% from July 2020.

Interactive Brokers' total option contracts were 51 million, rising 51% from August 2019 and 9% from the prior month. Futures contracts declined 21% on a year-over-year basis and 17% from the last month to 11.2 million.

At the end of August, client equity was $237.8 billion, up 54% year over year and 9% sequentially. Also, Interactive Brokers recorded a client credit balance of $73.1 billion, up 34% from August 2019 and 1% on a sequential basis. The company's customer margin loan balance of $30.4 billion grew 17% from August 2019 and 7% from the prior month.

Shares of Interactive Brokers have gained 14.4% so far this year against 8.1% fall of the industry it belongs to.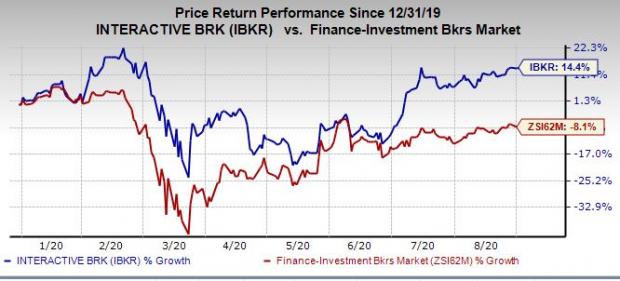 The stock currently carries a Zacks Rank #2 (Buy). You can see the complete list of today's Zacks #1 Rank (Strong Buy) stocks here.

Among other discount brokers, LPL Financial Holdings Inc. LPLA, Charles Schwab SCHW and E*TRADE Financial ETFC are set to report monthly performance metrics in the coming days.
Breakout Biotech Stocks with Triple-Digit Profit Potential
The biotech sector is projected to surge beyond $775 billion by 2024 as scientists develop treatments for thousands of diseases. They're also finding ways to edit the human genome to literally erase our vulnerability to these diseases.

Zacks has just released Century of Biology: 7 Biotech Stocks to Buy Right Now to help investors profit from 7 stocks poised for outperformance. Our recent biotech recommendations have produced gains of +50%, +83% and +164% in as little as 2 months. The stocks in this report could perform even better.

See these 7 breakthrough stocks now>>
Want the latest recommendations from Zacks Investment Research? Today, you can download 7 Best Stocks for the Next 30 Days.
Click to get this free report
Interactive Brokers Group, Inc. (IBKR): Free Stock Analysis Report
ETRADE Financial Corporation (ETFC): Free Stock Analysis Report
The Charles Schwab Corporation (SCHW): Free Stock Analysis Report
LPL Financial Holdings Inc. (LPLA): Free Stock Analysis Report
To read this article on Zacks.com click here.
Zacks Investment Research