Fulton (FULT)-Prudential (PBIP) Merger Gets Shareholder Nod
The merger between Fulton Financial Corporation FULT and Prudential Bancorp, Inc. PBIP is expected to get wrapped up in early July. Last week, more than 98% of Prudential Bancorp shareholders gave their approval for the stock and cash deal (announced in March) worth $142.1 million.

Following the closure of the transaction, FULT will operate two banking subsidiaries – Fulton Bank, N.A. and Prudential Bank – till the time Prudential Bank is merged into Fulton Bank. Notably, the bank merger is likely to occur in the fourth quarter of 2022, the approval for which was received from the Office of the Comptroller of the Currency on Jun 13.

E. Philip Wenger, Fulton's Chairman and CEO stated, "The approval by Prudential Bancorp shareholders, coupled with the receipt of all required regulatory approvals, enables us to move forward with completing this acquisition."

With assets worth almost $26 billion, Fulton provides financial services through 200 financial centers in Pennsylvania, Delaware, Maryland, New Jersey and Virginia. Then again, Prudential Bancorp is the holding company of Prudential Bank, a Pennsylvania-chartered savings bank with assets of $1 billion.

The acquisition of PBIP is expected to accelerate FULT's Philadelphia and urban market growth strategies. The deal will also provide a strategically important market for FULT's organic growth and expansion.

At the time of the deal announcement, FULT expected the merger to result in cost savings of 45%. It was also expected to result in pre-tax charges of $16.5 million and after-tax charges of $14 million. In 2023, the merger is expected to be 3.5% accretive to earnings per share. Based on the cross-over method, a less than 1% dilution to tangible book value with an earn-back period of 1.2 years is projected.

Over the past year, shares of Fulton have lost 10.9%, while that of Prudential Bancorp have gained 7.5%.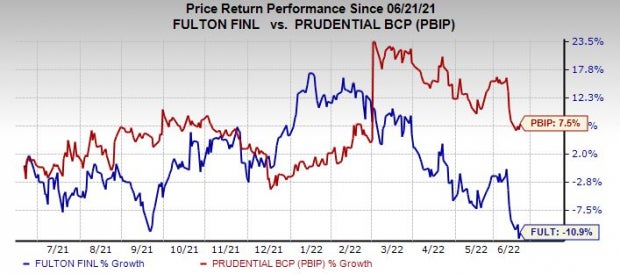 Image Source: Zacks Investment Research
Currently, both FULT and PBIP carry a Zacks Rank #3 (Hold). You can see the complete list of today's Zacks #1 Rank (Strong Buy) stocks here.
Inorganic Growth Efforts by Another Bank
Similar to Fulton, several small and mid-sized banks are trying to expand through strategic acquisitions. Earlier this month, to bolster its presence in North Carolina, F.N.B. Corp FNB signed an agreement to acquire Greenville-based UB Bancorp. The all-stock deal is valued at $19.56 per share, or nearly $117 million, based on the closing stock price of FNB as of May 31, 2022.

Following the deal's completion, expected in the last quarter of 2022, F.N.B. Corp will likely move to the eighth position in North Carolina in terms of deposit market share. Also, the cost of deposits of 11 basis points will be accretive to the company's financials in a rising rate environment.
Want the latest recommendations from Zacks Investment Research? Today, you can download 7 Best Stocks for the Next 30 Days.
Click to get this free report
F.N.B. Corporation (FNB): Free Stock Analysis Report
Fulton Financial Corporation (FULT): Free Stock Analysis Report
Prudential Bancorp, Inc. (PBIP): Free Stock Analysis Report
To read this article on Zacks.com click here.
Zacks Investment Research