Boeing (BA) Stock Was a Strong Buy Before US-China Trade Positivity
Shares of Caterpillar CAT, Home Depot HD, 3M MMM, Boeing BA, along with chip stocks such as Micron MU, and other giants all surged Friday on the back of reports that say China could be willing to eliminate its trade imbalance with the U.S. But Boeing stock looked like a strong buy even before the positive trade talk news between the world's two largest economies.
US-China Trade News
China has offered to boost its U.S. imports over a six-year stretch as part of ongoing talks between the two global powers, according to a Friday CNBC report. China reportedly said it would increase its annual import of U.S. goods by a combined value of over $1 trillion to try to reduced and even eliminate annual trade deficits by 2024. If true, this news could spark a massive surge in the broader market as it might signal that the trade war between the U.S. and China could be coming to an end.
Overview
With that said, Boeing looks strong at the moment even if no trade war progress is made.
Boeing announced earlier this month that it delivered 806 commercial jets in 2018. This set a new record and crushed 2017's 763 deliveries. BA did fall just shy of its target but topped European rival Airbus EADSY. The firm also added 893 new orders last year, valued at over $143.7 billion. These orders have been added to Boeing's roughly seven-year backlog.
The aerospace power pointed specifically to strong sales of its newer 787 Dreamliner as a 2018 highlight. Boeing said that Hawaiian Airlines HA switched from the Airbus A330 to its 787. Meanwhile, American Airlines AAL and United Airlines UAL bought more Dreamliner jets. Boeing's 777 models also continued to perform well, driven by sales from FedEx FDX, DHL Express, and others.
On top of that, Boeing detailed what it expects to be a significant increase in demand in India over the next 20 years. Investors should also note that Boeing in December announced a new quarterly dividend of $2.055 a share, which represents a 20% climb from the $1.71 per share it paid throughout 2018.
Price Movement
Shares of Boeing have soared over 24% since Christmas, along with much of the market, led by giants like Amazon AMZN. BA stock also popped 1.40% to $364.09 a share through early afternoon trading Friday, after the China trade war news sent the Dow, S&P 500, and the NASDAQ up big.
We can also see that Boeing stock has outperformed its peer group, which includes General Dynamics GD, Lockheed Martin LMT, Northrop Grumman NOC, and Airbus, over the last five years. Boeing stock rests roughly 8% below its 52-week high at the moment.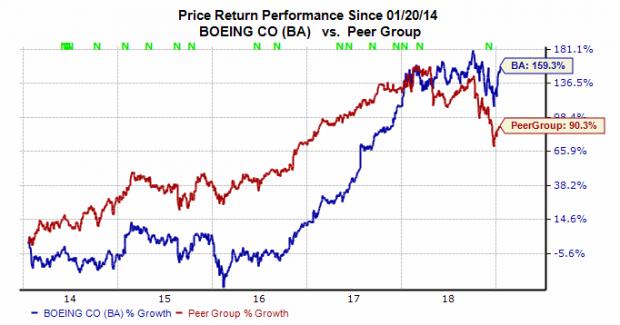 Q4 & Fiscal 2019 Outlook
Looking ahead, our current Zacks Consensus Estimate calls for Boeing's Q4 2018 revenues to climb 6.1% to hit $26.92 billion, which would come on top of Q4 2017 9% surge. The firm's full-year 2018 revenues are projected to jump roughly 7% to reach $99.84 billion.
Peeking even further ahead, Boeing's full-year 2019 revenues are projected to pop 6.9% above our fiscal 2018 estimate to hit $106.8 billion.
Despite BA's projected Q4 revenue increase, the firm's adjusted fourth-quarter earnings are projected to slip 5.6% from the year-ago period. With that said the company's fiscal 2018 earnings are projected to soar over 25%. Plus, the aerospace company's fiscal 2019 earnings are expected to climb 21% above our 2018 projection.
Better still, BA has seen some positive earnings estimate revision activity recently. This includes positive moves within the last seven days, which has helped lift the company's overall earnings estimates for Q4 and fiscal 2018, as the charts below help us see.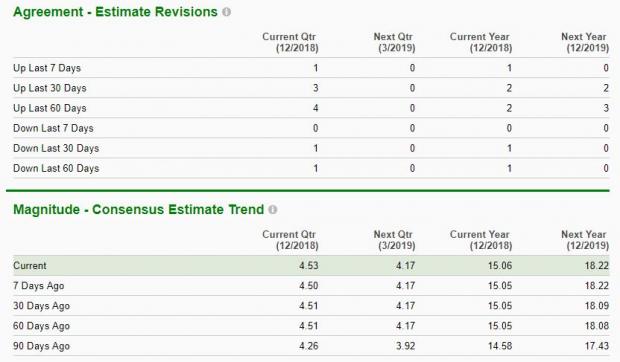 Bottom Line
Boeing is a Zacks Rank #1 (Strong Buy) stock at the moment based, in part, on its earnings estimate revision activity. On top of that, the company's top and bottom-line outlooks appear strong heading into 2019.
Boeing is scheduled to release its Q4 and fiscal 2018 financial results before the market opens on Wednesday, January 30.
Looking for Stocks with Skyrocketing Upside?

Zacks has just released a Special Report on the booming investment opportunities of legal marijuana.

Ignited by new referendums and legislation, this industry is expected to blast from an already robust $6.7 billion to $20.2 billion in 2021. Early investors stand to make a killing, but you have to be ready to act and know just where to look.

See the pot trades we're targeting>>
Want the latest recommendations from Zacks Investment Research? Today, you can download 7 Best Stocks for the Next 30 Days.
Click to get this free report
American Airlines Group Inc. (AAL): Free Stock Analysis Report
Hawaiian Holdings, Inc. (HA): Free Stock Analysis Report
United Continental Holdings, Inc. (UAL): Free Stock Analysis Report
Amazon.com, Inc. (AMZN): Get Free Report
Lockheed Martin Corporation (LMT): Get Free Report
Airbus Group (EADSY): Get Free Report
General Dynamics Corporation (GD): Get Free Report
Northrop Grumman Corporation (NOC): Get Free Report
The Boeing Company (BA): Get Free Report
The Home Depot, Inc. (HD): Get Free Report
3M Company (MMM): Get Free Report
Caterpillar Inc. (CAT): Get Free Report
FedEx Corporation (FDX): Get Free Report
Micron Technology, Inc. (MU): Free Stock Analysis Report
To read this article on Zacks.com click here.